Dec 12, 2014 — by Eric Brown 2,776 views
Aaeon launched two Mini-ITX boards powered by Intel Bay Trail SoCs, and featuring up to three video ports, one or two GbE ports, PCIe expansion, and more.

We missed Aaeon's Atom E3800 based "EMB-BT1" Mini-ITX motherboard when it was announced earlier this year, so we are including it here as we cover two newly released Atom and Celeron based 6.7 x 6.7-inch Mini-ITX SBCs announced by Aaeon this week. The new "EMB-BT2" and somewhat lower-powered "EMB-BT4" will both ship later this month with Fedora Linux support at unstated prices. Applications are said to include panel PCs, slim PCs, kiosks, and PoS devices.


EMB-BT2 (left), EMB-BT4, and older EMB-BT1
(click images to enlarge)

The EMB-BT2 appears to be more of a multimedia display system, and generally has the most ports and more advanced specs overall, while the EMB-BT4 seems to be more of a low-power embedded board, although with slightly better storage and expansion options. The older sibling (EMB-BT1) seems to fall somewhere in between.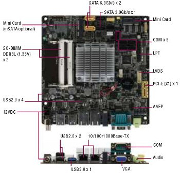 Board details: EMB-BT2 (left), EMB-BT4, and older EMB-BT1
(click images to enlarge)

Aaeon's three motherboards all use variations of the 22nm, Bay Trail Atom and/or Celeron system-on-chips. The EMB-BT2 is available only with the quad-core, 2GHz Celeron J1900 (Bay Trail-D) with a 10W TDP and 688/854MHz graphics, while the EMB-BT4 also offers an optional dual-core, 1.58GHz Celeron N2807 with a low 4.3W TDP and 313/750MHz graphics. The older EMB-BT1 supports the J1900 and N287, as well as the quad-core, 1.91GHz Atom E3845 (10W) and dual-core, 1.33GHz Atom E3825 (6W). In all cases, the J1900 and E3845 models are available with up to 8GB DDR3L 1333MHz RAM, while the other processor options max out at 4GB.

EMB-BT2 (left) and EMB-BT4 block diagrams
(click images to enlarge)

Other key features of Aaeon's three Bay Trail-based Mini-ITX boards are summarized below:
Graphics — The EMB-BT2 and older EMB-BT1 are equipped with HDMI, VGA, and LVDS interfaces, while the EMB-BT4 is limited to VGA and LVDS. The LVDS is marked as dual-channel 18/24-bit except for the BT2, which does not delineate the type. They all offer dual display capability, and both the LVDS interfaces can reach 1920 x 1080 pixels while the others go to 1920 x 1200.
Networking — The BT2 and BT1 models each have two gigabit Ethernet ports, while the BT4 is limited to one.
USB — They all support Wake-on-LAN. The BT2 has 12 USB 2.0 ports, six of them real-world coastline ports, while the BT4 and BT1 each have seven (two of them coastline) plus an external USB 3.0 port.
Serial ports — Common I/O features on all three boards include five RS232 ports and an RS-232/422/485 port that supports a "5V/12V/RI" option. However, three of the serial ports are coastline on the BT2, while only one is on the BT4 and BT1.
Storage — The BT4 has the edge on SATA storage and expansion, with a pair each of 6Gbps and 3Gbps ports. The BT2 has only two 3Gbps ports, although one of those SATA ports can act as an mSATA connector. The older BT1 splits the difference by offering two 6Gbps and one 3Gbps port.
PCI Express expansion — The BT2 has both a PCIe x1 slot and a separate mSATA port, which can be swapped out for a mini-PCIe slot. The BT4 gives you a choice of PCIe+USB or mSATA ports, and also features a half-size mini-PCIe+USB slot and a SIM card slot. The older BT1 has yet another array of expansion options, with an mSATA slot, a half-size mini-PCIe+USB slot, and a PCIe x1 slot. There's also a SIM card or an optional second PCIe x1 slot.
Other features — Common features on all three boards include audio I/O, a PS/2 port, 8-bit DIO, and a fan connector with smart fan control. They all provide a watchdog timer, hardware monitor, and optional TPM. They also support 0 to 60°C temperature environments.
Power — According to Aaeon's announcement, both the EMB-BT2 and EMB-BT4 use ATX power and require only 12V input. The datasheets more specifically mention only a 24-pin ATX connector on the BT2, and only mention 12V power on the BT3 and BT1. We'll assume they're all the same in this regard.
Operating systems — Both the BT2 and BT4 support Fedora (Linux Kernel 3.8), as well as Windows 7/8 Windows 7 (32/64 bit,). Although the BT1 page doesn't list an OS, we imagine it uses the same lineup.

Further information
The Aaeon EMB-BT2 and EMB-BT2 Mini-ITX boards will ship toward the end of December at unstated prices. The EMB-BT1 is already shipping. Currently, there is only a product page for the EMB-BT2 and EMB-BT1, and at publication time the EMB-BT2 page has only photos, no specs. Presumably, all three boards will have full product pages soon. They can all be found at Aaeon's Mini-ITX page.