Sep 29, 2015 — by Rick Lehrbaum 1,455 views
[Updated: Sept. 30] — Google rolled out a pair of second-generation Chromecast media players, including a replacement for the original HDMI Chromecast and an audio-only model.

Google today formally introduced its expected second generation Chromecast media streaming adapter, and as had been widely expected there are some welcome enhancements, along with the addition of an audio-only model. Both versions — dubbed "Chromecast 2015" and "Chromecast Audio" — are priced at $35, and are currently shipping within about two weeks of new orders. Also today, Google announced a pair of new Nexus smartphones based on Android 6.0 (aka "Marshmallow"): the Nexus 6P and Nexus 5X (see farther below).


Original Chromecast compared to Chromecast 2015
(click images to enlarge)

One big advantage of the Chromecast 2015 device relative to its predecessor is that the new model "supports the latest WiFi standards and adapts more easily to changing WiFi conditions in your home," says a
Google blog post
. The resulting "higher quality video with less buffering" appears to result from two design enhancements: the new Chromecast's WiFi radio steps up from 2.4GHz 802.11b/g/n to 2.4GHz/5GHz 802.11ac technology, and in addition is accompanied by a three-antenna array instead of the original Chromecast's single antenna. This multi-antenna, auto-optimizing design
has been attributed
to technology developed by the designers of Google's
OnHub router
.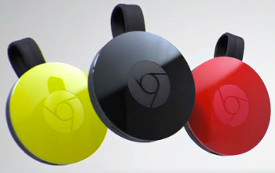 Chromecast 2015's three colors (left) and how it connects to the TV
(click images to enlarge)

Google's blog post also mentions that the device's umbilical-style HDMI output cable makes it "easier to plug into TVs with crowded ports," and the cable also helps maintain WiFi signal integrity by creating some space between the Chromecast and the TV.
On the software side, the Chromecast 2015's Linux-based firmware reportedly implements a new "fast play" function that pre-loads streaming content so that it streams faster. For example, while an episode in a series is playing, the device would load the next episode in the series so it's ready for viewing when the current episode is done.
Google's Chromecast devices run a stripped-down OS that was initially derived from Google TV's Android-based software. There are enough Android bits to enable the Chromecast device to download and play its own content based on instructions received from the user's browser on a separate device. On the other hand, the OS lacks an Android TV-style user interface, and does not support user installation of arbitrary Android apps from Google Play.
Google lists the following specifications for the Chromecast 2015 device:
Wireless — 802.11ac dual-band WiFi (2.4GHz/5GHz)
Display interface — HDMI port with 1080p max. resolution
Power — 5VDC @ 1A input via micro-USB connector
Dimensions:

Device — 52 x 52 x 13.5mm (excluding cables)
HDMI cable length — (not specified)
Power cable length — 1.75m

Colors — black, lemonade, coral
Supported OSes for casting — Android 4.1+, iOS 7.0+, Mac OS X 10.7+, Windows 7+
Although processor and memory specs were not listed by Google, both new Chromecast devices are rumored to be powered by a dual-core ARM processor accompanied by 512MB of RAM. The original Chromecast has 2GB of internal flash storage, but it's not known what's inside these new devices.
In conjunction with the launch of the new Chromecast devices, Google is updating the Chromecast remote control apps for all supported platforms, and also says it's "making a few updates to Google Play Music and Google Photos."

Chromecast Audio
In addition to updating its Chromecast video device, Google also introduced its first audio-only Chromecast device. Google describes the Chromecast Audio as a "small device that plugs into your existing speakers, so you can stream your favorite music, radio and podcasts over WiFi, similar to Chromecast."


Chromecast Audio
(click image to enlarge)

Google cites the simplicity of casting audio as being an improvement over the need for pairing devices when you use Bluetooth. Also, the fact that the Chromecast Audio receives its content over WiFi rather than Bluetooth eliminates the positional restrictions imposed by Bluetooth streaming.

Connecting the Chromecast Audio is as easy as 1-2-3
(click images to enlarge)

Another advantage over using a Bluetooth adapter to stream to a sound system is that the Chromecast Audio device is capable of streaming "straight from the cloud" when it's being used in conjunction with supported apps, such as Spotify, Pandora, and Google Play Music (and more will be coming soon).
That said, the Chromecast Audio is not limited to streaming audio from supported cloud-enabled apps. On the contrary, you can also cast "any audio from your Android phone or your laptop" to the device, says Google. "Hear anything playing on your Android phone or tablet on your speaker, or use your laptop to cast music and audio streaming websites from the Chrome browser." In this case, however, the audio presented by the Chromecast Audio to the sound system is not streamed straight from the cloud, but is making the secondary hop through your phone, tablet, or laptop.
Like the Chromecast TV adapter, the Chromecast Audio device can be used in conjunction with Android and iOS smartphones and tablets, and Windows and Mac PCs.
Google lists these specifications for the Chromecast Audio device:
Wireless — 802.11ac dual-band WiFi (2.4GHz/5GHz)
Audio outputs:

3.5mm jack analog
Optical digital (via Toslink to 3.5mm adapter or cable)

Power — 5VDC @ 1A input via micro-USB connector
Dimensions:

Device — 52 x 52 x 13.5mm (not including cables)
Audio cable length — 146mm
Power cable length — 1.75m

Color — black
Supported OSes for casting — Android 4.1+, iOS 7.0+, Mac OS X 10.7+, Windows 7+

Android 6.0 ("Marshmallow") gets real with the unveiling of two new Nexus phones
Considering that some 20 million Chromecast devices have been sold to date, the arrival of a pair of second generation devices is big news in the media player space. Yet, it was just one of many announcements at the Google Nexus event today. Leading the way was the formal unveiling of Android 6.0, which if nothing else, will remind us all how to spell "Marshmallow." The Marshmallow release continues Android's growing focus on Google Now voice commands, which are said to work more quickly and have been extended to control within apps. Other features included improved notifications and permissions, fingerprint-based security, and a Doze power management feature, which is said to put your device into a deeper sleep mode when not in use.


Google's new Nexus phones: the LG Nexus 5X (left) and the Huawei Nexus 6P
(click image to enlarge)

Android 6.0 "Marshmallow" will appear first on two
newly announced Nexus devices
: an LG-made, 5.2-inch, HD resolution Nexus 5X; and Huawei's 5.7-inch Nexus 6P, featuring 2560 x 1440 resolution. LG's Nexus 5X runs on a 1.8GHz hexacore Snapdragon 808, while the Nexus 6P moves up to an octacore Snapdragon 810.
Both devices feature 12.3-megapixel, f/20 cameras with 1.55µm pixel size, as well as front-facing cameras (5-megapixel on the 5X, and 8-megapixel on the 6P). The 5X and 6P ship with 2GB and 3GB of RAM, respectively and the 5X tops out at 32GB storage while the 6P offers a whopping 128GB. In addition, both devices offer a Nexus Imprint fingerprint reader and the new USB Type-C connectors, among other features.

Further information
Google's HDMI and audio-only Chromecast devices are both available for ordering at the Google Store's Chromecast 2015 and Chromecast Audio product pages. Delivery is currently running about two weeks after ordering.