Oct 16, 2013 — by Eric Brown 2,556 views
Wind River announced Wind River Linux support for Cavium's newly shipping Octeon III system-on-chips. Aimed at high-end networking applications, the 28nm-fabricated Octeon III SoCs offer as many as 48 MIPS64 cores clocked up to 2.5GHz, support MIPSr5 architecture features like hardware virtualization, and integrate accelerators for deep packet inspection (DPI), packet processing, security, search, and QoS.

Cavium announced the Octeon III family in Feb. 2012, and the SoCs entered widespread production earlier this year. In June of this year, the company followed up with single, dual, and quad core CN70XX/CN71XX Octeon III SoCs aimed at lower-end networking products.
Now Wind River has added Wind River Linux and Wind River VxWorks support for the Octeon III, ranging from the new low-power models to the high-end, 48-core version. The support should be available in its Wind River Linux Carrier Grade (CG) profile, among other application-oriented software stacks from Intel subsidiary Wind River. Cavium's own MontaVista Software subsidiary has already announced Octeon III support in its MontaVista Linux Carrier Grade Edition (CGE).
While the MIPS architecture has lost market share over the years, it has continued fairly strong on the high end. Here, MIPS64 cores drive high end networking, storage, and server SoCs, typically running Linux, from chipmakers like Cavium and Broadcom. The latter's MIPS holdings were boosted greatly via its 2011 NetLogic Microsystems (XLP family) acquisition.
Yet MIPS vendors like Cavium have faced increasing challenges from Intel'x Xeon line, and are now girding for an ARMv8 invasion into their turf from new products like AppliedMicro's X-Gene. In fact, both Cavium and Broadcom are working on high-end ARMv8 SoCs of their own, including Cavium's Project Thunder.
On Oct. 15, Broadcom announced a new ARMv8 networking and server oriented chip architecture, as well as a collaboration partnership with ARM to develop a new open-platform processor architecture optimized for Network Function Virtualization (NFV).

Inside the Octeon III and new CN70XX/CN71XX SoCs
The Cavium OCTEON III CN7XXX family is equipped with up to 48 cnMIPS64 III cores, plus over 500 application acceleration engines. Baked-in features include search processing functionality based on Cavium's Neuron Search processors, as well as high-speed chip-to-chip interconnects and a "real-time" PowerMin power management system, says Cavium.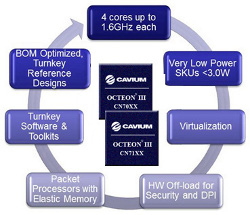 Octeon III architecture: CN7xxx overview; CN70xx/CN71xx specifics
(click images to enlarge)
In June, new MIPS architecture steward Imagination Technologies announced that the full line of Octeon III processors, including the new 1-4 core CN70XX/CN71XX SoCs, were compliant with its new MIPSr5 architecture. The Release 5 architecture, which also underlies Imagination's new Warrior-P MIPS IP, offers new features like hardware virtualization. It should be noted, however, that Cavium does not license MIPS cores, but instead builds custom designs.
While most Octeon III models are outside the scope of LinuxGizmos.com's typical mobile and embedded focus, the new low-end CN70XX/CN71XX, which recently entered full production, should be of interest. The processors are aimed at lower-end data plane processing applications, including wireless gateways, network security appliances, and NAS (network attached storage).
Linux is dominant in all these segments, but unlike the high-end 4G basestation equipment where Octeon processors shine, lower end networking gear is more commonly based on ARM, x86, or even PowerPC CPUs than MIPS. To show how serious it is about taking a greater share of the NAS market, Cavium also released new TurboSTOR NAS software for the processors.
The CN70XX/CN71XX processors provide between one and four MIPS64 cores clocked to 1.6GHz. The cores are accompanied by 78KB of I-cache and 32KB of D-cache, as well as a 3K write buffer and a full floating point unit.
Accelerators are provided for hardware virtualization, DPI (at up to 5Gbps), and cryptography engines that support protocols including RSA, SSL, IPSec, SHA-3, and ZUCC. The SoCs are said to be capable of running 3×3, dual-band 802.11ac and 802.11n WiFi at full line rate even while supporting more than 32 streams or clients.
Connectivity includes 9x gigabit Ethernet (GbE) controllers, as well as 10GbE XAUI networking. Peripheral support includes SATA 3.0, USB 3.0, and PCI Express. The processors are said to run on as little as 3 Watts or less.
The SoCs were previously supported by MontaVista Linux CGE 7.0, but now support for Wind River Linux is also available. Wind River's SDK includes a Linux 3.x kernel, TurboDPI and TurboSTOR software, and "enterprise class" Linux Networking off-load modules for fast path operations, says Cavium. Reference design packages for NAS, wireless access points, routers, and gateways are also said to be available.
"Our continued partnership will bring the power of our 48-core, 2.5GHz OCTEON III family of processors with Wind River's trusted and optimized operating software," stated M. Raghib Hussain, CTO at Cavium.
Octeon III processors including Cavium's new CN70XX/CN71XX models, are available now. More information may be found at the Octeon product page, and a deeper dive into the CN70XX may be found in this SemiAccurate report. More on Wind River Linux may be found here.