Feb 6, 2018 — by Eric Brown 2,665 views
Mozilla has released an improved 0.3 version of its open source, Linux-based Things Gateway software for setting up a home automation gateway on the Raspberry Pi, featuring a new rules engine and improved voice support.

In July, Mozilla announced a Project Things Internet of Things project for a decentralized open source gateway that uses standard web technologies. The software is designed to comply with the W3C's Web of Things (WoT) standard. The project previously released an early version of a Things Gateway stack that runs on a Raspberry Pi. Now, it's introducing a new release (v.0.3) of the gateway software, along with a tutorial to help users get started.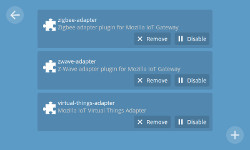 Things Gateway 0.3 menu screen (left) and device add-on interface
(click images to enlarge)

The vastly improved Things Gateway software, which is roughly equivalent to open source home automation stacks such as
OpenHAB
, is said to be easier to use than earlier versions. Major new features include:
Microphone support for issuing voice commands
Rules engine for setting 'If this, then that' logic for device interaction
Floor-plan view to lay out devices on a map of the home
Additional device type support, such as smart plugs, dimmable and colored lights, multi-level switches and sensors, and "virtual" devices
New add-on system for supporting protocols and devices
New system for safely authorizing third-party applications (using OAuth)
The Things Gateway is intended to be used with the Raspberry Pi 3, but other Raspberry Pi models are compatible. In fact, the stack can run on other Linux-based hacker boards, desktops, or laptops.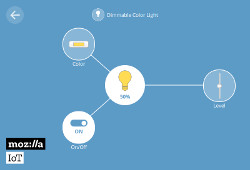 Things Gateway ZigBee (left) and smart light setup screens
(click images to enlarge)

The gateway supports
many different
smart plugs, sensors, and smart bulbs, says Mozilla. The stack should run with any
OpenZWave compatible Z-Wave dongle
, with tested models including the Sigma Designs UZB Stick and the Aeotec Z-Stick (Gen5). ZigBee adapter support is currently limited to the Digi XStick with mesh support.
In the next release, Mozilla plans to add new gateway adapters. The project will also develop libraries for different programming languages and platforms such as Arduino and Android Things. Eventually, the there are plans to expand beyond the gateway software to develop cloud and device components.
The basic concept of Project Things and WoT is similar to that of the web, with a goal of creating a decentralized IoT by providing URLs to make each "Thing" linkable and discoverable. The projects also aim to define a standard data model and APIs to make Things interoperable. Project Things and WoT use existing web standards like REST, HTTP, JSON, WebSockets, and TLS (Transport Layer Security).

Further information
The Things Gateway 0.3 is available now for free download. More information may be found in Mozilla's Things Gateway 0.3 announcement and tutorial. Source code is available on GitHub.