Mar 20, 2018 — by Eric Brown 2,067 views
Congatec's rugged, Linux-driven "Conga-CAM-KIT/MIPI" camera kit combines its Intel Apollo Lake based Conga-PA5 SBC with a MIPI-CSI 2 camera from Leopard Imaging and other components.

Congatec announced a Conga-CAM-KIT/MIPI camera kit, also referred to as the MIPI-CSI 2 Smart Camera Kit. The kit runs a Yocto Project based Linux distribution on Congatec's Conga-PA5, a Pico-ITX SBC with Intel's Apollo Lake Atom, Pentium, and Celeron SoCs. Also included is a MIPI-CSI 2 camera (LI-AR023Z-YUV-MIP) from Leopard Imaging based on ON Semiconductor's AR0237 HD sensor. Extended temperature ranges are supported.


Conga-CAM-KIT/MIPI components
(click image to enlarge)

The "instantly deployable, industrial-grade" Conga-CAM-KIT/MIPI "eases the integration of embedded vision technology into smart transportation checkpoints, access control and ticketing systems," says Congatec. Typical use cases are said to include video-based remote assistance, vision-based ticketing and gesture-based control to user and vehicle authentication, biometrics-based driver and passenger analytics, user-centric content delivery, and smart video surveillance and vandalism protection.

Conga-CAM-KIT/MIPI case (left) and Leopard Imaging LI-AR023Z-YUV-MIP camera
(click images to enlarge)
Specifications listed for the Conga-CAM-KIT/MIPI include:
Conga-PA5/N3350-4G
AC/DC PSU, 60W, 12V / 5A, plug 5.5×2.5mm / 10mm length
USB 2.0 flash drive with preconfigured test image for Conga-CAM-KIT/MIPI
Camera LI-AR023Z-YUV-MIPI
I-PEX cable FAW-1223-T1
LI-QA50SA0-ADP v1.2
Quick Start Guide Conga-CAM-KIT/MIPI
Conga-CAM/MIPI Devel. Kit – Safety Info

Conga-PA5 background
The 100 x 72mm Conga-PA5 Pico-ITX SBC supports all three dual- and quad-core Intel Atom E3900 models, as well as the quad-core Pentium N4200 and dual-core Celeron N3350. In addition to the Yocto Project derived Linux stack, which is used by the camera kit, the SBC can run Wind River Linux, Android, VxWorks, Windows 10, and Windows 10 IoT Core. It's available in commercial 0 to 60°C and industrial -40 to 85°C versions, and is supported with add-ons including cooling solutions, I/O panels, and cable sets.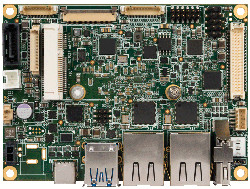 Conga-PA5, front and back
(click images to enlarge)

The Conga-PA5 can load up to 8GB of quad-channel LPDDR4 RAM, and has coastline ports including dual GbE ports, dual USB 3.0 ports, a 4K-ready DisplayPort, and a USB 3.0 Type C port with power delivery and DP++ support. A dual-channel 24-bit LVDS interface is also available.
The Conga-PA5 is further equipped with a microSD slot, 2x USB 2.0, and 2x RS232/485/422. There's a MIPI-CSI camera connector, 3x "feature connectors," plus line-out, mic-in, and S/PDIF audio out interfaces.


Conga-PA5 detail view (left) and block diagram
(click images to enlarge)

The SBC offers a choice of mini-PCIe and mSATA, and there's also a separate SATA III interface with a 5V connector to support a 2.5-inch HDD. Other features include a 12V power supply, I2C, GPIO, a watchdog, and an RTC with battery.

Further information
The Conga-CAM-KIT/MIPI camera kit appears to be available at an undisclosed price. More information may be found on Congatec's Conga-CAM-KIT/MIPI product page.