Dec 30, 2014 — by Rick Lehrbaum 2,887 views
Gumstix announced a gen-2 micro-aerial vehicle (MAV) controller based on its tiny gumstick-sized Overo COMs, and customizable via a free online design tool.

The AeroCore 2 is an update to the original AeroCore controller introduced last Spring. Like some other hacker-oriented UAV autopilots, such as the Erle-brain autopilot, both of Gumstix's AeroCore models run Nuttx RTOS for real-time control tasks, along with Linux for higher level functions.


AeroCore 2 baseboard with unpopulated Gumstix COM socket
(click image to enlarge)

The AeroCore 2's real-time-task-oriented microcontroller is an
ST Microelectronics STM32F427 MCU
, based on a single ARM Cortex-M4 microcontroller core clocked at 180MHz. As in the case of the original AeroCore, the AeroCore 2's MCU supports low-level machine controls and sensors, while high-level Linux programs running on a piggybacked Gumstix Overo COM manages mission intelligence, including visuals.

AeroCore 2 baseboard front (left) and rear
(click images to enlarge)

Gumstix says its AeroCore MAV controllers support integration with open-source projects like
Robot Operating System
(ROS),
APM-based PX4
, and PX4-compatible projects such as
QGroundControl
and
MAVLink
. This software ecosystem is said to enable the incorporation of firmware like optical-flow analysis program and target acquisition algorithms.
In contrast to the original AeroCore, which uses the company's dual-core, ARM Cortex-A9-based "DuoVero" COMs ($170-$200), the AeroCore 2 pairs with the lower-cost, ARM Cortex-A8-based "Overo" COMs ($99-$179), based on ARM Cortex-A8 processors. The new board obtains its GPS functionality from a GPS module that plugs into an industry-standard connector, "thus enhancing functional modularity and choice while reducing cost," says Gumstix.
Other than mentioning that the AeroCore 2 MAV controller includes CAM, Spektrum RC, and GPS interfaces, neither the the company's press release nor the AeroCore 2 product page currently offer detailed specifications, block diagrams, or other documentation. However, The original AeroCore MAV controller provides multiple control options for up to eight motors, and integrates a 6-axis accelerometer with magnetometer, as well as a 3-axis gyroscope and barometer. Additionally, various expansion headers offer interfaces such as SPI, I2C, UART, and GPIO.

Gumstix Overo COMs
Gumstix now provides 14 versions of the Overo COM series, based on different versions of TI's OMAP35x family, as well as on enhancements like wireless modules and extended temperature support. Overo models, such as Sand, Fire, Tide, and Water, are also offered in memory- or processor-enhanced versions with the STORM suffix.


Overo TidalSTORM COM, front and back
(click image to enlarge)

Gumstix has long supported its Overo COMs with
Yocto Linux
.

Designed, and customizable, with Geppetto 2.0
Gumstix announced the AeroCore 2 in conjunction with the public unveiling of version 2.0 of its web-based "Geppetto" design tool, with which it designed the board. Because AeroCore 2's design was implemented using Geppetto, developers can quickly and easily modify it to satisfy custom requirements, says the company.

Typical Geppetto design models
Once the Geppetto-based modifications are complete and pass the tool's verification tests, prototypes can be ordered for a setup fee of $1,999, plus component costs, for delivery in approximately 15 business days (average for "verified designs"), says Gumstix. In addition to providing a simple, web-based board design and modification process, Geppetto 2.0 is said to offer crowd-funding features that let a community of developers collaborate on a board's design or modification, and then share in funding its prototype builds.
"Anyone from electrical engineers and industrial designers to educators and hobbyists can create devices with Geppetto's intuitive drag and drop approach to connect USB plugs, network connectors, LEDs, or even whole computer-on-modules to meet custom specifications without the cost of conventional electrical engineering, layout and manufacturing," states the Gumstix Geppetto page.

Gumstix MAV legacy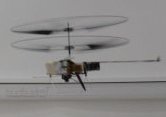 UltraSwarm
The AeroCore 2 controller is the latest in a decade of Gumstix support for micro-helicopter projects. The UltraSwarm helicopter, demonstrated by the University of Essex's Gridswarm project in 2005, ran on an early Gumstix module that was powered by an ARM-based Intel PXA255 XScale processor running at 200MHz or 400MHz.

Further information
The AeroCore 2 sells for $149, which does not include the cost of the user's desired Overo COM. Sales and technical information may be found at the AeroCore 2 product page and in the AeroCore 2 and Geppetto 2.0 press release. Pricing and technical information regarding the AeroCore 2-compatible COMs are available on Gumstix's Overo COMs product page.