Mar 10, 2017 — by Eric Brown 12,020 views
An Indiegogo campaign is pitching a COM-like, 44.6 × 25.5mm "LicheePi Zero" SBC for $6 or $8 with WiFi that runs Linux on a 1.2GHz, Cortex-A7 Allwinner V3.

A Chinese development team led by a "Wu Caesar" has gone to Indiegogo to sell a LicheePi Zero SBC that goes head to head with the Raspberry Pi Zero and recent, WiFi-enabled, $10 Raspberry Pi Zero W. The LicheePi Zero similarly offers a single-core SoC with WiFi and minimalist I/O, but for only $8 for the WiFi version or $6 without.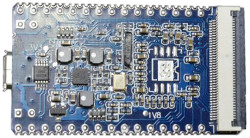 LicheePi Zero, front and back
(click images to enlarge)

The campaign has barely made a dent in its $5K funding goal, but it's flexibly funded. You can get a pair of boards plus two OTG converters for $12, or $16 with WiFi, with shipments in May. Alternatively, you can pay $12 for a rush order of the WiFi-enabled ZeroW due in April that ships for $12 for a single unit.
There are also single-unit versions of the ZeroW with shipments in either May or June that add a dock and OLED display ($19), VGA module ($20), HDMI module ($21), speakers and OLED ($25), 5MP camera, OLED, and battery ($34), handheld version with 2.4-inch TFT display, keyboard, joystick, and battery $35, and a mini-laptop version with 5-inch 800 x 480 display, keyboard, etc. But wait, there's more! Other packages ranging from $40 to $79 offer features including LoRa wireless, mic array, LVDS with 10.1-inch LCD, and two even more feature-rich mini-laptops.


LicheePi ZeroW with WiFi module plugged into microSD (left) and soldered to board
(click images to enlarge)

None of these prices include shipping, which according to the
CNXSoft post
that alerted us to the campaign, costs only $5. In December, CNXSoft also covered an Allwinner A13 based, Linux and Android ready
Lichee Pi
selling in China in versions from $5.60 to $24.
The LicheePi Zero and ZeroW instead use a 1.2GHz, Cortex-A7 based Allwinner V3s SoC with Mali-400 GPU, which is typically aimed at the action camera market. The only RAM on the LicheePi Zero is the 64MB of DDR2 integrated on the V3s SoC itself.


LicheePi Zero plugged into breadboard (left) and Allwinner V3s block diagram
(click images to enlarge)

The LicheePi Zero's only real-world ports are a micro-USB OTG port that can be used for power in lieu of an onboard 5V header, and a microSD slot. The latter can be used for booting the Linux 4.10, or you can boot from onboard SPI flash.
There's an FPC-40 RGB/LCD connector for directly connecting to an LCD without a cable, as well as a touchscreen controller. The same FPC-40 link can connect to other peripherals, as well. A separate audio interface can connect to a headphone or mic.


LicheePi Zero pinout diagram (left) and dock block diagram
(click images to enlarge)

Despite the Pi name, there is no RPi expansion compatibility here. You get 30x "frequently used" 2.54mm pins that can plug directly into a breadboard. Another 30x "unfrequently-used" pins output via 1.27mm half-holes. Low-speed peripherals include GPIO, UART, SPI, I2C, ADC, and PWM, and high-speed I/O includes USB OTG, MIPI-CSI, EPHY, and RGB LCD. (See the full pinout in the diagram above.)
The LicheePi ZeroW version is identical except that it includes a customized TF WiFi Card. The card can plug into the microSD slot or can be soldered to the 2.54-pin connectors (see photos farther above). The Indiegogo page has a lot more detail on all the peripheral packages, and loads of photos.

Further information
The LicheePi Zero and LicheePi ZeroW are available in packages starting at $12 or $16 for two-packs, not including shipping, with shipments in April through June. Many more packages with various peripherals and form-factors are mentioned above, and are detailed in the LicheePi Zero Indiegogo page.