Mar 29, 2019 — by Eric Brown 9,484 views
Linux dominates the smart TV market, which continues to grow despite concerns over privacy. A Strategy Analytics report pegs Samsung's Tizen as the leading platform at 21 percent followed by LG's WebOS at 12 percent.

Despite some evidence last year that smart TVs were losing ground to streaming boxes, Strategy Analytics has released a Global Connected TV Device report that shows a resurgence in smart TV sales. In 4Q 2018, the global market for Internet connected Smart TVs had a "strong quarter," with shipments up 18 percent year over year, representing 72 percent of total TV shipments, says the market research firm. Some 157 million smart TVs sold in 2018, representing 67 percent of the total TV market, says the report.
The report primarily focuses on software, breaking out the leading smart TV stacks that represent half of all shipments. They are all based on Linux kernels, in some cases via Android. The percentage is likely much higher since the report suggests that the other 50 percent of sales are mostly Linux-based, as well.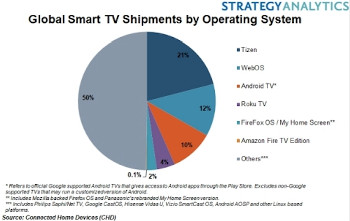 2018 Global Smart TV Shipments by OS
(Source: Strategy Analytics (Mar. 2019)
(click image to enlarge)

Customized versions of Android without Google Play are used by many Chinese TV makers for domestic smart TVs, accounting for a "significant share" of non-proprietary smart TV platforms, says the report. Most smart TVs from China-based TCL, meanwhile,
run the Linux-based Opera Devices SDK
. The "other" category also includes Linux-based models such as Vizio's SmartCast OS and other Google CastOS (Chromecast) platforms, as well as Philips' Android-based
Saphi
, says Strategy Analytics.
Tizen Linux, which has powered all Samsung Smart TVs since 2015 leads the 2018 OS share list at 21 percent, followed by LG's webOS (ThinQ Smart TVs) at 12 percent. Android TV trails at 10 percent, followed by Roku TV at 4 percent and Panasonic's My Home Screen (Firefox OS) with 2 percent.


2019 Samsung Smart TV with iTunes integration
(click image to enlarge)

The last platform to be ranked — Amazon's Android-derived Fire TV — has only 0.1 percent share. This either suggests that the "Other" list is highly fragmented or that Strategy Analytics has highlighted Fire TV due to its greater prominence in the U.S. market.
In North America there has been considerably growth in recent years in smart TVs based on Android TV and Roku TV, says the report. Nearly one in every four smart TVs sold last year in North America was powered by Roku on brands such as Haier, Hisense, Insignia, Sharp, and TCL.
The fact that Google's long-struggling Android TV (formerly Google TV) — which like Roku debuted on streaming media players before migrating to TVs — represents 1 in 10 smart TVs is a significant milestone, as celebrated this week on several Android blogs like 9to5Google. (Good things come to the persistent — and the filthy rich.)
Despite their Linux roots, most of these platforms are largely proprietary, with the top two platforms dominated by single vendors. However, most offer more opportunities for access by third-party developers than earlier non-Linux smart TVs.
Tizen TV is based on the open source, Linux Foundation hosted Tizen, and LG has made an effort to open up webOS, which it acquired from HP, which in turn acquired it from Palm (Palm OS). However, the new, Raspberry Pi optimized webOS Open Source Edition is instead targeted at the smart devices market beyond TVs. Panasonic's Firefox OS-based MyHomeScreen is probably the most open platform of the bunch.

Snooping concerns fail to stop Smart TV advance
One problem with the Linux success story in smart TVs is that the market segment is guilty of some of the most blatant consumer snooping practices in tech. The scandal that broke out in 2017 over unauthorized snooping and sharing of consumer information via Automatic Content Recognition (ACR) has died down somewhat. Almost all smart TVs offer a form of ACR, which enables the tracking of what TV shows you're watching. The vendors then sell this information to advertisers and others.
Since the early uproar over ACR, most vendors have attempted to make opt-out controls more accessible. However, judging from this Oct. 2018 Consumer Reports guide to disabling ACR on major smart TV models, it can still be confusing.
Meanwhile, Millennials — and perhaps consumers in general — appear to be growing more sanguine (or maybe just resigned) about privacy issues. The greater problem regarding Millennials for the TV industry is not so much privacy but the age group's diminished interest in buying TVs of any kind. For younger consumers, the "big screen" increasingly means a laptop.
ACR even has its defenders, who claim that it improves TV show recommendations and sends you ads that you may actually be interested in watching. They also argue that the technology has helped reduce the price of smart TVs by adding new revenue streams.
If some consumers' see privacy as a deal-breaker for buying smart TVs, others are drawn to the fact that the latest smart TVs have the coolest new features. Not only are they often the first models to receive the latest display technology such as OLED screens, but their underlying Linux platforms have helped improve GUI interfaces and features considerably.
A statement from David Watkins, Director at Strategy Analytics and the report's author, argues that due to the "opportunity to sell advertising space on Smart TV user interfaces and generate new revenues via over the top content services" for a product with otherwise "wafer thin" margins, "control over the Smart TV operating system is therefore of critical importance as it is through this software layer that companies can extract the valuable user data that drives targeted ad revenues."

2019 smart TVs: voice control and home automation
The latest UI advance on smart TVs is voice control. In January, Samsung announced that its 2019 Smart TV line would include its new Bixby voice assistant. Other new features include exclusive Apple iTunes video offerings, as well as AirPlay 2 support. There's also a Bixby-enabled intelligent search feature that uses AI algorithms. Finally, the new Tizen stack offers improved connectivity with Samsung's Linux-based SmartThings home automation platform via a new Smart Thingsdashboard.


2019 Samsung Smart TV showing Smart Thingsdashboard (left) and 2019 LG ThinQ TV with AirPlay 2 support
(click images to enlarge)

Voice agents are also appearing on other smart TVs. The Android TV models, including Philip's Saphi-based TVs, offer Google Assistant. LG's webOS based ThinQ line will add Alexa and Google Assistant support on the 2019 models. Later this year, it will add
AirPlay 2 support
.
Voice controls may help avoid the complexity of the never quite solved universal remote problem. However, they add a whole new level of privacy concerns shared by all voice-activated devices.
So far, videoconferencing has yet to have much of a presence on TVs, although a few models such as Samsung's PNF8500 include a camera. There are also Android TV apps such as TrueConf for conferencing via third-party cameras. The trend is likely to continue, bringing more flexibility to smart TVs as well as increasing opportunities for snooping.