Jun 17, 2015 — by Eric Brown 3,916 views
Sierra Wireless unveiled a Cortex-A5 based "AirPrime WP" IoT module with 3G or 4G radios, plus a modularly expandable, open-source "mangOH" carrier board.

We've seen plenty of low-power, Linux-ready Internet of Things computer-on-modules, mostly based on Qualcomm's MIPS-based Atheros SoCs. The Linux-based AirPrime WP modules from Sierra Wireless instead tackle IoT and industrial M2M with integrated cellular radios. A 3G HSPA+/EDGE/GPRS/GSM version called WP75xx is due in the fourth quarter while a WP8548 version that adds 4G LTE is due in Q1 2016.


AirPrime WP module and its socket
(click images to enlarge)

The WP Series, which is footprint-compatible with existing AirPrime HL wireless modules, runs Sierra's Yocto-based
Legato
Linux on a 550MHz Cortex-A5 core, with 128MB RAM and 256MB flash. The module further integrates a Qualcomm Gobi baseband chipset — MDM8215 for the 3G module and MDM9215 with LTE — as well as dual 600MHz DSPs. GPS/GLONASS GNSS chips are optional, and other wireless radios, such as WiFi, can be attached via an optional Project mangOH carrier board.

AirPrime WP function diagram
(click image to enlarge)

Both AirPrime WP COMs runs on 3.4V to 4.3V power, measure a wee 23 x 22 x 4.35mm, and support -40 to 85°C temperatures. Sierra touts the low power consumption and deep sleep modes, making them suitable for remote battery- or solar-powered sensor devices. AirPrime WP-based devices that transmit 100Kb messages only once a day at 2G speeds can last three years on a single battery, claims the company.
The modules are equipped with 157 signal pins, and support "link" interfaces including USB OTG, SDIO, HSIC, and dual UART. Digital I/O is said to include I2C, SPI, dual SIMs, and 13 GPIOs. You also get dual ADC analog interfaces and PCM and I2S for audio.


AirVantage M2M Cloud service
(click images to enlarge)

Legato Linux, which
Sierra Wireless introduced in 2014
is built from Wind River's Yocto-based Linux distribution. Legato adds an application sandbox that can host proprietary software and provide a secure place for third-party applications, says Sierra. AirPrime WP supports Sierra's integrated
AirVantage M2M Cloud services, including wireless data monitoring, application updates, and application business data services. All these services, as well as the Legato stack itself, offer OTA updates.


Project mangOH

The AirPrime WP module is supported with an open-source, Arduino-compatible Project mangOH carrier board, now available in beta along with schematics, documentation, and bill of materials. Both the mangOH board and its new IoT Connector expansion interface are freely available under an open hardware license.





Project mangOH baseboard rendering, from four angles
(click images to enlarge)



The Project mangOH has a Euro card form-factor of 120 x 100mm, and provides three IoT Connectors, dual CF3 connectors for plugging in up to two AirPrime WP and HL modules, and an Arduino Leonardo connector. USB 2.0 OTG and host ports are provided, along with an RS232 serial port, a 10/100 Ethernet port, an audio jack, and an SD slot. 3D-printable faceplate designs for Euro card enclosures are available for free download.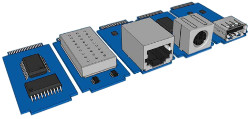 IoT Connector concept (left) and CF3 sockets
(click images to enlarge)



Additional mangOH features include three SMA/uFL antennas, an accelerometer, gyroscope, and a battery. The board comes with 3D printing files for building protective face plates.





Single- and double-wide IoT Connector form-factor specs
(click images to enlarge)



Project mangOH's IoT Connector is a new open standard designed for a variety of wireless and sensor technologies. Freescale, Linear Technology, and Texas Instruments have already developed wireless modules based on the standard, enabling WiFi, Bluetooth, Zigbee, Thread, and 6LoWPAN wireless radios that work with the Project mangOH board. TI, for example, is supporting the standard on its WiLink 8 WiFi/Bluetooth chip, as well as a ZigBee chip.

The mangOH Project, hosted here, is licensed by Sierra Wireless under a Creative Commons Attribution 4.0 International License.


Further information

Additional information regarding the AirPrime WP Series modules is available at the Sierra Wireless website's AirPrime WP modules product page. Other details may be found at Project mangOH page and this next generation WP Series modules launch page.