May 13, 2013 — by Eric Brown 1,454 views
NASA's Linux-based "Robonaut 2" is undergoing extensive testing on the International Space Station (ISS), and will soon be put to work. The humanoid Robonaut 2 will soon receive a major upgrade that will provide legs and an expanded battery pack, enabling it to perform more duties, including space walks.

Robonaut 2 arrived at the ISS in Feb. 2011, billed as the first dexterous humanoid robot in space, but it has yet to see much action. Recently, however, the bot has been undergoing extensive testing of its motor controls and vision system.

Robonaut 2 initially consisted of a head, torso, arms, and hands
(click images to enlarge)
As seen above and below, Robonaut 2 currently lacks legs, using a movable stanchion as a foundation for its humanoid torso, arms, articulated fingers, and helmeted head. However, the robot will soon receive a pair of legs and an extended battery pack, says NASA. This will enable the robot to climb stairs in the space station as well as fulfill its primary intended mission: performing space walks and extra-vehicle repairs.
Robonaut 2 performing routine chores
More often, the robot will perform menial jobs like vacuuming, changing filters, flipping switches, removing dust covers, and installing handrails. NASA sees a potential role for mounting a Robonaut on land rovers, and has developed a Centaur rover that is designed to integrate the Robonaut. GM has also collaborated with NASA on Robonaut 2, with the hopes of integrating a similar robot into its assembly line operations.
Developed initially as an AstroRobonaut design developed in collaboration with DARPA, the robot is part of NASA's Game Changing Development Program, which is building cutting-edge technologies that could be used in other agency missions, as well as the U.S. aerospace industry in general. So far, Robonaut spinoffs have included a "Robo-Glove," which is designed to reduce repetitive stress injuries and provide additional gripping strength to astronauts. The technology has also spawned an Iron Man-like wearable "X1" exoskeleton robot design that assists or inhibits movement in leg joints.

Robonaut 2 engaged in a heated debate
(click image to enlarge)

One of the main reasons NASA chose a humanoid design was to avoid the need to develop and maintain specialized tools that can only be used by robots. Robonaut 2 is operated remotely by humans, using the Robonaut Tele-operation System (RTS). This telerobotics system requires a ground- or space-based user to wear a 3D visor, vest, and pressure-sensitive gloves. The visor shows a feed from the robot's stereo video cameras.

Robonaut 2 features & specs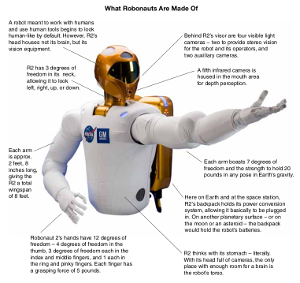 Robonaut 2's key features & specs
(click image to enlarge)
The 330-pound Robonaut 2 measures 3 feet, 4 inches tall from the waist, and is equipped with more than 350 sensors. It uses Ubuntu control software, and appears to run another type of embedded Linux on its 38 PowerPC-based processors, which make up the "brain" located in its stomach.
Robonaut 2 can move its arms and fingers at speeds more than four times faster than the original. It's also more compact and dexterous, providing 12 degrees of freedom in the hands. Each finger has a grasping force of 5 pounds.
Robonaut 2 provides deeper and wider range sensing than the original, says NASA. New or updated features are said to include an optimized overlapping dexterous workspace for its dual arms, each of which extend 2 feet, 8 inches, series elastic joint technology, extreme neck travel, and extended finger and thumb travel.
The robot provides miniaturized 6-axis load cells, as well as redundant force sensing, ultra-high speed joint controllers, and high resolution camera and IR systems. More recently, heat sinks were installed in Robonaut 2's forearms so it could better dissipate heat, letting it work longer without having to rest to cool off.
Recent tests have focused on updates to its vision acquisition system, as well as a variety of real-world dexterity tests that make use of it. These include handling control panels, improving handoffs with human astronauts, and even manipulating a zipper. The astronauts have also successfully performed the RTS tests that let them directly control the robot's head and hand movements.
Like Curiosity, its distant cousin now rolling around Mars, Robonaut 2 does its own tweeting and Facebook blogging. After the telerobotics experiments, for example, the robot noted on Facebook: "Next up: I control the astronauts. What? No? Blast…."

Space station goes all out for Linux
Last week, NASA announced that the ISS astronauts' laptops were switching from Windows to Debian Linux. The change is part of a larger migration in which ISS systems running the Fedora-based Scientific Linux are being switched to Debian 6.
In a Linux Foundation posting describing how NASA used the Linux Foundation's Linux training services to make the switch, Keith Chuvala of United Space Alliance, a NASA contractor deeply involved in ISS operations, said that Linux was seen as being more reliable and stable than Windows. It also offers a greater opportunity for on-the-fly patching and adapting, said Chuvala.
NASA has long used Linux in ground-station computers, and has tested embedded Linux in various experimental projects. While Windows is still widely deployed, and there's significant use of RTOSes (real-time operating systems) such as Wind Rivers VxWorks running on Curiosity, NASA is increasingly moving to Linux and open source.
Android, too, has attracted NASA's attention. On April 21, NASA Ames launched three "PhoneSat" nanosatellites into orbit, each built around Android Nexus smartphones. The tiny 1U CubeSat nanosats run from $3,500 to $7,000 each, and and successfully sent status reports and photographed Earth. The PhoneSats are part of a larger nanosatellite movement in which open source Linux, Android, and Arduino technology play a prominent role.
Check out this light-hearted Robonaut 2 movie trailer, produced by NASA:
NASA's "R2 Movie Trailer"
Further info
Extensive information on Robonaut 2 may be found on NASA's Robonaut 2 web page, which offers links to R2's Facebook and Twitter pages, as well as this Robonaut 2 data sheet (PDF).