May 25, 2017 — by Eric Brown 742 views
The $70 "Waggle" remote controller device for 3D printers offers a mobile app with a video feed and temp controls, plus a cloud-based slicing service.

A Seoul-based startup called Ateam Ventures is closing in on its $10,000 Kickstarter goal for a Waggle 3D printer controller equipped with WiFi and a 720p video camera. The early bird packages are gone, but you can pre-order a Waggle for $70, discounted from the $99 retail price. The campaign runs through June 15, with shipments due in September.


Waggle set up to monitor an Ultimaker print job
(click image to enlarge)

3D printing is a time-consuming process, but if you leave the print job unattended, plenty can go wrong. Waggle lets you remotely monitor a live video feed or snapshots from your print job via an Android or iOS app, as well as a web browser. The app also provides live temperature logs for the nozzle and heatbed, as well as status updates and alarms.
Waggle
The Waggle app lets you halt the print job, thereby potentially saving you a lot of wasted time and filament. It also appears you can adjust nozzle and heatbed temperature from the app, but it's unclear if any other settings might be accessible.
The Waggle supports most 3D printers that run open source firmware "right out of the box," says the Ateam Ventures. Their list of several dozen supported printers include RepRap, Ultimaker, Printrbot, Prusa, LulzBot, MendelMax, Monoprice, and many more. The company says it will help supply simple driver upgrades for more arcane printers.


Waggle detail view
(click image to enlarge)

The Waggle also comes with cloud-based slicing software. You can select your printer, upload a 3D model, and slice it with Waggle's
CuraEngine
based slicing service. Alternatively, you can upload your own pre-sliced model. The apparently free cloud service then sends the appropriate gcode to the Waggle device, which connects to the printer via a USB 2.0 host port to print the model.

Waggle mobile app showing video feed (left) and temperature controls
(click images to enlarge)

The Waggle's web and mobile-based platform is designed with classrooms and makerspaces in mind. You can share access to your 3D printer with selected users or monitor and control multiple jobs simultaneously from other users. Waggle comes with 250MB of free cloud storage, and it can interface with Dropbox, Google Drive, and iCloud.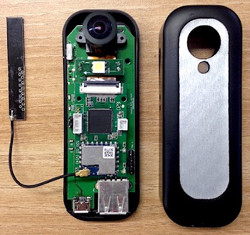 Waggle inside view (left) and on display at the Bay Area MakerFaire
(click images to enlarge)

The 97 x 35 x 26mm Waggle device runs Linux 2.6 on a 240MHz, ARM9 based
Nuvotron N3292602
streaming media SoC with an integrated H.264 and MJPEG decoder. Other features include a Realtek RTL8189FS WiFi chipset, USB 2.0 host port, and LEDs. A micro-USB port connects to a supplied 5V, 1A DC adapter with cable. A flexible stand is included, and Ateam provides some other 3D printable stand designs.

Waggle simplified (left) and detailed block diagrams
(click images to enlarge)

Ateam sent us a detailed block diagram (shown above) that shows some other functions that do not appear to be available to users. These include Ethernet, a debug port, A/V and LCD outputs, and an analog input. It's unclear if any of this is accessible by some means, or might eventually be supported in future Waggle models.

3D-printable Waggle stand designs
(click image to enlarge)


Further information
Waggle is available for $70 on Kickstarter through June 15, with shipments due in September. Volume discounts are available. More information may be found on the Ateams Ventures Waggle Kickstarter page.