Jul 1, 2015 — by Eric Brown 2,398 views
Data Translation's "DT7816" data acquisition board runs Linux on a TI Sitara, and offers eight simultaneous ADC inputs, two DAC outputs, and 16 GPIO lines.

The DT7816 is billed as a "real-time ARM-based, high throughput, high accuracy, simultaneous data acquisition module." Its feature set is similar to the mainboard in Data Translation's recent DT7837 device, including the open source Debian Linux distro, an FPGA, and a Texas Instruments Sitara AM3352 system-on-chip with a single Cortex-A8 core. However, the DT7837 is designed specifically as a dynamic signal analyzer for measuring noise and vibration while the DT7816 is a general purpose data acquisition board.


DT7816
(click image to enlarge)


DT7837
(click to enlarge)
In addition, the DT7816 is a board-level product while the DT7837 is an embedded computer with an enclosure that at $2,295, costs almost twice as much as the DT7816. Recently, Data Translation released a $1,995 board version of the DT7837, which has a separate, stacked signal analyzer daughter board.
The 6-layer, 100mm 3U DT7816 is touted for real-time capabilities, including simultaneous operation of all inputs and outputs. Since the A/D and D/A subsystems have independent clocks, the input and output functions can run separately or in unison, enabling continuous acquisition of data while output functions are carrying out tasks, says Data Translation.
The earlier DT7837 was billed originally as having a BeagleBone Black style computer, reflecting its AM335x processor, and the fact that a BB Black was used in the prototyping stage. The new DT7816 is more specifically said to offer a 1GHz AM3352.


DT7816 block diagram
(click image to enlarge)

The "ARM block" and basic I/O are identical to the DT8737, with 512MB DDR3 RAM, 2GB onboard flash, and a microSD slot. Like the DT8737, the DT7816 is further equipped with a 10/100 Ethernet port, an RS232 interface, and USB host and client ports.

DT7816 detail view
(click image to enlarge)

The DT7816's acquisition I/O is somewhat different, however. You get eight 16-bit, 400KHz ADC channels that offer parallel simultaneous operation, thereby preventing channel to channel interaction, says Data Translation.
The DT7816 provides dual 16-bit, 400KHs DAC channels, as well as 16 GPIO signals, including 8x DIO, a counter/timer, a measure counter, and external triggers. A tachometer input with a range of ±30V is also available, along with an input clock and debug and serial I/O headers.
Rounding out the I/O is a user accessible 40-pin expansion connector featuring ESD protection on the analog input lines. Options include a screw terminal panel, various cables, and a 5V DC power supply.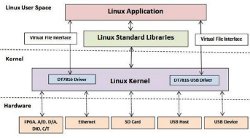 DT7816 Linux architecture (left) and example apps
(click images to enlarge)

The DT7816 comes preinstalled with an open-source embedded Linux platform featuring a Linux 3.12 kernel, device drivers, a Debian file system, and full source code. Also preinstalled are extensive example programs using TI's SDK Essentials package. The example apps show how to use the A/D, D/A, digital I/O, counter/timers, measure counter, and tachometer. The documentation shows how to set up a Linux-based cross-development system with the TI SDK package, DT7816 distribution, and other open source packages.
"The promise of embedded high-performance data acquisition running Linux is now here with the DT7816," stated Fred Molinari, Data Translation's President. "Our task was to offer extensive Linux guidance and examples to make the low-cost embedded data acquisition capability greatly simplified for our users."

Further information
The DT7816 is priced at $1,195, and will be available in July, says the company. More information may be found at Data Translation's DT7816 product page.