Jan 24, 2018 — by Eric Brown 2,426 views
Lime Microsystems has launched a Raspberry Pi compatible "Grove Starter Kit" option for its LimeSDR Mini radio hacker board, featuring a GrovePi+ board, 15 Grove sensor and actuator modules, dual antennas for 433/868/915MHz bands, a base plate, and cables.

Lime Microsystems has added to its successful LimeSDR Mini crowdfunding campaign on Crowd Supply with a $249 Grove Starter Kit designed to work with a Raspberry Pi. The news came shortly after Lime unveiled a DVB transmitter prototype project that combines the open source LimeSDR Mini Software Defined Radio (SDR) board with a Raspberry Pi Zero.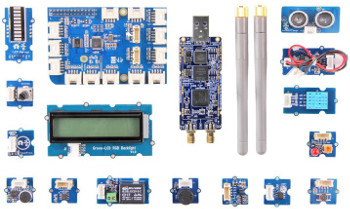 Grove Starter Kit contents with LimeSDR Mini at top center and GrovePi+ board to its left
(click image to enlarge)

The Grove Starter Kit for the LimeSDR Mini offers another way to combine the SDR hacking board with a Raspberry Pi, this time for wirelessly connecting an Internet of Things gateway. The kit combines the $139 LimeSDR Mini board with SeeedStudio's $30
GrovePi+
RPi compatible add-on board, which offers 15x Grove 4-pin interfaces. You also get 15 Grove sensor and actuator modules (see list below), as well as an acrylic base plate, USB cable, and 2x antennas optimized for the 433/868/915MHz unlicensed bands. Users supply the Raspberry Pi B/B+/A+/2/3 of their choice.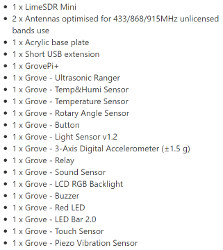 Grove Starter Kit parts list (left) and LimeSDR Mini
(click images to enlarge)

Lime is supporting the kit with its LimeSDR optimized
ScratchRadio extension
which is based on the Scratch educational programming language. Most of the Grove modules supplied with the kit also support Scratch. The extensions "allow the creation of simple and fun applications that integrate SDR capabilities and peripheral I/O," says Lime. The company will also be developing non-Scratch examples that "integrate with existing off-the-shelf systems, such as wireless thermostats and remote controls."

Seeed's GrovePi+ with Raspberry Pi
(click image to enlarge)

Lime Microsystems launched the open source, $139 LimeSDR Mini on Crowd Supply in September. This size- and cost-reduced sibling of the LimeSDR board has a reduced frequency range, RF bandwidth, and sample rate, with half as many receive and transmit channels, and significantly fewer programmable logic gates.
The Mini runs the same LimeSuite host-side software, however, which supports SDR technologies including UMTS, LTE, GSM, WiFi, LoRa, Bluetooth, Zigbee, RFID, and DTB. Like the LimeSDR board, the LimeSDR Mini's FPGA manages DSP and interfacing tasks, while a USB 3.0-connected host system running Ubuntu Core provides UI and supervisory functions.

Further information
The Grove Starter Kit, including a LimeSDR Mini board, is available on Crowd Supply for $249, with shipments for orders placed this week due Mar. 31. Shipping is free to the U.S., and costs $18 worldwide. More information may be found on Lime Microsystems's Crowd Supply Grove Starter Kit announcement and more on LimeSDR may be found at the Lime Microsystems website.