May 15, 2015 — by Eric Brown 8,215 views
Qualcomm has launched two WiFi-enabled SoCs that support the AllJoyn IoT standard, including a 650MHz, MIPS-based "QCA4531" SoC that runs OpenWRT Linux.

Qualcomm's Atheros business unit has enjoyed wide adoption of its WiFi-enabled, MIPS-based AR9331 system-on-chips running OpenWRT Linux. The chipmaker is now introducing two new Internet of Things processors: a low-end, RTOS-driven QCA401x, and a more robust, OpenWRT-friendly QCA4531 SoC designed for IoT gateway duty.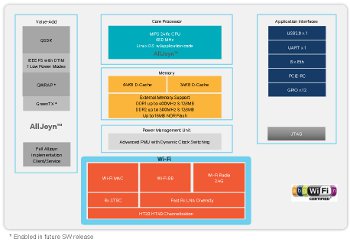 QCA4531 block diagram
(click image to enlarge)

Both processors support built-in WiFi, and in the case of the QCA4531, you get 802.11n with 2×2 MIMO. They also support Qualcomm's AllJoyn framework for IoT, which has been established under the Linux Foundation's
AllSeen Alliance
. AllJoyn has been one of the more successful of the many IoT interoperability standards that have popped up in recent years. The connectivity framework aims to standardize the proprietary schemes provided by different lighting vendors and home automation hubs.
The Linux-equipped QCA4531 can be considered a more robust version of the AR9331. It has a similar MIPS 24K core designed to run the lightweight, networking focused OpenWRT distribution. However, it's clocked to a faster 650MHz rate, up from 400MHz.
The QCA4531 can operate as a feature-rich IoT node or as a gateway or hub. The SoC is "ideal for multi-protocol bridging and communication, bringing together multiple wireless medium and bridging between different ecosystems," says Qualcomm. The QCA4531 can also be used as an access point supporting up to 16 simultaneous devices.
A Qualcomm PowerPoint on the two SoCs was posted in this IOEDay PDF. Here, the QCA4531 is further described as supporting up to 128MB of DDR2 or DDR1 RAM, as well as up to 16MB NOR flash. The 12 x 12mm processor incorporates both 64GB and 34KB D-cache. The OpenWRT code is made available via a QCA Software Development Kit (QSDK).


Block diagrams for the QCA4531-based AP143 ref platform (left) and newer COM design
(click images to enlarge)

You can choose between standard 1×1 or 2×2 WiFi configurations, and there's also a 2.4GHz RF front end. The SoC supports I/O including USB 2.0 host, UART, JTAG, and PCIe. It offers 12 GPIO lanes and supports up to five "4+1 FE" Ethernet ports. The SoC offers a PMIC with power management features including dynamic clocking and low-power client modes.

Typical Qualcomm IoE development kit, showing module and baseboard
(click image to enlarge)

The QCA4531 is available with an "AP143" reference platform that extends many of the SoC's interfaces, including a USB 2.0 port and the 4+1 FE Ethernet ports. There's also a newer 60 x 40mm computer-on-module that extends the QCA4531 with exposed interfaces, flash memory, and an RF component. You can add a second RF chain or flash memory module as "pop" options. Additional third-party COMs based on the QCA4531 should appear later this year.

QCA401x: a low-power SoC for IoT endpoints
Designed for IoT endpoints, the QCA401x runs the ThreadX real-time operating system (RTOS) on its microcontroller-like, 130MHz processor core. The SoC uses a version of Tensilica's Xtensa reconfigurable 32-bit RISC CPU.
The QCA401x supports up to 800KB of on-chip memory, as well as an array of interfaces for connecting sensors, displays, and actuators. The chip supports IPv6 and HTTP and offers a built-in security feature.

Further information
The Linux-ready QCA4531 is currently shipping, and the RTOS-driven QCA401x is sampling. The AP143-H4 reference platform for the QCA4531 is available now, and it appears that the newer COM incorporating the QCA4531 is also ready. More information should eventually appear at Qualcomm's Atheros site.