Mar 5, 2015 — by Eric Brown 3,126 views
MYIR launched a "Rico" SBC for TI's Cortex-A9 AM437x SoC, with an open Linux BSP, 4GB of eMMC flash, and coastline GbE, HDMI, and USB host and device ports.

The Rico Board is the first single board computer we've seen to tap the single-core, Cortex-A9 AM437x Sitara system-on-chip from Texas Instruments, aside from TI's own $599 evaluation EVM. The Rico starts at $99, and its optional 7-inch touchscreen, which is standard on TI's TMDXEVM437X EVM board, is not likely to add much to the price. Typical applications for the Rico are said to include industrial automation, PLCs, bar code scanners, portable data terminals, test and measurement, patient monitoring, and HMI devices.


Rico Board
(click image to enlarge)

The Rico Board ships with Linux, but should be compatible with Android. (The TI EVM is available with an optimized
Android 4.4.4 BSP from Adeneo
.) In January, Variscite baked the AM437x into a Linux-friendly, SODIMM-style
VAR-SOM-AM43
computer-on-module. Like Variscite, MYIR has also produced COMs built on the earlier AM335x Sitara SoC, including the
MCC-AM335X-Y and MCC-AM335X-J
.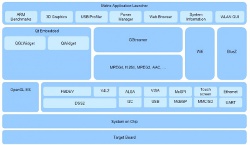 AM437x comparison chart (left) and Linux architecture
(click images to enlarge)

On the AM4378 or AM4379 models, TI adds a PowerVR SGX530 GPU to the 1GHz Cortex-A9 core. MYIR supports all four SoC models, including the AM4376 and AM4377 (see AM437x comparison table above). All the SoC variants feature TI's latest quad-core, 200MHz Programmable Real-time Unit (PRU), which is designed for customizing I/O that requires deterministic, real-time processing and ultra-low-latency. Only two of the models support EtherCAT, however.

Rico Board front detail
(click image to enlarge)

The 100 x 65 x 1.6mm Rico Board ships with 512MB DDR3 RAM, but you can order it with anything from 256MB to 1GB. You also get 4GB eMMC flash, 16MB QSPI flash, and a 32KB EEPROM. An SD slot is available for expansion storage.

Rico Board rear detail
(click image to enlarge)

Coastline connections include gigabit Ethernet, HDMI, USB 2.0 host, and mini-USB 2.0 device ports, with the latter available as an alternative to the 5V 2A power input. A 24-bit LCD interface supports optional 7-inch resistive or capacitive touchscreens.

Block diagrams: MYIR Rico Board and TI AM437 SoC
(click images to enlarge)

Additional I/O includes three SDIO interfaces, dual Parallel camera connections, and serial and JTAG debug ports. A pair of 40-pin expansion connectors provides access to a variety of industrial interfaces. The board is preloaded with Linux 3.14, including source code and drivers. As usual, MYIR provides full hardware documentation.
Specifications listed for the Rico Board include:
Processor — TI AM437x (1x Cortex-A9 core @ up to 1GHz); PowerVR SGX530 2D/3D accelerator (on AM4378 or AM4379 only); quad-core PRU subsystem @ 200MHz
Memory:

256MB to 1GB DDR3 RAM (512MB default)
4GB eMMC flash
256MB or 512MB SLC NAND flash (reserved)
16MB QSPI flash, 32KB EEPROM
TF (SD ) card slot

Display — HDMI port; 24-bit LCD (WXGA) interface with capacitive touch support
Networking — 10/100/1000 Ethernet controllers
Other I/O:

USB 2.0 host port
Mini-USB 2.0 device port
3x SD/SDIO/MMC
Serial debug
2x JTAG (20-pin and 14-pin)
2x 30-pin, Parallel camera interfaces
2x 40-pin female expansion connectors (2.54mm pitch):

4x UARTs
2x CAN
2x SPI
2x I2C
MMC
8x ADC

Other features — 5x LEDs; 4x buttons
Power — 5V 2A or mini-USB supply; PMIC
Operating temperature — 0 to 70°C
Dimensions — 100 x 65 x 1.6mm (8-layer)
Operating system — Linux 3.14 with source, drivers, Buildroot, SPL and U-Boot boot

Further information
The Rico Board appears to be available now, starting at $99 apiece. More information may be found at the Rico Board product page.