Oct 1, 2018 — by Eric Brown 2,441 views
Avalue announced a Linux-friendly 3.5-inch "ECM-CFS" SBC with a choice of Intel's 8th Gen "Coffee Lake" S-series processors plus triple display support, 2x GbE, 4x USB 3.1, 2x SATA, and mSATA.

Avalue's ECM-CFS is the first 3.5-inch board we've seen to feature Intel's 8th Gen "Coffee Lake" processors, although Seco offers a 3.5-inch CCOMe-C30 carrier board for its 8th Gen COMe-C08-BT6 module. The 146 x 101mm, 0 to 60°C range board is designed for retail, automation, vending machine, POS/kiosk, signage, and industrial transportation applications.


ECM-CFS (left) and second wave of Intel 8th Gen Core S-series CPUs including low-power "T" models
(click images to enlarge)

The ECM-CFS has a lot in common with Avalue's 6th Gen "Skylake" based
ECM-SKLH
3.5-incher. It lacks that model's M.2 slot and VGA header, but in addition to providing a faster processor, it bumps USB support up to the faster USB 3.1.
The ECM-CFS runs Linux or Windows 10 on the low-power, 35W TDP "T" versions of Intel's Coffee Lake S-series, including an up to 4GHz Core i7-8700T with 6x 14nm Coffee Lake cores and 12x threads. You also get the dual-core, quad-threaded Pentium Gold G5400T G-series CPU, which is available on IEI's recently announced KINO-DH310 Mini-ITX board, as well as a related dual-core, dual-threaded Celeron Gold G4900T. The maximum clock rates listed by Avalue for these chips are lower than maximum Turbo Boost rates listed by Intel, but higher than their base frequencies.
The processors come with a choice of the high-end Intel Q370 or lower end Intel H310 I/O chipsets. This affects whether the four USB 3.1 ports are Gen3 or Gen2, respectively, or whether the single mini-PCIe slots supports PCIe signals in addition to mSATA.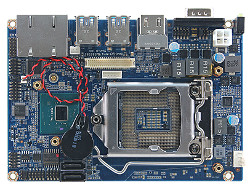 ECM-CFS, front and back
(click images to enlarge)

Like the ECM-SKLH, the ECM-CFS supports up to 16GB DDR4 and offers dual SATA III slots in addition to the mSATA-enabled mini-PCIe interface. Once again, triple displays are supported via two 4K ready HDMI ports and an LVDS connection.
The ECM-SKLH is further equipped with dual Gigabit Ethernet ports, 8-bit GPIO, LPC, SPI, audio jacks, and pair of serial connections, one of which has a DB9 port. The 12V board also offers a watchdog, hardware monitoring, and optional TPM.



ECM-CFS portside view
(click image to enlarge)

Specifications listed for the ECM-CFS include:
Processor — Intel 8th Gen "Coffee Lake" Core S-series (low power "T") and Celeron/Pentium G-series with Intel Q370 or H310 chipset and Intel HD Graphics Gen9:

Core i7-8700T — 6x core/12x thread @ up to 4GHz; 12MB cache; 35W TDP; Intel UHD Graphics 630
Core i7-8500T — 6x core/6x thread @ up to 3.5GHz; 9MB cache; 35W TDP; Intel UHD Graphics 630
Core i7-8100T — 4x core/4x thread @ up to 3.1GHz; 6MB cache; 35W TDP; Intel UHD Graphics 630
Pentium Gold G5400T — 2x core/4x thread @ up to 3.1GHz; 4MB cache; 35W TDP; Intel UHD Graphics 610
Celeron Gold G4900T — 2x core/2x thread @ up to 2.9GHz; 2MB cache; 35W TDP; Intel UHD Graphics 610

Memory — Up to 16GB DDR4 (2400MHz/2666MHz) via 1x SODIMM
Storage — 2x SATA 3.0; mSATA via mini-PCIe
Display/media:

2x HDMI ports at up to 4096 x 2304@ 30Hz
LVDS (18/24-bit, dual channel) at up to 1920 x 1080 @ 60Hz
Triple-display support
Audio mic-in/line-in and line-out jacks (Realtek ALC892)

Networking — 2x Gigabit Ethernet ports (Intel I211AT and 1219LM)
Other I/O:

4x USB 3.1 ports (Gen 2 with Q370 chipset, Gen1 with H310)
2x USB 2.0 headers
2x RS-232 (port and header)
8-bit GPIO
LPC, SPI

Expansion — Mini-PCIe slot (mSATA/PCIe with Q370, mSATA only with H310)
Other features — Watchdog; HW monitoring; 2x LEDs; optional TPM 2.0
Power — 12V DC ATX; ACPI 3.1
Operating temperatures — 0 to 60°C
Dimensions — 146 x 101mm ("3.5-inch form factor")
Operating system — Linux; Windows 10

Further information
The ECM-CFS is "coming soon" at an undisclosed price. More information may be found in Avalue's ECM-CFS announcement and product page.