Jun 4, 2015 — by Eric Brown 6,069 views
Intel announced the first embedded quad-core 5th Gen Core CPUs and shipped its first "Braswell" processors, and AMD tipped its 6th Gen A-Series SoCs.

The Computex show held this week in Taiwan was mostly about new tablets and notebooks, but chip news rose to the fore as well. The biggest news arrived before the show began, when Intel announced plans to acquire fabless FPGA chipmaker Altera for $16.7 billion (see farther below).
Most of the semiconductor news at Computex was related to x86 processors. Intel unveiled 17 new "Broadwell-H" versions of its 14nm, 5th Generation Core processors, two of which are focused on embedded devices. In addition, third party vendors including Congatec, Nexcom, Portwell, and Adlink launched the first shipping embedded boards featuring Intel's similarly 14nm, 4-6W TDP "Braswell" Pentium and Celeron SoCs. AMD, meanwhile, announced its 6th Gen "Carrizo" line of A-Series system-on-chips for desktops and tablets (see farther below).

Intel spins Broadwell-H Cores
Like AMD's 6th Gen A-Series chips, Intel's new Broadwell-H round of quad-core 5th Generation Core CPUs are suitable primarily for laptops. By contrast, Intel's similarly 14nm-fabricated Broadwell-U 5th Gen Cores announced in January had more of an embedded and mobile focus.

Intel Broadwell-H Core i7
While the first round of Broadwell-U Cores were all dual-core, with 2MB to 4MB of L3 cache, and 15W or 28W TDPs, among the Broadwell-H chips, all but the dual-core i5-5350H are quad-core, with 4MB or 6MB L3 cache. Like the AMD SoCs, most are focused primarily on Windows 10, but they will almost certainly run Linux and/or Android. The chips will ship in 30 to 60 days, says Intel.
In addition to announcing [PDF] 10 new Broadwell-H versions of the 5th Gen Core i5, i7 and Xeon E3, Intel tipped two embedded models that are more likely to wind up on the pages of LinuxGizmos. The Core i7-5700EQ and Core i7-5850EQ are also the first two quad-core 5th Gen Cores aimed at embedded.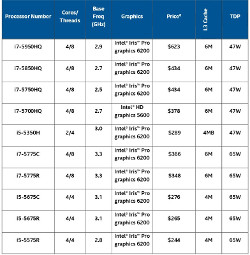 Intel's new Broadwell-H processor comparison chart in two parts (not including two new EQ Core models)
(click images to enlarge)

As reported by
CPU World
, the two EQ models, which do not appear on the Intel chart above, are very similar to the Core i7-5700HQ and i7-5850HQ. Like the dual-core Core i5-5350H, i7-5750HQ, and i7-5950HQ, these HQ chips are designated as "mobile" rather than "desktop," but are aimed more at notebooks than tablets.
The embedded focused Core i7-5700EQ and i7-5850EQ each has four cores with eight threads, along with 8MB L3 caches. The chips are very similar to the HQ models except that the clock speeds of the CPU and graphics cores are slightly lower. The i7-5850EQ is clocked to 2.6GHz (3.4GHz Turbo) with 1GHz GPU frequency while the i7-5850EQ is 2.7GHz (3.4GHz Turbo). The latter's GPU is clocked to a maximum of 1.0GHz while its HQ sibling moves up to 1.1GHz.


Core i7-5700EQ and -5850EQ specs compared to their HQ counterparts
(click image to enlarge; source: CPU World)

The main difference between the i7-5700EQ and i7-5850EQ is that the i7-5850EQ offers the more powerful Intel Iris Pro 6200 graphics. Almost all the other Broadwell-H chips offer Iris Pro 6200 or P6300 graphics, while the i7-5700EQ stays with the HD 5600 graphics found on the earlier dual-core Broadwell-U models.
Like the HQ models, both EQ chips have 47W TDPs, which only sounds reasonable when you compare it with the other Broadwell-H chips, most of which run at 65W or even a whopping 95W for the Xeon E3-1285 v4. These higher-end chips have varying designations, including six desktop-oriented H, R, and S Core branded models and five Broadwell-based, server-focused Xeon-E3 models.
According to Intel, the Core i7-5950HQ offers up to 95 percent better media performance and up to twice the 3D graphics performance of the 15W TDP, Broadwell-U based Intel Core i7 5600U. Today, the Inquirer posted its own 3DMark 11 benchmarks of the new high-end Core i7 5775C, running four popular PC gamesat the base 3.3GHz clock rate, and found the scores to be double that of the dual-core, 2.2GHz Core i7-5650U with Intel HD graphics 6000, and "sometimes almost triple across the field."

Braswell appears in embedded boards
In late March, Intel announced four Pentium and Celeron branded processors under the Braswell code name, and they have now reached market. The Braswell SoCs are to the 14nm "Cherry Trail" Atoms, such as the Atom x5-8300, x5-8500 and x7-8700, what the "Bay Trail-D" Celerons (such as the Celeron N2920) are to the "Bay Trail-I" Atom E3800 SoCs.
The Braswell chips offer similar CPUs and GPUs to the Cherry Trail Atoms, but add desktop-like features such as SATA support. Like the Cherry Trail Atoms, the Braswell SoCs move up to the much improved Intel Gen8 graphics, thereby supporting up to 4K (3840 x 2160 pixel) resolution.
This week we covered the first Braswell product, the Congatec Conga-QA4 Qseven COM. Nexcom, Portwell, and Adlink have also announced embedded boards based on the Braswell SoCs, which we'll explore in the coming days.
The Braswell chips are as follows, with both TDPs and Intel's own Scenario Design Power (SDP) designations:
Pentium N3700 — 4x Braswell cores @ 1.6GHz (2.4GHz burst); 2MB L2 cache; 6W TDP (4W SDP)
Celeron N3150 — 4x Braswell cores @ 1.6GHz (2.08GHz burst); 2MB L2 cache; 6W TDP (4W SDP)
Celeron N3050 — 2x Braswell cores @ 1.6GHz (2.16GHz burst); 2MB L2 cache; 6W TDP (4W SDP)
Celeron N3000 clocked at 1.04GHz (2.08GHz burst) with 2MB cache and a 4W TDP (3W SDP)
If Intel follows its previous pattern with its Atom E3800 family, it will also introduce embedded versions of Cherry Trail, in addition to the Braswells. Then again, maybe Intel has something else in mind.


Celeron N3000 ("Braswell") and Atom x5-8300 ("Cherry Trail") block diagrams
(click images to enlarge)

We were intrigued when we came upon the above pair of block diagrams on an
Intel Embedded Design Center page
that combined, within a single comparison table, the lowest powered of the three Cherry Trail SoCs (the previously announced, quad-core, 1.84GHz Atom x5-8300) along with the four Braswell chips. The chart on the Intel page shows the x5-8300 to have a low 2W TDP, which is not only perfect for tablets, but also well suited to embedded IoT gear.
Also at Computex this week, Acer showed off a Predator 8 gaming tablet, which appears to be the first Android device to run on Intel's Cherry Trail-based Atom x7. The heavily sculptured Predator 8 features an Acer Quad-Audio system with four front-facing speakers, as well as dual haptic feedback, and will ship next winter, according to Pocket-Lint.

AMD's 6th Gen A-Series
At Computex, AMD unveiled its 6th Generation "Carrizo" A-Series Processor family for desktops and notebooks. Like most of Intel's Broadwell-H Core and Xeon-E3 processors, the high-end A-Series chips are not likely to appear very often on LinuxGizmos, which regularly covers AMD G-Series, and to a lesser extent R-Series based embedded Linux products.
AMD 6th Gen A-Series
Like the G-Series SoCs, the 6th Gen A-Series SoCs are true system-on-chips. According to AMD, the SoCs provide the world's first High Efficiency Video Coding (HEVC) hardware decode support for superior media streaming on notebooks, and offer the first Heterogeneous Systems Architecture (HSA) 1.0-compliant design. (HSA was also touted on the latest R-Series SoCs.) The new A-Series chips are also claimed to be the first ARM TrustZone-capable high-performance x86 processors. The SoCs are claimed to offer twice the battery life of their A-Series predecessors.
The quad-core 6th Gen A-Series models include an up to 3.4GHz AMD FX SoC with eight AMD Radeon R7 GPU cores, as well as a 3.0GHz AMD A8 and a 3.2GHz A10 with six GPU Radeon R6 GPU cores apiece. The A8 appears to be identical to the A10 except for the lack of AMD Eyefinity and AMD Trueaudio technologies.
All three SoCs offer 2MB of L2 cache and 12 to 35W TDPs, says AMD. The SoCs will be available from top OEMs starting in June, says the company.

Intel to buy Altera for IoT and datacenter push
Earlier this week, Intel surprised the industry by announcing it plans to buy fabless FPGA chipmaker Altera for $16.7 billion. The relationship between the future merger partners began in 2013, when it was revealed that Altera's FPGA-enabled, quad-core, ARM Cortex-A53 based Stratix 10 SX SoC would be built by Intel using its 14nm 3D Tri-Gate process.
Altera Stratix 10 SX
The deal, which is expected to be completed in early 2016, would turn Intel into an ARM vendor, since some of Altera's FPGAs, like the Stratix 10 SX, integrate ARM Cortex cores. Like Altera, rival Xilinx has also moved to an ARM/FPGA hybrid strategy with its Zynq SoCs, including its upcoming, 64-bit, 16nm UltraScale+ models.
The ARM-based designs are likely to fade away quickly (as happened with, however an earlier Intel ARM gambit). Intel CEO Brian Krzanich has already indicated he plans to combine Altera's FPGAs with Intel's x86 chips in both the Internet of Things market and the datacenter. Altera is a big player in datacenter communications infrastructure equipment, among other applications, but so far neither Altera or Xilinx have played a major role in IoT.
The Altera announcement follows last week's revelation that Avago Technologies is buying Broadcom for $37 billion. Broadcom makes a wide range of processors, including wireless and baseband chips, MIPS-based networking SoCs, and ARM-based SoCs, such as the chip at the core of the Raspberry Pi.
Earlier this year, NXP said it will merge with Freescale in an $11.8 billion deal. The merged $40 billion powerhouse will focus on IoT and automotive products with chips ranging from microcontrollers to ARM application processors.