May 10, 2018 — by Eric Brown 1,609 views
[Updated: May 11 –] Toradex has opened an early access program for sampling its Linux powered, wireless enabled Apalis iMX8 module, which offers NXP's i.MX8 QuadMax SoC with 2x Cortex-A72, 4x -A53, 2x -M4F, and 2x GPU cores, supported with up to 4GB LPDDR4.

Toradex may have jumped the gun a bit when it announced the world's first embedded board built on NXP's i.MX8M QuadMax back in Mar. 2017. However, it may still end up being one of the first to reach market. The Swiss embedded technology firm just announced that it has "opened early access for selected customers" to the SODIMM-style Apalis iMX8 module. A sign-up form offers the potential for newcomers to get an early look. The only other announced module we've seen based on the hexacore SoC is iWave's iW-RainboW-G27M 82 x 50mm SMARC module.


Apalis iMX8, front and back
(click images to enlarge)

We now have images, a block diagram, and more details on the 82 x 45 x 6mm Apalis iMX8, which is pin-compatible with other SODIMM-style Apalis modules. The Apalis iMX8 uses the QuadMax, which is the most powerful i.MX8 Quad model. Like the Quad and QuadPlus, it offers 4x 1.26GHz Cortex-A53 cores, 2x 266MHz Cortex-M4F cores for real-time processing, one or two Vivante GC7000LiteXS/VX GPUs, and a HIFI4 DSP. The QuadPlus adds a 1.6GHz Cortex-A72 core, and the Apalis i.MX8's QuadMax provides two -A72 cores.
The Cortex-A cores run a Yocto Project based Linux distribution provided via a BSP that also includes FreeRTOS, which runs on the M4F MCU cores. With its dual GPUs, the Apalis iMX8 supports multiple-screen automotive installations. However, the module is designed for a broader range of "cutting-edge computer vision systems," as well as signal processing and HMI applications.


Apalis iMX8 block diagram
(click image to enlarge)

Several new Apalis iMX8 details are now revealed that were absent in the original announcement. We now know that the module ships with 4GB LPDDR4 and up to 16GB eMMC. The module offers onboard, dual-band 802.11ac WiFi, and the dual-mode Bluetooth module is said to be "Bluetooth 5.0 ready."
The Apalis iMX8's SATA interface has moved from SATA II to III. As before, there's a GbE controller with a second RGMII. You get a USB 3.0 host interface, and 3x USB 2.0 host ports, one of which is OTG.
The module is further equipped with 2x PCIe Gen 3 x1 interfaces, plus 3x CAN, 4x SPI, 7x UART, and 8x analog inputs. The I2C count has increased to 7x, and the PWM count has advanced to 6x. You also get an IrDA connection, up to 133 GPIOs, and 8- and 4-bit SDIO/SD/MMC interfaces.
Previously, Toradex said that the module supports up to 4x individual HD displays but it's now saying it supports "multiple" displays. The module provides a quad-lane MIPI-DSI interface and offers an HDMI 2.0a interface for up to 4K UHD 2160p. There's also a single/dual-channel LVDS interface with up to 1920 x 1200 x 24bpp resolution and 4-wire resistive touch. One new feature is a choice of DisplayPort 1.3 or eDP 1.4.
Dual quad-lane MIPI-CSI interfaces support an optional 5MP camera module. For audio, you get S/PDIF, as well as a choice of dual AC97 or dual I2S digital interfaces. Analog audio I/O includes stereo line in, mono mic in, and stereo headphone out interfaces.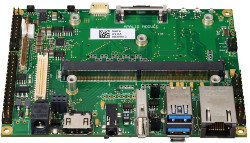 Apalis iMX8 carrier boards: Apalis Evaluation Board (left) and Ixora Carrier Board
(click images to enlarge)

The Apalis i.MX8 offers the same two carrier board options provided for the Apalis TK1: a 250 x 250mm Apalis Evaluation Board, as well as a less feature-rich, 125 x 90mm Ixora Carrier Board. The boards have real-time clocks and 7-27V DC input support.
The COM can be purchased in a variety of temperature ranges from 0 to 70°C to -40 to 85°C and offers minimal availability through 2030. Toradex has supplied "SafeAssure"" fail-over capable display controllers that "ensure critical displays are always on and show the valid content." Other features include support for hardware virtualization, secure boot, and cryptography. The module is supported with the Toradex Easy Installer, free professional support, updated developer and pin-out designer documentation, and more.
The product page provides a right-hand column with options for most of the features. Originally, we missed the text that explained its purpose and mistook it for an online configuration form. As it clearly states, however, this is a a wishlist feature that lets potential customers inform Toradex what feature set they would prefer in such a module. The Apalis iMX8 will be configured as indicated in the left column, but the input in the second column will help Toradex design future products.

Further information
The Apalis i.MX8 appears to be ready to ship soon to qualified early access providers. You can sign up to apply for early access on the Apalis i.MX8 product page.