Jun 8, 2017 — by Eric Brown 1,537 views
NutsBoard.org's upcoming 3.5-inch, i.MX6-based "Pistachio" SBC follows its recently released TI AM3352 based "Almond" COM, Walnut carrier, and mini-PC.

Shortly after Taiwan-based startup NutsBoard.org shipped a TI Sitara AM3352 based, 68 x 38mm Almond computer-on-module, the company went to Computex last week to show off an upcoming Pistachio SBC built around the NXP i.MX6. We'll start with the Pistachio, and then cover the Almond. We also examine the Almond's "Walnut" carrier board and Walnut based "Walnut-PC-Almond" mini-PC, both of which feature four Fast Ethernet ports and a GbE port. All these products are available in optional -40 to 85°C models.


Pistachio (left) and Walnut-PC-Almond mini-PC
(click images to enlarge)

The NutsBoard products are all supported with open source Linux and Android images with source code. There is also community support, including a user forum and a
blog
for sharing projects such as robots and other gizmos based on the Almond. Like most of the boards reported on here at LinuxGizmos, however, NutsBoard's products are primarily OEM-focused boards for volume customers, and no detailed documentation or hardware schematics are posted. On the other hand, the company tells us they will privately supply Walnut schematics to customers, and schematics will be posted for future carrier boards.

Pistachio SBC
The yet to be priced Pistachio SBC, which is due for release at the end of July, still lacks a product page on NutsBoard.org, which is not currently set up for single product sales. However, the company has sent us a datasheet and some photos. The 148 x 102mm "3.5-inch" form factor SBC builds upon the tried-and-true NXP i.MX6 Dual or DualLite SoC, with two Cortex-A9 cores up to 1GHz. Images are available for Debian, Yocto Project, Buildroot, or Android, with Linux Kernel 4.1.15.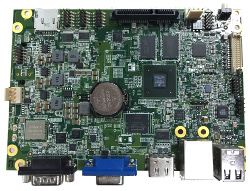 Pistachio, front and back
(click images to enlarge)

The Pistachio supports up to 2GB DDR3, and offers a microSD slot and a standard allotment of 4GB eMMC. The SBC features both a GbE port and onboard WiFi and Bluetooth 4.2. A mini-PCIe slot that optionally consumes the board's single USB OTG port, accompanied by a SIM card slot, enables further wireless possibilities.
Two USB 2.0 host ports are available along with two more onboard USB connections. Other coastline ports include VGA, HDMI, and RS232/422/485 COM ports. You also get dual-channel LVDS, an I2C touchscreen interface, and three more RS-232 interfaces, one of which is used as a debug console port.


Pistachio block diagram
(click image to enlarge)

The Pistachio is equipped with a SATA interface, 8x GPIO, and single CAN, I2C, PWM, and audio interfaces. The board features a wide-range 9-36VDC input, as well as a PMIC and RTC, and is available in 0 to 60°C and -40 to 85°C models.
Specifications listed for Pistachio SBC include:
Processor — NXP i.MX6 Dual or DualLite (2x Cortex-A9 cores @ 1GHz); Vivante GPU
Memory:

Up to 2GB DDR3 RAM
4GB eMMC flash
MicroSD slot

Display:

HDMI port
VGA port
Dual-channel LVDS
I2C Touch

Wireless — 802.11a/b/g/n; Bluetooth 4.2
Networking — 10/100/1000 Ethernet port
Other I/O:

2x USB 2.0 host ports
2x USB 2.0 USB headers
1x USB OTG port (shared with mini-PCIe slot)
RS232/422/485 COM port
3x RS-232 (1x for debug)
8x GPIO
CAN, I2C, PWM, audio
SATA

Expansion — Mini-PCIe with USB OTG support; SIM card socket
Other features — RTC
Power — 9-36V DC input; PMIC
Operating temperature — 0 to 60°C or -40 to 85°C
Dimensions — 148 x 102mm (3.5-inch form factor)
Operating system — Debian, Yocto Project, Buildroot, Android; source code with Linux Kernel 4.1.15
Other 3.5-inch SBCs with the i.MX6 include Logic Supply's ICM-3011, among others. Community backed SBCs built around the i.MX6 include Poslab's smaller, fully open source SavageBoard, which will soon be joined with a similar, 3.5-inch HobbitBoard. Both compete with the recently refreshed Wandboard, which was one of the earliest Linux/Android hacker boards.

Almond module
The SODIMM-style, 68 x 38mm Almond COM, which is supported with an optional Walnut carrier board, is equipped with a single-core, Cortex-A8 Texas Instruments Sitara AM3352 SoC clocked to 600MHz. This is the lowest end of the AM335x SoCs, lacking the 3D GPU and PRU support of some models.


Almond, front and back
(click images to enlarge)

The module supports Debian Jessie 8, Ubuntu, Ubuntu Core 16, Yocto Project, Buildroot, LEDE 17.01, and
Android Things
, based on a fresh Linux 4.4.32 kernel. Other AM335x based COMs include Embest's
SOM-PH8700
, among many others.

Almond block diagram
(click image to enlarge)

The Almond COM starts at 256MB of DDR3, expandable up to 1GB, and ships with 256MB NAND flash. The module supports Fast and Gigabit Ethernet ports, and onboard WiFi and Bluetooth 4.2 are optional.
The Almond features a 16-bit RGB LCD interface, and provides for USB host and OTG ports, 3x serial, 2x I2C, and 6x GPIO. You also get single CAN, SPI, SDIO, ADC, and JTAG interfaces, as well as an RTC, PMIC, and EEPROM. The 5V module is available in 0 to 85°C and -40 to 85°C models.

Walnut carrier and Walnut-PC-Almond mini-PC
The Almond's Walnut carrier board, which offers the same temperature ranges as the Almond, appears to be designed for headless applications, as there are no display interfaces mentioned aside from the Almond's built-in RGB interface. The 150 x 100mm Walnut stands out with its combination of a 10/100/1000Mbps port and four 10/100 Ethernet ports.


Walnut, front and back
(click images to enlarge)

Other coastline ports include dual USB 2.0 host ports, dual DB9-based RS232/422/485 ports, and an SD slot. The Walnut is further equipped with onboard I/O including 8-bit DIO, a CAN interface, and a mini-PCIe slot and SIM card slot for 3G/4G. Other features include an RTC slot for an optional backup coin battery, 4x LEDs, reset and power buttons, and a wide-range 9-48 VDC input.

Walnut carrier board block diagram (left), and closeup of the board's edge connectors
(click images to enlarge)

The Walnut and Almond are also available in a Walnut-PC-Almond mini-PC (see image at top). The 158 x 109 x 52mm computer shares all the specs of the Walnut and Almond, and adds a case and an external antenna.
Computex demos of Pistachio, Almond, and Walnut

Further information
The Pistachio SBC will ship in late July at an unstated price. The Almond module is available now starting at $28 apiece in volume. Orders are available at a TI partner page for NutsBoard.org, with single-unit pricing set at $55 for the Almond and $110 for the Walnut carrier board. No pricing was available for the Walnut-PC-Almond mini-PC. More information may be found at NutsBoard.org.