Feb 9, 2015 — by Eric Brown 9,609 views
Merrii announced a high end, Android- and Linux-ready "H88 Hummingbird" SBC based on the octa-core Cortex-A15/-A7 Allwinner A80 SoC.

The second-generation Raspberry Pi 2 managed to maintain its $35 price despite moving to a quad-core Cortex-A7 system-on-chip, but faster, pricier quad- and octa-core ARM SoCs haven't seen as much traction in the single board computer scene. Yet, just as we've seen a lot of SBCs based on the Cortex-A7 based Allwinner A20 or Cortex–A9 based Allwinner A31, several companies and community projects are now trying out the octa-core Allwinner A80. The A80 combines four Cortex-A15 and four Cortex-A7 cores in a Big.Little configuration.


Merrii's H88 Hummingbird
(click image to enlarge)

In particular, Shenzhen, China based Merrii Technology just launched its third board based on the A80 SoC. The new H88 Hummingbird is larger and more feature rich than its earlier, $169,
A80 OptimusBoard
and more recent
H8 Hummingbird
, which is now available for $150 at
Geekbuying
.
Merrii's H88-based
Pro A80
Shenzhen Merrii Technology, also known as WITS, has made "all earlier development kits for AllWinner," according to a recent post at CNXSoft. In fact, Merrii's flagship A80 SBC, the A80 OptimusBoard, was announced last May as the Allwinner OptimusBoard. In addition, the new, $300 H88 Hummingbird appears to be the same board used in the $1,300 Allwinner A80 Development Kit, which includes a touchscreen and other goodies. The full kit is also referred to as the Pro A80 on the Merrii website.
Allwinner's 64-bit Allwinner A80 provides full Big.Little heterogeneous multi-processing (HMP), enabling power and performance optimizations for each of the four Cortex-A15 and four -A7 cores. The SoC enables 4K multimedia capture, and supports H.265, eDP, USB 3.0, and HSIC technologies.


Two block diagrams of the Allwinner UltraOctaA80
(click images to enlarge)

The A80 integrates an Imagination Technologies PowerVR G6230, the first of its Series6 Rogue GPUs. It's a more closed design compared to ARM's Mali-400 GPU found on the pcDuino3, but is far more powerful, featuring dual shader clusters and 64 ALU cores.

H88 and H8 Hummingbird details
Compared to Merrii's previous A80 OptimusBoard and newer H8 Hummingbird, the H88 Hummingbird is a monster at 188 x 155 x 35mm. Not surprisingly, considering it's the basis for the semi-official Allwinner development kit, it's also packed with a lot more features.


H88 Hummingbird detail view
(click image to enlarge)

The H88 Hummingbird can run either Android 4.4.2 or Linux 3.4.39 on the Allwinner A80, and ships with 4GB of RAM, 8GB of bootable eMMC NAND flash with ECC, and a microSD slot. A gigabit Ethernet port is provided along with WiFi, Bluetooth, and GPS, complete with antenna support. The H88 supplies both a USB 3.0 OTG port and a pair of USB 2.0 host ports.
An HDMI 1.4 port supports up to 4K video, and there are also VGA, LVDS, MIPI LCD, and even EDP "LCD+TP" interface connectors. You get both CSI and parallel camera interfaces, as well as an integrated 16-megapixel MIPI camera. Audio I/O is also available.
Unlike most ARM development boards, the H88 provides a mini-PCIe expansion slot. The board is further equipped with a UART interface, as well as JTAG and GPIO connectors. The H88 supports 5V DC input. Touchscreens and aluminum cases are available as options.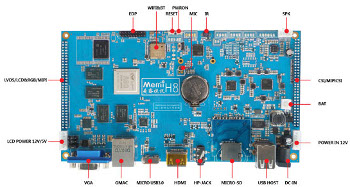 Detail view of smaller H8 Hummingbird
(click image to enlarge)

The smaller H8 Hummingbird appears to effectively replace the A80 OptimusBoard, although the latter is still available. In fact, the descriptive text on the H8 product page refers to the H8 several times as the OptimusBoard. The two SBCs have different layouts but very similar feature sets. The H8 adds a coastline VGA port, an EDP port, and more advanced camera connectors among other differences (see detail views above and below).

A80 OptimusBoard detail view
(click image to enlarge)

In addition to the two Hummingbirds, the A80 OptimusBoard, and the A80 Pro Development Kit, Merrii also offers full development kits for the Allwinner A20 (
Pro A20
) and A31 (
Columbus A31
). A variety of
Allwinner based computer-on-modules
are also available, along with tablets and digital signage boards.

Other Allwinner A80-based options
pcDuino8
In addition to Merrii's boards, there are some other Allwinner A80 options out there, as well. Linksprite's pcDuino8 was the first A80 SBC to be announced, back in May, but it still appears to be in production.
At the same time, Cubieboard.org announced an A80-based Cubieboard 8, which turned into the Cubieboard 4. The open-spec Cubieboard 4, which shipped in October, was named not for the number of cores but for representing the fourth generation of Cubieboards. The board is selling for 699 RMB ($112) at Taobao.com in China, and £110.79 ($169) at NewIT in the U.K.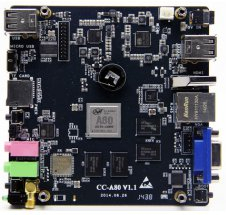 Cubieboard 4 (left) and Rikomagic MK80
Meanwhile, a number of Android media player mini-PCs have shipped with the A80. These include the
Rikomagic MK80
, which
starts at $156
on AliExpress.

Further information
Merrii's Hummingbird boards are aimed at a more professional developer crowd than would typically buy a pcDuino or Cubieboard — with pricing to match — but they're still fairly affordable. Some efforts have been made to make the boards more open source, including posting some source code and documentation, mostly in Chinese, says CNXSoft. However, there are big gaps in both offerings, and technical support is poor, says the publication. This is said to be partially due to Allwinner not investing enough in kernel development.
The H88 Hummingbird is shipping now, starting at $300, says Merrii. More information may be found at the Merrii H88 Hummingbird product page. Additional details are also available at CNXSoft, which first reported on the H88 Hummingbird.