Feb 11, 2015 — by Eric Brown 11,681 views
Shenzhen Xunlong has launched a $59 open-spec "Orange Pi Plus" SBC with a 1.6GHz quad-core Allwinner H3 SoC, 40-pin Pi-compatible expansion, WiFi, and SATA.

In December when Shenzhen Xunlong Software announced its open-spec, Linux- and Android-ready Orange Pi and Orange Pi Mini SBCs, both of which use the dual-core, Cortex-A7 Allwinner A20 system-on-chip, the company also briefly noted an upcoming, quad-core Orange Pi Plus. The Plus was said to offer a quad-core, Cortex-A7 Allwinner A31 SoC with a PowerVR SGX544MP2 GPU. Instead, the shipping version, now available at AliExpress for $59, arrives with Allwinner's new quad-core Cortex–A7 based H3 SoC and a Mali-400 MP2 GPU.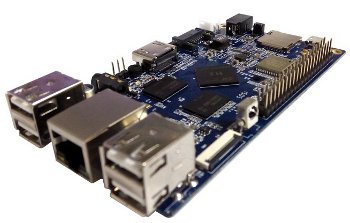 Orange Pi Plus (new version with Allwinner H3)
(click image to enlarge)

The Allwinner H3 SoC, which is available for only $6 in volume, primarily targets low-cost, OTT set-top boxes (STBs). The H3 has a faster 1.6GHz clock rate than the 1GHz A31, although the Mali-400 MP2 is slower than the PowerVR. (The Mali GPUs, however, are also more open to developers.) The H3 supports H.265/H.264 4K hardware acceleration at up to 30fps, as well as 4K video point-to-point HDMI output, says Allwinner.

Orange Pi Plus (left) compared to Raspberry Pi 2 Model B
(click images to enlarge)

Although Shenzhen Xunlong previously had no I/O details of the board, the photos provided at the time show the port layout has been completely changed. Instead of going with the split expansion connectors, with one of them a Raspberry Pi Model B-compatible 26-pin connector, it now mimics the Orange Pi Mini in offering a 40-pin connector that is claimed to be compatible with add-on boards designed for the Pi Model B+. The new
Raspberry Pi 2 Model B
likewise has a 40-pin connector that's compatible with that of the Pi Model B+, and that also provides backwards compatibility with the 26-pin of the first-gen Pi Model B.

Orange Pi Plus details, front (left) and rear
(click images to enlarge)

Aside from the faster processor, the Orange Pi Plus appears to have almost identical features to those of the Orange Pi. The layout is fairly different, but the boards share the same 112 x 60mm dimensions and 60-gram weight. The Plus, however, adds 8GB of eMMC flash. This does not appear in the official spec list, and the photo shows it unpopulated. However, a comment from the manufacturer at the end of a
CNXSoft post
on the board says the SBC will ship with 8GB.

Front details: earlier Orange Pi (left) and Orange Pi Mini
(click images to enlarge)

The Orange Pi Plus ships with 1GB RAM and a microSD slot, as well as WiFi and gigabit Ethernet networking. You get four USB 2.0 host ports plus a micro-USB OTG port that can be used to power the 5V SBC. Other features include HDMI, CVBS, audio, and CSI camera connections.
The SBC is said to be open source, with a variety of Linux and Android builds available, but as CNXSoft notes, all the resource locations are either empty or have code targeted for the earlier A31 version. The SBC won't ship for another month, however, so we'll give them the benefit of the doubt.
Still, the whole operation seems a little slipshod. For example, when you click on the detail images of the Orange Pi Plus posted on the product page to get a closer view, they instead switch you to the detail images of the old A31 version.
In any case, the Pi clones, including the Banana Pi boards, are going to need to step up their game now that the Raspberry Pi 2 Model B has gone quad-core while keeping its $35 price. True, the Orange Pi Plus and $49 Orange Pi offer extras not found on the RPi 2, including SATA, gigabit Ethernet, WiFi, and with the Plus, a generous 8GB of eMMC flash, but the gap has closed considerably.
Specifications listed for the Orange Pi Plus include:
Processor — AllWinner H3 (4x Cortex-A7 @ 1.6GHz); ARM Mali-400 MP2 GPU @600MHz; 256KB L1, 1MB L2 cache
RAM — 1GB DDR3
Storage:

microSD slot for up to 64GB
SATA 2.0 port for up to 2TB on a 2.5-inch drive
8GB eMMC flash

Wireless — WiFi
Networking — gigabit Ethernet port
Multimedia I/O:

HDMI with audio
CVBS
Camera interface — CSI
3.5mm audio jack with mic, line-in, FM-in

USB — 4x USB 2.0 host; micro-USB 2.0 OTG
Expansion — 40-pin header with 28x GPIO for UART, I2C, SPI, PWM, CAN, I2S, SPDIF, LRADC, ADC, line-in, FM-in, HP-in
Other features — Debug TTL and ground UARTs; IR input; power, reset, and UBoot buttons; LEDs; "upgrade key"
Power — 5V/2A DC input or micro-USB OTG; 3W dissipation
Operating temperature — -10 to 65℃
Weight — 60 g
Dimensions — 112 x 60mm
Operating system — Linux (Debian, Lubuntu, Raspbian); Android 4.4 and older; Scratch support

Further information
The Orange Pi Plus is available now from AliExpress, with free shipping to the U.S., in which case shipments are somewhat ambiguously said be "15-26 days (ships out within 35 business days)." More information may be found at Shenzhen Xunlong Software's Orange Pi family page.