Nov 7, 2018 — by Eric Brown 1,648 views
Gumstix has expanded its Linux-oriented Geppetto online embedded board development platform with a free "Board Builder" service that offers a checklist interface for selecting modules, ports, and more.

Gumstix has added a free Board Builder service to its Geppetto Design-to-Order (D2O) custom board design service. The Board Builder improvements make the drag-and-drop Geppetto interface even easier to use, enabling customization of ports, layout and other features.
With Board Builder, you can select items from a checklist, including computer-on-modules, memory, network, sensors, audio, USB, and other features. You can then select a custom size, and you're presented with 2D and 3D views of board diagrams that you can further manipulate.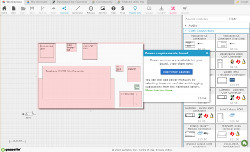 Geppetto Board Builder design process for a Raspberry Pi CM3 based IoT design
(click images to enlarge)

Board Builder will prompt you with suggestions for power and other features. These tips are based on your existing design, as well as Gumstix's deep knowledge base about embedded Linux boards.
We quickly whipped up a little Raspberry Pi Compute Module 3 based carrier board (above), which admittedly needs a lot of work. Even if you're not a serious board developer, it's a painless, and rather addictive way to do hardware prototyping — sort of a Candy Crush for wannabe hardware geeks.
Serious developers, meanwhile, can go on to take full advantage of the Geppetto service. Once the board is created, "free Automated Board Support Package (AutoBSP), technical documentation (AutoDoc) and 3D previews can be instantly downloaded to anyone who designs a hardware device in the Geppetto online D2O," says Gumstix.
You can then use Geppetto's fast small-run manufacturing order service to quickly manufacture small runs of the board within 15 days. The initial $1,999 manufacturing price is reduced for higher quantity jobs and repeat board spins.
Since Gumstix launched its free, web-based Geppetto service several years ago, it designs most of its own boards with the service. Anyone can use Geppetto to modify Gumstix's carrier board designs or start from scratch and build a custom board. The Geppetto service supports a growing number of Linux- and Android driven modules ranging from the company's own DuoVero and Overo modules to the Nvidia Jetson TX2 that drives the recent Gumstix Aerocore 2 for Nvidia Jetson.

Further information
The Board Builder interface is available now on the free Geppetto D2O service. More information may be found on the Gumstix Geppetto Board Builder page. You can start right away with Board Builder here.