Feb 20, 2014 — by Eric Brown 1,593 views
Enea launched a free, community-backed Open Enea Linux platform, with Yocto Project and Linaro contributions, and plans to target various community-backed SBCs.

Swedish telecom software firm Enea has spun a free and open source version of its commercial Enea Linux embedded distribution and development platform. LOike most major embedded Linux distros these days, Enea Linux is billed as being compatible with Yocto Project code. Yet, Open Enea Linux (OEL) appears to be more fully dependent on Yocto Project code.
OEL enables rapid prototyping in the networking, telecom, defense and industrial markets, says Enea. This "lightweight and portable" binary distribution is based on the Yocto Project's Poky Linux example distro and Yocto's OE-core (OpenEmbedded) framework. It offers a runtime customizable model that makes it easy to make configuration changes and run re-builds, says the company.


Yocto Project architecture
(click image to enlarge)

Open Enea Linux also adds substantial contributions from the ARM-focused Linaro Networking Group (LNG). Enea was a founding LNG member when the group was
launched
by the ARM-backed Linaro open source tools firm a year ago.
LNG's goal is to advance the use of ARM-powered Linux devices in cloud and mobile infrastructure applications. LNG contributions from Enea include virtualization, real-time Linux, and packet processing optimization technology, as well as networking-related legacy and mixed-endian issues.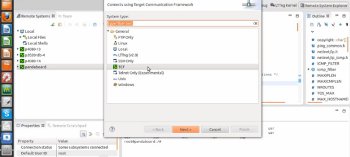 Setting up a remote Target Communication Framework (TCF) connection using OEL's Eclipse tools
(click image to enlarge)

The OpenEneaLinux.org site is stocked with prebuilt images and toolchains, as well as a set of Eclipse based tools. Eclipse plugins include cross-compilers, debugging and profiling tools, and tools for rebuilding full-fledged file systems images and running qemu simulations. These open source components are backed up by instructions and video-tutorials linked to particular targets.
OEL "works directly against upstream, so bug-reports and bug-fixes will be directed towards upstream layers," says Enea. A mailing list is provided for technical discussions and "and interaction with Eneans and others," says the company.
Enea has not fully delineated the differences between OEL and Enea Linux. However, it appears that OEL lacks some of the functionality of the similarly networking focused Enea Linux. For example, it does not appear to include Enea Linux's "Ptest" automated test framework, commercial grade and long-term support, custom hardware support, frequent security updates, and license compliance and IP protection services. It also appears to lack the real-time, high availability (HA), and node and cluster management extensions available in Enea Linux.

Targeting community-backed SBCs
Enea plans to provide OEL support for a wide variety of development boards on ARM, MIPS, PowerPC, and x86 platforms. However, it's initially available only for a single product: Freescale's TWR-P1025 MPU Tower System Module.
While the QorIQ platform apparently is thought to appeal to Enea's core customer base in telecom and networking, the company is seeking a wider audience for its community project. OpenEneaLinux.org features a survey asking which community-backed single board computer OEL should support next: the Raspberry Pi, PandaBoard ES, BeagleBone Black, MinnowBoard, or ArndaleBoard.


Freescale TWR-P1025
(click image to enlarge)

The TWR-P1025 module is really more of a single board computer designed to act as a modular building block in Freescale's Tower prototyping systems. The board is built around Freescale's PowerPC-based, dual-core
QorIQ P1025
system-on-chip clocked at 533MHz.
The TWR-P1025 is equipped with 512MB of DDR3 RAM, 64MB NOR boot flash, and a microSD slot. It offers two gigabit Ethernet ports, a pair of USB 2.0 ports, and dual UARTs via mini-USB ports. Other features include a QE UART header for RS485 connectivity, an accelerometer, a debug port, and a PCI-Express x1 interface.

Polyhedra DBMS moves to version 8.8
This week, Enea also announced version 8.8 of its Polyhedra in-memory database management system. The principal update is a new Secure Sockets Layer (SSL) module designed for use in fault-tolerant configurations, especially in control systems for factories, distribution networks, and communications networks.
The Polyhedra SSL module protects communications between the database server and client applications, as well as between the master and the standby. The technology allows cryptographic protection against a variety of attacks, and allows protection against replay attacks and man-in-the middle attacks, says Enea. Together with other security measures such as virtual private networks and dynamic intrusion detection systems, the SSL protection can help ensure integrity and confidentiality of data, says the company.

Further information
Open Enea Linux appears to be available now for free download, initially supporting the Freescale TWR-P1025 board. More information may be found at Openenealinux.org. More on Polyhedra 8.8 may be found at the Enea Polyhedra product page.