Feb 6, 2015 — by Eric Brown 6,119 views
Canonical and BQ are launching the first Ubuntu Touch phone — the dual-SIM, quad-core, 4.5-inch "Aquaris E4.5 Ubuntu Edition" — for 170 Euros unlocked.

Starting on Monday, Spanish mobile manufacturer BQ will begin selling the world's first Ubuntu-based phone, the Aquaris E4.5. The long-awaited Ubuntu phone will initially be sold in a series of limited volume "flash sales" across Europe that will be announced in the coming week. You can buy the dual-SIM phone unlocked for 169.90 Euros (about $190) and then purchase SIM bundles from 3 Sweden, amena.com (Spain), giffgaff (UK), and Portugal Telecom.


Standard BQ Aquaris E4.5, running Android 4.4
(click image to enlarge)

It was a year ago that
Canonical announced
that Meizu and BQ would be the first Ubuntu phone manufacturers, with expectations of launches sometime later that year. Back in 2013, Canonical had floated its own home-grown
Ubuntu Edge
phone on Indiegogo, but it failed to make its audacious $32 million goal, and the project was scrubbed.
Meizu MX4
Meizu was expected to ship the first Ubuntu phone, and last fall rumor had it that an Ubuntu version of the Meizu MX4 would ship by year's end. In October, Ubuntu 14.10 shipped, but Canonical offered few details on the progress of the Ubuntu Touch build, let alone any upcoming phones.
By the time Canonical announced a lightweight embedded version of Ubuntu called Snappy on Jan. 20, based on Ubuntu Core and Ubuntu Touch, Canonical was saying a phone would arrive by Mobile World Congress, being held the first week of March.

Introducing the Aquaris E4.5 Ubuntu Edition
Ubuntu has always had a strong following in Europe, so if Ubuntu Touch has a chance to make it anywhere, this is as good a place as any. That's especially true since BQ's Aquaris E4.5 is a relatively pricey mid-range phone, unlike the low-end Firefox OS phones, which are trying to crack the emerging market space in phones priced as low as $33. Samsung also took the middle ground for its first alternative mobile Linux launch. Its first Tizen-based phone is the dual-core Samsung Z1, which shipped last month in India.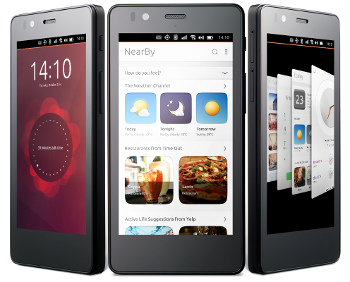 Aquaris E4.5 Ubuntu Edition
(click image to enlarge)

The Aquaris E4.5 Ubuntu Edition is a re-spin of BQ's Android 4.4 based Aquaris E4.5 phone, which goes for the same price. The Ubuntu project announcement lists some basic features that match the Android-phones specs, including a MediaTek quad-core, Cortex-A7 SoC clocked to 1.3GHz, with a Mali-400 GPU. This would appear to be the
MT8125
SoC. Other noted features include 1GB of RAM and an 8-megapixel rear-facing camera with 1080p support, autofocus, dual flash, a Largan lens, and "high-quality BSI sensors." There's also a 5-megapixel front-facing camera.
We assume the phone matches the full specs of the Android-based E4.5, which can be found via the BQ link at the end of the story. Other Aquaris E4.5 Android Edition features include a 4.5-inch, 960 x 540 (qHD) IPS screen with 240dpi and scratch resistance. This is lower resolution than most Android phones with this level of processing power.
BQ's Aquaris E4.5 Android Edition also includes 8GB of flash, 5.5GB of which is available to users, as well as a microSD slot and the dual SIMs for 2G and 3G HSPA+ only. The phone is further equipped with WiFi, Bluetooth 4.0, GPS, an audio jack, a micro-USB OTG port, and a variety of sensors. The 137 x 67 x 9mm, 123-gram phone runs on a 2150mAh battery.

Ubuntu phone touted for "scopes," not convergence
The Ubuntu Edition integrates Ubuntu Touch UI stack and Ubuntu 15.04, which will be formally announced in April. Ubuntu 15.04 may or may not be the long-delayed "convergence" release that will enable a single app to be deployed on desktop, smartphone, and perhaps Ubuntu tablet platforms.
Yet, Canonical and BQ do not even mention the convergence theme here, but instead focus on the "scopes" feature of Ubuntu Touch, which has been touted by the Ubuntu project since Ubuntu Touch was announced. Scopes integrate content with search profiles, and are said to eliminate the need for many discrete mobile apps.
According to the Ubuntu project's announcement, scopes are "a reinvention of the mobile UI, presenting a new way to rapidly and visually access the most important digital life services — music, social, web, local services, photos etc. — directly on the home screen." Ubuntu scopes are further touted as being "a world away from burying content and services inside multiple apps in an icon grid — reversing the industry's hackneyed status quo."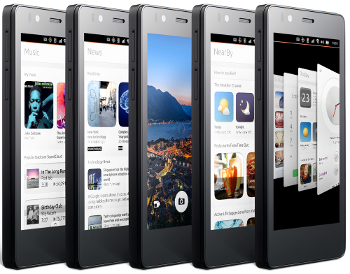 Typical "aggregation scopes" on the Aquaris E4.5 Ubuntu Edition phone
(click image to enlarge; source: Ubuntu)

The phone will ship with several "aggregation scopes," which are categorized home screens that include music, video, news, and other content. For example, a video Scope displays content from sources like YouTube and Vimeo in addition to your own recorded videos. Each source can then expand into an app-like, fully branded experience.
Scopes can be designed with a UI toolkit that supports multiple web development platforms, and offers a "much lower development and maintenance costs than traditional apps," says the Ubuntu project. A ZDNet story quotes Chris Parrino, Canonical's VP of mobile, as saying that more traditional apps will also be available in addition to the scopes. All told, over 1,000 scopes and apps will be available at launch.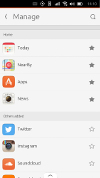 Typical Aquaris E4.5 Ubuntu Edition screenshots
(click image to enlarge; source: Ubuntu)

The apps, meanwhile, are said to include Facebook, Twitter, Cut the Rope, eBay, Amazon, Timeout and Yelp, as well as third party Dropbox and Spotify apps. WhatsApp is not available yet, but Parrino told ZDNet the phone will offer a somewhat similar Telegram app to fill the gap.
"Ubuntu is a totally different concept in mobile operating systems and we are proud of the fact that our customers will get to enjoy it before anyone else in the world," stated Alberto Mendez, CEO at BQ.
"The launch of the first Ubuntu smartphones is a significant milestone," stated Jane Silber, CEO at Canonical. "The new experience we deliver for users, as well as the opportunities for differentiation for manufacturers and operators, are a compelling and much-needed change from what is available today. We're excited that a rising star like BQ has recognised this opportunity and is helping us make it a reality."
Further testimonials were provided by European carriers amena.com, giffgaff, and Portugal Telecom, as well as Fiabee, which is porting HTML5 apps to the phone, and INRIX, which is developing an Ubuntu Scope profile for its real-time traffic application. Additional quotes were posted from Prisa Noticias, TimeOut, Songkick, and The Weather Channel.

Further information
Starting on Monday, the Aquaris E4.5 Ubuntu Edition phone will go on sale in various flash sales over the next few weeks in Europe for 169.90 Euros (about $190). The date, time, and URL for these limited volume sales will be announced through @Ubuntu and @bqreaders on Twitter as well as Ubuntu G+ and Ubuntu Facebook within the next week. Information on SIM bundles for the phone should eventually appear at the websites of carriers including 3 Sweden, amena.com (Spain), giffgaff (UK), and Portugal Telecom. It's unclear when volume sales will begin on a more permanent basis.
More information on the Ubuntu Edition phone may be found in the Ubuntu Aquaris E4.5 announcement, and more on the Aquaris E4.5 phone with Android may be found at BQ's Aquaris E4.5 product page.