Apr 15, 2015 — by Eric Brown 2,597 views
BQ has begun volume sales of its Ubuntu-based Aquaris E4.5 Ubuntu Edition phone for 170 Euros. Meanwhile, Linux.com takes a closer look at Ubuntu Touch.

Europeans can now easily get their hands on the first Ubuntu phone. Spanish mobile manufacturer BQ began limited release sales starting back in February when the Aquaris E4.5 Ubuntu Edition was formally announced, but widespread volume sales in Europe began only this week for the same 169.90 Euros (This now translates to $181, down from $190 at launch.)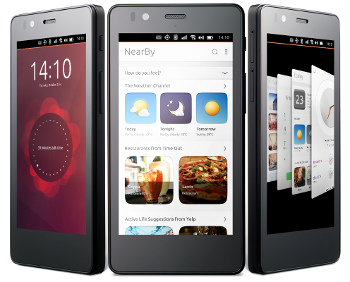 Aquaris E4.5 Ubuntu Edition
(click image to enlarge)

The price seems reasonable for a mid-range phone like the Aquaris E4.5. Canonical's Ubuntu
product page
for the Aquaris states "More Ubuntu phones coming soon…" This likely includes the long-awaited, higher-end
Ubuntu version of the Meizu MX4
, which
PC World speculates
will cost $350 to $400 off contract.
The Aquaris E4.5 Ubuntu Edition is closely based on BQ's Android-based Aquaris E4.5 phone, and similarly includes a MediaTek quad-core, Cortex-A7 SoC clocked to 1.3GHz, with a Mali-400 GPU. The phone provides 1GB of RAM, 8GB of flash, and a microSD slot. The 4.5-inch display has a relatively low 960 x 540 (qHD) IPS screen with 240dpi and scratch resistance.
The Aquaris E4.5 has an 8-megapixel rear-facing camera with 1080p support, autofocus, dual flash, a Largan lens, and BSI sensors, as well as a 5-megapixel front-facing camera. Wireless features include dual micro-SIM slots that support 2G and 3G HSPA+, as well as GPS, WiFi and Bluetooth 4.0. (The latter is not yet supported by software.)
The 137 x 67 x 9mm, 123-gram phone runs on a 2150mAh battery. The phone is further equipped with an audio jack, a micro-USB OTG port, and a variety of sensors.
The phone is not yet everything Canonical promised in that the promised "convergence" release of Ubuntu is delayed until at least next October. With convergence, developers will be able to write a single app for desktop, phone, and tablet devices, and an Ubuntu phone will be able to drive a large-screen display. Ubuntu 15.04 ("Vivid Vervet"), which is due next week, still runs Unity 7, not the more mobile-oriented Unity 8, which will integrate Mir display technology to replace X.
Ubuntu 15.04 is a relatively minor release that is notable for switching to the systemd init system. Linux 4.0, which was released on April 12, was too late for Vivid Vervet, which instead moves up to Linux 3.19.3. The relatively uneventful Linux 4.0 once again enables kernel patching, among other minor enhancements.

Deeper dive into Ubuntu Touch
We've followed the evolution of the Ubuntu Touch interface for several years now, including its "scopes" technology, which integrates content with search profiles. To get an up to date evaluation of the Ubuntu Touch interface available to Aquaris buyers, check out Swapnil Bhartiya's overview on Linux.com.
Bhartiya takes a closer look at scopes, as well as how the platform still differs from desktop Ubuntu, and what features they have in common. Bhartiya describes the applications preloaded on the BQ phone, and examines Click, an "exciting" new app packaging format that aims to make it easier for developers to distribute and deploy applications.
Bhartiya claims that Ubuntu Touch is the most open source of all current mobile platforms. However, the build still has various "binary blobs and device drivers" that are proprietary.

Further information
The BQ Aquaris E4.5 Ubuntu Edition is available now in EU countries for 169.90 Euros. More information, including detailed specs, may be found at the BQ Aquaris E4.5 Ubuntu Edition product page.