Oct 5, 2021 — by Eric Brown 6,473 views
Ibase's 3.5-inch "IB952" SBC runs Ubuntu or Win 10 on AMD's Ryzen Embedded V2000 with up to 64GB DDR4, 2x GbE, 2x SATA, 2x M.2, COM, DP, and 6x USB, including a DP-ready Type-C port.

Ibase announced what appears to be the first 3.5-inch SBC built around AMD's 7nm fabricated Ryzen Embedded V2000. The IB952, which follows Ibase's 3.5-inch, Ryzen V1000 powered IB918, appears to be only the second V2000-based board smaller than Mini-ITX boards such as Ibase's MI989. (The other is ASRock's smaller 101 x 101mm 4×4-V2000.) The Ubuntu-ready SBC is designed for POS, kiosk, digital signage, and factory automation applications.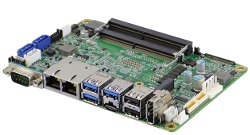 IB952 and detail views
(click images to enlarge)

AMD's Ryzen Embedded V2000 advances to 7nm-fabricated Zen 2 cores compared to the 14nm Zen 1 cores on the Ryzen Embedded V1000 and R1000. The V2000 doubles the multi-threaded performance-per-watt compared to the V1000 and offers up to 30 percent better single-thread CPU performance, claims AMD. Graphics performance is claimed to be 40 percent higher.
Two octas-core SKUs are highlighted, although you may be able order the two hexa-core models as well. You can choose between a V2748 with 2.9GHz base and 4.25GHz boost rates with 35-54W TDP or the 1.7GHz/4.15GHz V2718 with 10-25W TDP. Ibase provides up to 64GB DDR4, including optional ECC RAM.
Ibase claims support for 4x independent 4K displays, but we can't see how that is possible. 4K would be available via the DisplayPort, eDP, and USB Type-C with DP support, but not likely through the LVDS interface.
The IB952 provides dual SATA interfaces and supports NVMe storage on the M.2 M-key slot. For networking, there are dual GbE ports, and WiFi/BT is supported on the M.2 E-key.


More IB952 detail views
(click image to enlarge)

The SBC provides a generous 6x USB ports, including 3x USB 3.1 (probably Gen1), 2x USB 2.0, and the dual-mode Type-C port. There is also a RS232/422/485 port, RS232 header, DIO, TPM, watchdog, and a 12-24V input. The board supports a 0 to 60°C range with the help of a heatsink, which appears to be standard, and which would more accurately be referred to as a fansink.
Specifications listed for the IB952 include:
Processor — AMD Ryzen Embedded V2748 or V2718 (8x Zen 2 cores at 2.9GHz/4.25GHz or 1.7GHz/4.15GHz V2718); Radeon Vega GPUs
Memory — Up to 64GB DDR4-2400 via 2x sockets, including optional ECC
Storage:

2x SATA 3.0 slots
NVMe available via M.2 M-key (see expansion)

Networking — 2x Gigabit Ethernet ports (PCIe-based Intel I211); wireless available via M.2 E-key (see expansion)
Display/media I/O:

DisplayPort at up to 4K
Second DP available via USB Type-C up to 4K
eDP up to 4K
LVDS (18/24-bit single/dual-channel)
4x independent displays
Audio I/O headers (Realtek ALC888S)

Other I/O:

3x USB 3.1 host ports
2x USB 2.0 ports
USB Type-C port with DP support
RS232/422/485 DB9 port
RS232 header
8-bit DIO

Expansion:

M.2 M-key 2280 slot with NVMe support
M.2 E-key 2230 slot for WiFi/BT

Other features — TPM 2.0; watchdog; hardware monitoring; fansink
Operating temperature — 0 to 60°C with 95%, non-condensing, relative humidity tolerance @ 60°C
Power — 12-24V DC header input; consumption with base clock, 32GB RAM at 12V: 7.61A (V2748) or 3.92A (V2718)
Dimensions — 147 x 102mm (3.5-inch)
Operating system — Ubuntu; Windows 10

Further information
No pricing or availability information was provided for the IB952. More information may be found in Ibase's announcement and product page.