Jan 16, 2017 — by Eric Brown 5,341 views

Axiomtek's 3.5-inch CAPA500 SBC taps LGA1151-ready CPUs from Intel's 7th and 6th Generations, and offers PCIe, dual GbE, and optional "ZIO" expansion.

Axiomtek's CAPA500 is the first 3.5-inch form-factor single board computer we've seen that supports Intel's latest 7th Generation "Kaby Lake" processors. Kaby Lake is similar enough to the 6th Gen "Skylake" family, sharing 14nm fabrication, Intel Gen 9 Graphics, and other features, to enable the CAPA500 to support both 7th and 6th Gen Core i7/i5/i3 CPUs as long as they use an LGA1151 socket. Advantech's Kaby Lake based AIMB-205 Mini-ITX board supports the same socket. The CAPA500 ships with an Intel H110 chipset, and a Q170 is optional.


CAPA500, front and back
(click images to enlarge)

The 146 x 104mm CAPA500 is designed for IoT/M2M, industrial control, self-service terminals, digital signage, and retail/POS/kiosk displays. It supports extended -20 to 70°C temperatures under active thermal control.
The board is very similar in design and feature set to the Intel 4th Gen Core "Haswell" based CAPA880 3.5-incher. No OS support is listed, but we're confident it shares the CAPA880's Linux and Windows support.
Like the CAPA880, the CAPA500 features Axiomtek's homegrown ZIO expansion connector. The multifunction ZIO connector integrates PCIe x1, USB, LPC, and SMBus expansion buses into a single connector. The CAPA500 is offered with four ZIO expansion module options:
4x COM; 1x mini-PCIe
2x COM; 32-bit DIO
2x COM, 2x GBE
2x isolated COM; 2x USB 3.0
You can load up to 16GB of DDR4-1867 RAM, and store data with an available SATA 3 port. A mini-PCIe slot features mSATA support. The SBC supports triple displays via HDMI, VGA, and LVDS interfaces.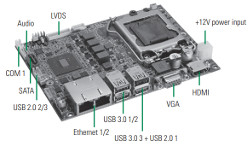 CAPA500 front and back detail views
(click images to enlarge)

The CAPA500 provides dual Gigabit Ethernet ports, along with 3x panel-side USB ports, and 3x USB 2.0 ports, one of which is on the coastline. Onboard interfaces include HD audio I/O, 8-bit DIO, the back-mounted ZIO connector, and a RS-232/422/485 port with +5V/+12V power.

CAPA500 (left) and with fan
(click images to enlarge)

The CAPA500 runs on +12VDC power, and supports auto power-on functionality. Other features include an SMBus interface, a watchdog, hardware monitoring, and optional Intel AMT 11. Presumably, the fan unit shown in the image above is optional.

Further information
The CAPA500 is available now at an undisclosed price. More information may be found at Axiomtek's CAPA500 product page.