Oct 1, 2014 — by Eric Brown 1,878 views
The first Firefox OS based media player has arrived on Kickstarter, in the form of a $25 open-spec HDMI stick that supports Chromecast-like content casting.

The Matchstick, which has already zoomed past its Kickstarter campaign's $100,000 funding goal, with 28 days still remaining, was teased back in June by Mozilla developer evangelist Christian Heilmann. The unnamed prototype was billed as an open source HDMI stick that runs Mozilla's Linux-based Firefox OS and offers casting capabilities. Few details were revealed at the time except that the device used the same DIAL (DIscovery And Launch) media-casting protocol created by Netflix and popularized by Google's Chromecast.


Matchstick (left) compared to Chromecast
(click images to enlarge)

Now, a San Jose startup called Matchstick.tv has revealed the device with a name, as well as full software and hardware details, including schematics. The 250 developer units based on the prototype were quickly snapped up at $24 each, and will ship in November. The remaining devices will be finished products that will ship in February, 2015. The $12 early bird pledges are sold out, but there are still pledges available at $18, plus two-pack deals at $34, through Oct. 30. The Matchstick will eventually sell at retail for $25, compared to $35 for Chromecast.
Without mentioning Google or Chromecast by name, the developers go to great lengths to chide Chromecast for its lack of processing power and memory, and for the restrictions forced upon developers. Mozilla is not formally part of the project, but Matchstick.tv says the company collaborated with it.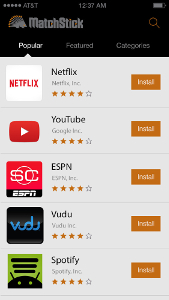 Matchstick
smartphone app
(click to enlarge)
The Matchstick can act as a straight ahead media player, running "hundreds of apps" available in the Mozilla Firefox OS store, says Matchstick.tv. It will ship with apps including Netflix, HBO Go, Pandora, ABC, ESPN, Vudu, YouTube, Spotify, and others. There was no mention of any support for the open source XBMC media platform, which is now called Kodi, but given openness of both the Matchstick and Kodi, it seems likely that a port of the highly popular media center app will make it to the device sooner or later.
The Matchstick also does DIAL casting, although to avoid any threat of lawsuits, the startup refers to it as "flinging," and describes the process as mirroring. You can fling content to the device from Android, iOS, and Firefox OS phones, as well as from any device running Chrome or Firefox browsers, says Matchstick.tv. (Last month, Mozilla announced preliminary support for casting videos from the Firefox browser to Chromecast devices.)
The Matchstick is already said to be binary compatible with many existing Chromecast apps. Other Chromecast apps can be recompiled and ported in a process that "usually takes less than an hour," claims Matchstick.tv. The company has already launched a "Matchstick for Apps" program for qualified developers, although it may be awhile before a new set of developer units is available.

Inside the Matchstick
The 110 x 30 x 11mm Matchstick looks much like Chromecast and other HDMI stick devices, but it offers a faster processor than the Marvell DE3005 found on the Chromecast. It runs Firefox OS on a dual-core, Cortex-A9 based Rockchip RK3066 system-on-chip, which is found on a variety of hacker SBCs and media players such as the Rikomagic Cloudsto MK802III LE. The RK3066 ships with a relatively open Mali-400 MP GPU, and is clocked at 1.2GHz.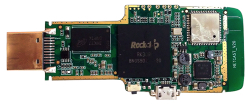 Matchstick developer edition, inside and out
(click images to enlarge)

The Matchstick offers twice the memory and storage as the Chromecast, or the "bonecast," as the Matchstick's developers call it. You get 1GB of DDR3 RAM and 4GB of flash — eMMC flash instead of the NAND used on the Chromecast. Like the Chromecast, the Matchstick also offers an HDMI 1.4 port, a micro-USB port for power, 2.4GHz 802.11 b/g/n WiFi, and not much else. The company does note the presence of a PMIC (power management IC) chip.
Matchstick.tv promotes the fact that unlike Google, it is releasing full schematics on the hardware. While this move is to be congratulated, to be honest, there's really not much to talk about here: the company also notes that while it offers board design, electrical layout, and the bill of materials, it is not releasing its "Industrial Design."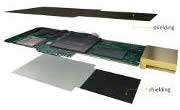 Matchstick internal components
(click images to enlarge)

The
DIAL
technology used for "flinging" is free to use without a license, but developers of "1st screen apps" must register the app names, according to the DIAL website. Also, Netflix owns the DIAL trademark, and poses restrictions for the use of the DIAL name. Matchstick.tv makes no mention of DIAL.
Mozilla's open source Linux based Firefox OS has appeared in Via's hacker-oriented APC Rock SBC and APC Paper mini-PC, and earlier this year, Via said it was working with Mozilla to bring the OS to new form-factors. Firefox OS but has yet to run a commercial media player. The Firefox browser and HTML oriented OS has appeared in numerous smartphones, where it has found some success in developing nations. There have also been a few tablets, and an announcement for a Panasonic TV based on Firefox OS. The Firefox OS infused Viera TVs that were promised back at CES have yet to appear.
The Matchstick's Kickstarter video appears below.
Matchstick Kickstarter campaign video

Further information
Matchstick funding packages on Kickstarter are available through Oct. 30 at $18, and two-pack deals go for $34, with shipments expected in February. The Matchstick will sell at retail for $25. More information may be found at the Matchbox Kickstarter page, as well as the Matchbox.tv site, where the company has already posted full details on hardware and software, as well as a sign-up page for the Matchstick for Apps SDK.