Apr 23, 2013 — by Eric Brown 1,050 views
Spanish online phone seller and Telefonica partner Geeksphone announced the availability of the first two developer phones running Mozilla's Linux-based Firefox OS distribution. The $194 Peak smartphone offers a dual-core, 1.2GHz Qualcomm Snapdragon S4 processor and a 4.3-inch IPS display, with 8- and 2-megapixel cameras, while the $119 Keon has a 1GHz Snapdragon S1, a 3.5-inch HVGA display, and a 3-megapixel camera.

Shortly after announcing the availability of the Peak and Keon phones, which had been partially unveiled back in January, Geeksphone announced the phones were temporarily sold out. Clearly, despite the low-end focus of the Linux-based Firefox OS, there has been considerable developer interest in Mozilla's HTML5-oriented, Linux-based open source OS.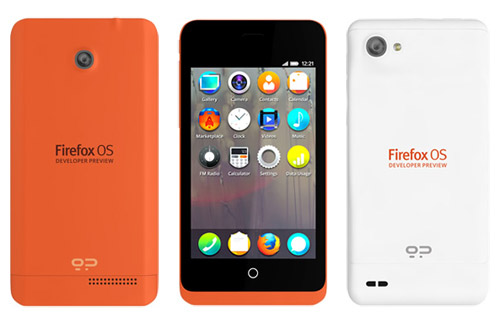 Geeksphone Keon back/front, Peak back
(click image for a larger Keon front view)

Firefox OS phones built by ZTE and Alcatel will be released in Spain, Portugal, Poland, Brazil, and Venezuela in June, followed by Firefox OS rollouts in 11 more countries by the end of 2013, says Mozilla. LG and Huawei may be part of the late-2013 crop of handsets, while Sony is exploring a model it would ship in 2014 (see farther below for more on Firefox OS).
Geeksphone's Keon is of particular interest. Despite its fairly ordinary, dual-core, 1.2GHz specs, which would represent the middle range of Android phones, this is the most advanced Firefox OS phone tipped yet. The first commercial models teased at Mobile World Congress in February were more like Geeksphone's 1GHz, 3.5-inch Keon.
In June, Deutsche Telekom will launch the Alcatel One Touch Fire in Poland, before moving to other underserved markets. It runs Firefox OS on a 1GHz, Cortex-A5 Snapdragon, and offers a 3.5-inch HVGA display, as well as 256MB RAM, 512MB NAND flash, and a 3.2-megapixel camera. The ZTE Open, which will ship later this year to Telefonica's Latin American and European customers, is similar, but runs at even slower 600MHz or 800MHz clock rates.
In addition, Sony Mobile released a Firefox OS ROM for its low-end, Keon-like Sony Xperia E Android phone. This will let developers get a feel for the new operating system, while also giving Sony a better idea if it wants to commit to a native Firefox OS model in 2014.
The low-end specs reflect Mozilla's initial focus on emerging markets for Firefox OS, which it claims offer superior performance on modest hardware. Because Firefox OS is entirely derived from HTML5, and is optimized for Qualcomm Snapdragon processors, the OS will appear to run faster on hardware that would provide only middling performance running Android, claims Mozilla.
Still, Geeksphone's Peak phone shows that Mozilla wants to prep developers for higher-powered models. The Peak is built around a dual-core 1.2GHz Snapdragon S4 8225 with 512MB RAM, 4GB flash, and a microSD slot. The unlocked phone provides a reasonably competitive 4.3-inch qHD (quarter high-definition, 960 x 540 pixel) IPS display, and offers both an 8-megapixel rear-facing camera with flash and a 2-megapixel front-facing videocam. An 1800mAh battery is also available.
The Keon runs on a Cortex-A5 based 1GHz Snapdragon S1 7225AB processor with 512MB RAM and a 4GB flash ROM. It offers a 3.5-inch HVGA (480 x 320) display, a 3-megapixel camera, and a 1580mAh battery.
Both the Peak and the Keon provide UMTS/HSPA, WiFi, and Bluetooth 2.1, as well as an FM radio and accelerometers.

Firefox OS and the New Wave of Mobile Linux
Firefox OS, formerly called Boot To Gecko (BTG), will likely be the first of a new round of open source mobile Linux operating systems to reach market. Like the Linux Foundation's Intel- and Samsung-backed Tizen, which should appear in new Samsung smartphones by the end of the year, and Canonical's Ubuntu Touch GUIs for smartphones and tablets, Firefox OS is based on Linux and HTML5. Yet, Mozilla jumped off the deep end by building the OS entirely from HTML5. This in part explains the keen developer interest, as anyone with web development skills can now potentially be a Firefox OS app developer with relatively little training.
HTML5 is the key to unlocking Linux and Firefox OS's browser-oriented Gecko rendering engine. The distribution is somewhat like Google's Linux-based Chrome OS, in that all applications exist entirely on the web. This approach simplifies development, lowers handsets costs, and cuts down on performance-draining middleware, says Mozilla. However, it could run into problems with resource-intensive applications like games.
Like many of the new Linux alternatives, including a MeeGo spinoff from Jolla called Sailfish OS, Firefox OS aims to find a foothold in the crowded smartphone market by targeting emerging nations. There are still millions of potential smartphone owners who have yet to even own a Nokia Symbian feature phone. Yet Android is also making headway among the world's poor, even if the low-end hardware struggles with the more demanding Android firmware.
To help find a niche, Firefox OS and Tizen have billed their platforms as being friendly to carrier modification. Mozilla initially signed up Telefonica, Deutsche Telecom, Telecom Italia, and Sprint as its flagship supporters, and a Sprint phone for the U.S. is due in 2014. In February, Mozilla announced many more partners, including China Unicom and KDDI.

Geeksphone availability
The Peak ($194) and the Keon ($119) Firefox OS developer phones are both shipping, although at the time of this posting Geeksphone was still sold out, and may be in limited quantity. More information on the Peak and Keon may be found at the Geeksphone website. More information on Firefox OS, including access to developer tools and a simulator product, may be found at the Mozilla Developer Network.