Apr 23, 2019 — by Eric Brown 2,905 views
Compulab's passively cooled, Linux-friendly "Airtop3" mini-tower builds on a 9th Gen, octa-core Intel Core i9-9900K with Quadro RTX 4000 graphics plus up to 128GB DDR4, NVMe and SATA storage, triple displays, 2x GbE, 6x USB 3.1, and -40 to 70°C support.

Compulab has launched a redesigned Airtop IoT edge server that accomplishes the challenging task of passively cooling Intel's high-end, 9th Gen Core i9-9900K processor. The Airtop3 is "nearly" twice as powerful as the 7th Gen Kaby Lake based Airtop2 mini-tower while maintaining the fanless, embedded-oriented design, says Compulab. Linux Mint and Windows 10 Pro are available.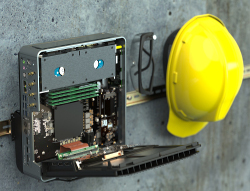 Airtop3 on DIN-rail (left) and with clamshell door removed
(click images to enlarge)

Considering its high 95W TDP and $480-and-up price (CompuLab lists it as $598), we doubted the much-hyped, gamer-oriented
Core i9 9900K
would grace the pages of LinuxGizmos anytime soon. Even more susprising is the fact that it showed up first in a fanless system that supports -40 to 70°C temperatures.
Thanks to the latest version of Compulab's Natural Airflow technology, which is claimed to improve the thermal headroom by over 30 percent, the Airtop3 can passively dissipate up to 300W. The technology dedicates separate thermal zones for the CPU, GPU, and storage.

Airtop3
The default Core i9-9900K and optional Core i7-9700K come from Intel's latest, 14nm-fabricated 9th Gen "Coffee Lake Refresh" family. The octa-core, dual-threaded (i.e. 16-threaded) i9-9900K runs at 3.5GHz with an unprecedented Turbo boost speed of 5GHz. The i7-9700K is also octa-core with a 95W TDP, but it's single-threaded with a clock rate of 3.6GHz/4.9GHz and has 12MB instead of 16MB cache. (Note that the i7-9700K is not currently available on the Airtop3 built-to-order page.)
There's also an option for a dual-core, single-threaded, 3.1GHz Celeron G4900 from the 8th Gen Coffee Lake family with a 54W TDP. In addition, the Airtop3 will support future Xeon E models and other 9th Gen processors. Intel just expanded its 9th Gen lineup with 18 new models.
Both 9th Gen CPUs offered on the Airtop3 ship with an Intel C246 chipset and 350MHz/1.2GHz Intel UHD Graphics 630. Yet, like the Airtop2, the Airtop3 also provides an option for a more powerful Nvidia Quadro PCIe x16 graphics card, in this case a Quadro RTX 4000.
The RTX 4000 has 2,300 CUDA cores, 288 Tensor cores, 36 RT cores, and its own complement of 8GB GDDR6, enabling it to drive up to 7x simultaneous displays. Combined with the CPU, the Quadro graphics enables "low latency edge analytics workloads involving image recognition, machine learning or inferencing," says Compulab. There's also an option for a lower-powered GeForce GTX 1660 Ti card.


Airtop3 rear view and exploded view
(click images to enlarge)

The Airtop3 is available with zero RAM all the way up to 128GB DDR4-2666 (including ECC) via four channels. The 8GB RAM version with the high-end i9-9900K, but without storage, WiFi, and other options, goes for $1,639.
There are 4x 2.5-inch, SATA III based HDD/SSD bays with RAID support, as well as 2x M.2 M-key slots with NVMe support, one of which also supports SATA. There's also an optional NVM3 card for one of the M.2 M-key slots with 3x NVMe.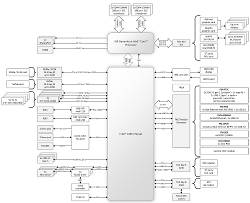 Airtop3 block diagram and FACE options
(click images to enlarge)

The Airtop3 is equipped with 2x GbE ports, an M.2 E-Key for optional WiFi/Bluetooth, and an M.2 B-key with micro-SIM slot for optional 4G, all with optional antennas. A homegrown FACE expansion socket supports a variety of LAN-based FACE options including up to 4x GbE with PoE, as well as other I/O add-ons (see chart above).
Triple 4K@60 displays are enabled via dual DisplayPort 1.2 ports and a single, audio-enabled HDMI 1.4 port. Analog audio jacks and an S/PDIF audio output feed off a Realtek ALC1150 codec.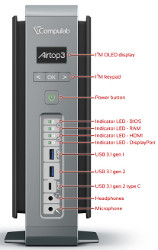 Airtop3 detail views
(click images to enlarge)

There are 6x USB 3.1 Gen 1 ports, and a FACE add-on provides additional USB 3.1 Gen 1 and 2 ports. You get 3x standard RS-232 ports while another FACE option adds 6x RS-232/RS-485 ports. Other features include TPM 2.0, LEDs, and an OLED status display with keypad.
The Airtop3 is enclosed in a 7.5-liter, 300 x 250 x 100mm aluminum case that weighs 4.5 to 7.5 Kg depending on options. Compulab provides optional wall and DIN-rail mounting plus a tool-free clamshell opening protected by a Kensington lock. The computer offers commercial, extended, and industrial temperature ranges.
The system provides a 17-24V DC input and 8W to 300W power consumption. The announcement says there are dual DC inputs for redundant power, but we are not seeing that in the other resources. You also get FPGA-driven power and reset management.

Further information
The Airtop3 is available starting at $999 for the barebone (no RAM) Celeron model and $1,639 for the Core i9-9900K model with 8GB RAM. Build-to-order versions require six weeks lead time. More information may be found in Compulab's Airtop3 announcement, as well as on the product page and shopping page.