Sep 23, 2016 — by Eric Brown 5,452 views
[Updated: Jan. 18, 2017] — The "Roqos Core" dual-band WiFi-ac router runs Debian on a quad-core Atom E3845, and offers cloud based services including security and firmware updates.

A Tysons, Virginia headquartered startup called Roqos has begun shipping a home WiFi router, along with cloud-based "advanced cybersecurity and parental control features" sold on a subscription basis. The Roqos Core router costs $19 along with $17 a month for the Roqos Service, with a commitment of 12 months, or $223 total including the Core. After that you can choose to drop the service and continue to use the router without the extra features provided by the service.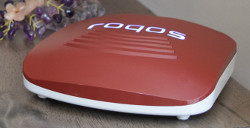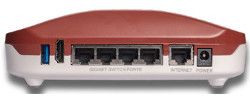 Roqos Core front and rear views
(click images to enlarge)

The 165 x 163 x 53mm (6.5 x 6.4 x 2.1-inch) Roqos Core router runs on a quad-core Atom E3845 clocked to 1.91GHz, from Intel's 22nm Bay Trail generation. The system includes 2GB RAM and 8GB storage. There are four Gigabit Ethernet ports and a GbE switch, as well as USB 3.0 and HDMI ports.
The five-antenna WiFi system offers simultaneous dual-frequency service for 3×3, 5GHz 802.11ac and 2×2, 2.4GHz 802.11n. Access points and WiFi extenders can be added using a WPS push button function on the Roqos app. The device runs on an external 100-240V external power supply, and operates at temperatures ranging from 0 to 40℃.


Roqos Core PCB
(click images to enlarge)

The Roqos Service's "enterprise grade" cybersecurity protections are continually updated to guard against threats that exploit any smart (or perhaps not so smart) device on your network. The services include malware and virus protection, deep packet inspection, and continuous examination of Internet traffic with detection of suspicious activities. Ad-blocking for web browsers is also available.

Roqos app screens
(click images to enlarge)

The parental control features include blocking of inappropriate content, and scheduling Internet usage. There are black and white lists, predefined filter categories, and site-specific filters, and you can set up several user profiles and device assignments.
The Roqos Service alerts customers about intrusion events via email or the Roqos mobile Android or iOS app. The same app lets you control the network remotely. Guest passwords and temporary, time delimited passwords are available.
Roqos offers automatic updates and tech support, as well as a lifetime warranty on the hardware. "Unlike some services or products, we do not store your sensitive usage data in the Roqos Cloud or sell them to third parties," says the company.


Roqos Core color choices
(click image to enlarge)

According to an email from Sezen Uysal, Roqos CEO, the subscription-based Roqos cloud service provides the following functions and features:
Automatic cybersecurity signature updates for recent malware, attacks, etc.
Automatic parental control signature updates for new inappropriate web sites
Automatic software updates
Instant in-app and email notifications of events, alerts, etc.
Remote access and control by smartphone app
Hardware warranty during active service
Advanced shipment of defective hardware
Advanced shipment of hardware upgrade, if needed
No additional fee for any new service features with active service
Customer support via support site, email, or phone

Debian-based open source stack
The roughly 1GB Debian Linux stack is open source, and includes packages like MongoDB, Suricata, Squid, Bind, Nginx, OpenVPN, and Iperf. Expert users can call on advanced settings such as DHCP or static IP address assignments on the Internet port or local network. You also get UPnP discovery, and port forwarding with ranges, among other functions.
According to an email from Sezen Uysal, founder and CEO of Roqos, customers are provided with "login access to the unit with 'sudo' capabilities, so that an advanced user can use the systems as standard router," and add new open source software.
The company is considering the possibility of open-sourcing the hardware and offering schematics and layout files, says Uysal. In the meantime, Uysal notes that the system has an open source BIOS, running Linux with root access. "Even the HDMI port is 1080P which would allow the user to convert [Roqos Core] to a media player," he adds.

Further information (updated: Jan. 18, 2017)
Roqos currently offers three purchasing options for the Roqos Core router. You can pay $19 plus the first month's $17 Roqos Service fee, along with a commitment to continue to pay the monthly service fee for the first year. Alternatively, you can purchase the device for $219, which includes one year of the Roqos Service, with the option of paying a monthly rate for the Roqos Service thereafter. Or, for $595 you can get the Roqos hardware, a 3-year hardware warranty, and lifetime service. More details can be found at the Roqos website.