Jun 26, 2013 — by Eric Brown 13,748 views
The Cubieboard open SBC project began shipping a faster Cubieboard2 version of its open source Linux and Android SBC, and revealed prototypes of a new, larger, enhanced Cubietruck model. Like the $59 Cubiboard2, the Cubietruck uses an Allwinner A20 dual-core Cortex-A7 SoC instead of the original's single-core Allwinner A10, and adds a 2GB RAM option, WiFi, Bluetooth, gigabit Ethernet, VGA, and SPDIF ports.

Named after project leader and former Allwinner executive Tom Cubie, the Shenzen-based Cubieboard project began shipping its first Cubieboard single board computer (SBC), in January. The Cubieboard2 began shipping in mid-June with the same $59 price as the original, which is now discounted to $49. On June 22, the project followed up with the announcement of the Cubietruck.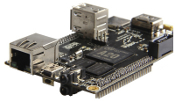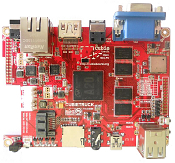 Three generations: Cubieboard, Cubieboard2, Cubietruck
(click images to enlarge)
Both the Cubieboard2 and Cubietruck move up to the dual-core Allwinner A20 system-on-chip, which is pin-compatible with the ARM Cortex-A8-based, single-core Allwinner A10 model found in the original Cubieboard (and used in BDD's $50 A10 COM). The Cubieboard 2 appears to be otherwise identical to the original Cubieboard, and in fact the announcement suggests that users might be able to send in their Cubieboards in for an SoC upgrade.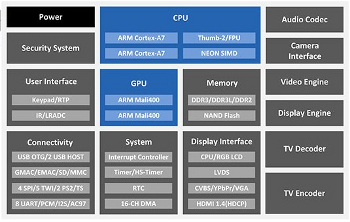 Allwinner A20 SoC block diagram
(click images to enlarge)
No clock rate is listed by Cubie or Allwinner for the A20 SoC, but reports suggest the SoC maxes out at 1.2GHz. The A20 is equipped with a Mali 400 GPU and supports 2160p video decoding and 1080p encoding.
A Minipute comparison between the A20 and its rival, Cortex-A9-based RK3168 SoC from fellow Chinese vendor Rockchip suggests that, despite the A20's more power efficient Cortex-A7 design, power consumption is likely similar, due to the A20's 40nm fabrication compared to the RK3168's 28nm process. The A20 is also slower than the RK3168, but is much faster than the ARM11 CPU in the Raspberry Pi, and is most likely faster than the 1GHz Cortex-A8 based BeagleBone Black. To extend the comparison to two more open source boards, the A20 is probably a bit slower than the 800MHz Cortex-A9 Wondermedia SoC in Via Technologies open source APC Rock SBC, and much slower than quad-core Cortex-A9 Freescale i.MX6 in SBCs like the Wandboard.

Enhancements coming on Cubietruck
The Cubietruck measures 110 x 80 mm (4.3 x 3.2 inches) compared to 100 x 60 mm (3.9 x 2.4 inches) for the two Cubieboard models. The larger PCB makes room for a new WiFi/Bluetooth module, as well as additional real-world I/O ports. It also makes it convenient to stack a 2.5-inch SATA hard drive directly below the SBC.

Cubietruck prototype under test
(click images to enlarge)
One of the most significant improvements to the Cubietruck is the addition of a 2GB DDR3 RAM option, as well as the earlier 1GB. It's unclear whether the board provides the same allotment of 4GB NAND flash. Additionally, Cubietruck moves up from Fast Ethernet to gigabit Ethernet, and adds a VGA port in addition to the earlier Cubiboards' HDMI output. It also adds an SPDIF Toslink optical port in addition to the earlier headphone jack, but dispenses with the earlier audio-in jack.
A new 5VDC @ 2.5A power supply offers better support for SATA storage, and there's now support for a Li-Ion battery and real-time clock (RTC). As before, a SATA 2.0 port is provided, as well as dual USB 2.0 host ports and a USB 2.0 OTG port.
Other enhancements include four LEDs, and an unexplained "3x keys" function (which may be for sensing pushbuttons). The added real-world I/O ports come with a reduction in expansion connector pins from 96 on the Cubieboard models, to 54 on the Cubietruck.
Preliminary specifications listed for the Cubietruck include:
Processor — AllWinner A20 SoC:

Dual ARM Cortex-A7 CPUs
ARM Mali400 MP2 GPU (OpenGL ES 2.0/1.1)

Memory:

RAM — 1GB or 2GB DDR3 (480MHz)
Onboard NAND flash (unspecified capacity)
microSD slot (see note below)

SATA 2.0 port with support for attached 2.5-inch HDD
Networking — gigabit Ethernet port
Wireless — Wifi plus Bluetooth with onboard antenna
USB — 2x USB 2.0 host port; 1x USB 2.0 OTG port
A/V ports:

HDMI
VGA
Toslink (SPDIF optical)
Headphone jack

I/O on 52-pin 2mm header — I2S, I2C, SPI, CVBS, 2x LRADC, UART, PS2, 2x PWM, TS/CSI, IRDA, Line-in, FM-in, Mic-in, x4 TV-in, 3x keys
Other features — 4x LEDs
Power — 5VDC @ 2.5A with HDD; supports Li-Ion battery and RTC
Dimensions — 11 x 8 cm (4.33 x 3.15 inches)
Note that some of the specs currently available are rather vague, and Cubie makes clear that the design may change prior to final Cubietruck production. For example, the SBC's flash storage options are somewhat vague with regard onboard NAND capacity and microSD slot capabilities.
In terms of OS support, the Cubieboard project did not list specifics on what will be available for Cubietruck, but considering the common A20 SoC, the new model most likely supports the same distributions as the Cubieboard2. These include Android 4.2 (Jelly Bean), Ubuntu 12.04 and several other Linux distros including Fedora and Cyanogenmod, which are all preinstalled on NAND flash. The project also offers forums, detailed information, and other open board project amenities.
No pricing or availability information was provided for the Cubietruck. The Cubieboard2 is available now for $59. More information may be found at the Cubieboard project's Cubietruck announcement and Cubieboard 2 pages, respectively.