Dec 1, 2017 — by Eric Brown 2,074 views
Aaeon's Linux-ready, Cherry Trail based "AIOT" gateways include an industrial model with serial, GPIO, and ADC, and the other is a LoRa gateway.

Aaeon's industrial automation focused "AIOT-IGWS01" and LoRa-ready "AIOT-ILRA01" IoT gateways replace a line of earlier Intel Quark based AIOT gateways that included last year's AIOT-QA, AIOT-QG, and AIOT-QM. (Intel appears to have at least temporarily halted further development of the low-power Quark CPUs and MCUs.)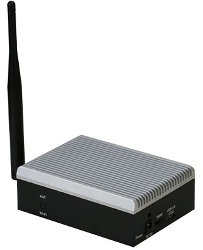 AIOT-IGWS01 (left) and LoRa ready AIOT-ILRA01 gateways
(click images to enlarge)

Aaeon calls the AIOT-ILRA01 the world's first Intel x86 based LoRa gateway for the LoRaWan market. This does not appear to hold up to scrutiny, as Intel's Solutions Directory lists a Bay Trail Atom (and Linux) based
FlexGate FGWAT3LR-14432F
LoRa gateway. There are also several systems including Congatec's
Conga IoT Gateway System
and Portwell's
XM-1
gateways list LoRa as an option, and support ARM or x86 CPUs.
The new AIOT systems move to a much more powerful Atom x5-Z8350, a quad-core, 1.44GHz (1.84GHz burst) SoC with Intel HD 400 Graphics from Intel's Cherry Trail generation. Aaeon's UP-GWS01 and UPC-GWS01 gateways, which were announced in September, are built on the company's x5-z8350-based UP board and smaller UP Core SBCs.
UP Core
Aaeon makes no such claims here, although the new AIOT gateways' compact 130 x 95 x 44.2mm footprints would still be large enough to hold either board, and the feature set matches up pretty well with the UP Core in particular. The automation focused AIOT-IGWS01 supports the same Android 6.0, Windows 10, Ubuntu 16.04, Yocto, and Ubilinux OSes supported by the UP Core, while the AIOT-ILRA01 LoRa gateway is limited to Ubilinux.


AIOT-ILRA01 detail views
(click images to enlarge)

The AIOT-IGWS01 ships with 2GB DDR3L-1600 RAM and 32GB eMMC, while the AIOT-ILRA01 LoRa gateway doubles that to 4GB and 64GB. Standard features on both gateways include a GbE port (Realtek 8111G), an HDMI port with audio, a USB 3.0 OTG port, and 4x USB 2.0 host ports. They also provide 5V DC inputs and support 0 to 50°C temperatures.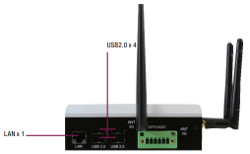 AIOT-IGWS01 detail views
(click images to enlarge)

The automation focused AIOT-IGWS01 adds to this base configuration with 2x RS-232/422/485 DB-9 ports and a 6-pin block connector with 8-bit ADC, 3x GPIO, and analog and digital GND interfaces. Options include a mini-PCIe slot for a 3G module (USB interface), USB-based WiFi and Bluetooth modules, antennas, and a micro-SIM slot.

AIOT-IGWS01 rear views
(click images to enlarge)

The AIOT-ILRA01 lacks these extras except for optional WiFi, but provides an 868MHz LoRa radio with sensitivity as low as -138 dBm. The output power level ranges up to 20 dBm, and there's a range of 15 kilometers in line of sight. VESA and DIN-rail mounts are optional.

Further information
The AIOT-IGWS01 and LoRa-ready AIOT-ILRA01 appear to be available now with undisclosed pricing. More information may be found in Aaeon's AIOT-IGWS01 and AIOT-ILRA01 product pages.