Nov 6, 2015 — by Eric Brown 883 views
MYIR's "MYC-C437x" and "MYD-C437X" COM and baseboard pair run Linux on TI's Cortex-A9 Sitara AM437x SoC, and offer dual GbE ports and touchscreen options.

MYIR first tapped the Sitara AM437x SoC from Texas Instruments earlier this year with its Rico Board. While the Rico had an integrated SBC design, the new MYD-C437X development board is one of MYIR's sandwich-style concoctions featuring a separately available MYC-C437X computer-on-module. Similarly, MYIR's Zynq-based MYD-C7Z010/20 offers a sandwich-style alternative to its Z-turn Board SBC.


MYD-C437X board (left) and MYC-C437X module
(click images to enlarge)

Typical applications for the MYD-C437X board or MYC-C437X module include patient monitoring, navigation equipment, industrial automation, portable data terminals, bar code scanners, point of service, portable mobile radios, and test and measurement. As usual with MYIR, the boards are provided with exhaustive documentation and schematics, as well as an open source Linux BSP.

MYC-C437X module detail view
(click image to enlarge)

The MYD-C437X board's sandwich-mounted, 60 x 45mm MYC-C437X module supports all four AM437x SoC models, including the AM4378 or AM4379 models, which add a PowerVR SGX530 GPU to the 1GHz Cortex-A9 core. All the SoC variants feature TI's latest quad-core, 200MHz Programmable Real-time Unit (PRU), which is designed for customizing I/O that requires deterministic, real-time processing and ultra-low-latency. Only two of the models support EtherCAT, however (see diagram below).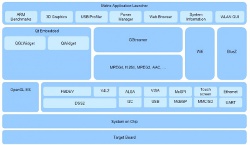 AM437x comparison chart (left) and Linux architecture
(click images to enlarge)

The MYC-C437X COM has the same memory complement as the Rico Board, including 512MB DDR3, 4GB eMMC, and some reserved NAND and QSPI. The module has a GbE controller, a PMIC, and dual 100-pin board-to-board expansion connectors.

Block diagrams: MYC-C437X module (left) and AM437x SoC
(click images to enlarge)

The 177 x 106mm MYD-C437X baseboard is more feature rich than the Rico, with two Gigabit Ethernet ports and four USB 2.0 ports instead of one apiece. Other features include a Mini-USB 2.0 OTG port, a microSD slot, dual camera connectors, an HDMI port, and an LCD interface with optional touchscreens.

MYD-C437X development board detail view (left) and block diagram
(click images to enlarge)

The MYD-C437X is further equipped with dual isolated CAN ports, RS232 and isolated RS485 ports, JTAG and serial debug, and audio jacks. A pair of 20-pin expansion connectors enable additional interfaces. The 5V board features MYIR's usual variety of LEDs and buttons, and is available in both commercial and industrial temperature versions.
Specifications listed for the MYD-C437X development board when combined with the MYC-C437X COM include:
Processor — TI AM437x (1x Cortex-A9 core @ up to 1GHz); PowerVR SGX530 2D/3D accelerator (on AM4378 or AM4379 only); quad-core PRU subsystem @ 200MHz
Memory/storage:

256MB to 512MB DDR3 RAM (512MB default)
4GB eMMC flash
256MB or 512MB SLC NAND flash (reserved)
16MB QSPI flash (reserved, not soldered)
32KB EEPROM
Micro-SD slot

Display:

HDMI port
LCD (16-/24-bit true color) interface
4-wire resistive touch interface
Optional 4.3- or 7-inch touchscreens

Networking – 2x 10/100/1000 Ethernet ports
Other I/O:

4x USB 2.0 host ports
Mini-USB 2.0 OTG port
2x CAN (isolated)
Audio in and out 3.5mm jacks
RS232 serial port
RS485 serial port (isolated)
RS232 serial debug port
JTAG (20-pin, 2.54mm pitch)
2x 30-pin camera interfaces with optional camera modules
2x 20-pin expansion connectors (2.0mm pitch):

2x UART
2x SPI
2x I2C
8x ADC

Other features — 4x LEDs (3x user); 4x buttons (2x user); optional WiFi module
Power — 5V 2A; PMIC
Operating temperature — 0 to 70°C or -40 to 85°C
Dimensions — 177 x 106mm with 60 x 45mm MYC-C437X module
Operating system — Linux 3.12.10 with source, drivers, Buildroot, SPL and U-Boot

Further information
The MYD-C437X development board (including MYC-C437X module pre-installed) is available starting at $169, while the MYC-C437X module alone starts at $85. More information may be found at the MYD-C437X board and MYC-C437X module product pages.