Oct 2, 2018 — by Eric Brown 388 views
Adlink and Congatec have updated their Coffee Lake based Express-CF and Conga-TS370 COM Express modules, respectively, with Intel's new Core i3-8100H, an affordable quad-core, 3GHz CPU with a 45W TDP.

Adlink and Congatec have announced they are supporting their Linux-ready 8th Gen "Coffee Lake" COM Express Basic Type 6 modules with a new Core i3-8100H model. The quad-core, quad-threaded processor, which is the first i3-branded model in the mainstream Coffee Lake H-series, has an unusual mix of a relatively low price, a relatively high base clock rate of 3GHz (no turbo), and a relatively power efficient 45W TDP (35W Configured TDP).
Like other H-series chips, it offers Intel UHD 630 graphics with 24 GPU compute units and support for triple displays. The processor has a 6MB cache and ships with an HM370 I/O chipset.


Congatec Conga-TS370
(click image to enlarge)

Congatec announced its
Conga-TS370
module in conjunction with Intel's second wave of Coffee Lake announcements in April. Adlink unveiled its
Express CF
module in July shortly before Intel released the i3-8100H. Other Coffee Lake COM Express modules include Kontron's
COMe-bCL6
,
Seco's COMe-C08-BT6
, and
Data Modul's EDM-COMB-CF6, and MSC Technologies' MSC C6B-CFLH
.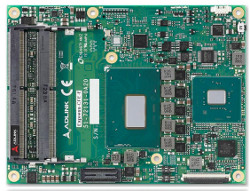 Adlink Express CF/CFE and block diagram
(click images to enlarge)

Adlink notes that this is the first quad-core i3 chip and the first with 6MB cache. "This major upgrade results in a more than 80% performance boost in MIPS (million instructions per second), and an almost doubling of memory/caching bandwidth, all at no significant cost increase compared to earlier generations," says the announcement. Congatec, meanwhile, calls the Core i3-8100H "price-breaking," and says that its "particularly high" performance per dollar and performance per Watt ratios make it a good fit for embedded, industrial, and IoT applications and lower-end AI-enabled edge servers.

Conga-TS370 block diagram
(click image to enlarge)

According to Intel's Ark product pages, the i3-8100H has a recommended price of $225, which is not substantially lower than the $250 price of the previous low-end Coffee Lake H-series model — the quad-core, octa-threaded Core i5-8400H with 2.5GHz/4.2GHz clock, 8MB cache, and a similar 45W TDP. However, these are single unit prices, and Congatec notes that "the price has fallen significantly."
For further comparison, the quad-core, quad-threaded i3-8300T from the more embedded-oriented T-series sells for only $138. The i3-8300T has an 8MB cache, 3.2GHz clock, and 35W TDP. There's also an even lower-power (but unpriced) dual-core, quad-threaded i3-8109U with 3GHz/3.6GHz clock, 4MB cache, and 28W TDP.

Further information
The Adlink Express-CF and Congatec Conga-TS370 appear to be available now with the new Core i3-8100H and other Coffee Lake H-series processors, including the Xeon E-2176M, 8850H, which Adlink offers on a separate Express-CFE module. More information may be found in the revised Adlink Express-CF and Congatec Conga-TS370 announcements.