Apr 14, 2017 — by Eric Brown 2,126 views
Roqos has upgraded its Linux-based "Roqos Core" dual-band WiFi-ac router with a v.16 upgrade that adds VPN connections and Dynamic DNS.

The Debian Linux driven Roqos Core router is now available with a v.1.6 upgrade that adds Virtual Private Network (VPN) and Dynamic DNS features. With the VPN feature, users can make a secure VPN connection from anywhere in the world, says Virginia based Roqos.
The Roqos VPN feature supports Android devices with a new Android app. iOS users can initially use OpenVPNConnect based on the open source OpenVPN technology, but this will be replaced later this year with a more customized iOS app. Desktop and laptop users running Linux, Windows, or Mac can use the open source OpenConnect app.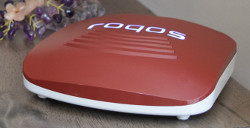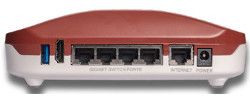 Roqos Core front and rear views
(click images to enlarge)

The new Dynamic DNS feature lets you access your home network by a domain name rather than an IP address, "which is frequently changed by ISPs," says Roqos. A simple, memorable host name lets you access media files, security cameras, and other IoT devices, says the company. Roqos v.16 also makes some performance enhancements and bug fixes.
The Roqos Core offers cloud-based security and parental control features via regular updates and a subscription service. The 165 x 163 x 53mm router runs Debian Linux on a quad-core, 1.91GHz Atom E3845, with 2GB RAM and 8GB storage. There are four Gigabit Ethernet ports and a GbE switch, as well as USB 3.0 and HDMI ports. The five-antenna WiFi system offers simultaneous dual-frequency service for 3×3, 5GHz 802.11ac and 2×2, 2.4GHz 802.11n.


Roqos Core PCB
(click images to enlarge)

The roughly 1GB Debian Linux stack is open source, and includes packages like MongoDB, Suricata, Squid, Bind, Nginx, and Iperf, in addition to OpenVPN. Advanced features include port forwarding, UPnP discovery, and DHCP or static IP address assignments on the Internet port or local network.
In the coming months, Roqos plans to add new features that will be available for free. These include a mobile app that extends parental controls outside the home, as well as an extended VPN feature that provides private browsing by connecting through a VPN server. Other features under development include time limits on kids' Internet usage, more reporting features, and a feature that lets the router tap into a phone's mobile bandwidth when the Internet connection goes out.

Further information
The Roqos v1.6 firmware is available now. The Roqos Core is available with several purchase options. You can pay an $89 activation fee plus a $17 monthly service fee for a minimum of 12 months (which can be canceled after one year), for a total of $293. Alternatively, you can purchase the device for $269 up front, which includes the fist year of the Roqos Service, with the option of paying an annual rate thereafter. Or, for $649 you can get the Roqos hardware, a 4-year hardware warranty and lifetime service. More details can be found at the Roqos website.