Apr 28, 2015 — by Eric Brown 5,296 views
Cavium announced OpenWRT Linux support for its Octeon III CN70/71XX SoCs, first available on a reference board and an Itus Networks "Shield" appliance.

Cavium's 64-bit MIPS, 28nm-fabricated Octeon III system-on-chips, including the newer, lower-end CN70XX and CN71XX models, run high-end, commercial, carrier-grade Linux distributions like Cavium's own MontaVista Linux Carrier Grade Edition or Intel's Wind River Carrier Grade Linux. That's overkill for many of the home/SMB networking devices that use the single- or dual-core CN70XX or the dual- to quad-core CN71XX SoCs. Now Cavium is supporting these two lower-end Octeon III families with the lightweight, networking-focused OpenWRT Linux distribution.
CN70XX and CN71XX
An open source OpenWRT distribution will be available free to Cavium customers, and will ship with a CN71XX router/gateway reference board, as part of the Router Reference Design Kit (RDK), says Cavium. There were no details available on the CN71XX router/gateway reference board, but more background on the CN70XX and CN71XX may be found farther below.
The OpenWRT package, which is "performance-optimized" for the CN71XX's acceleration engines, will "enable ODMs/OEMs to significantly shorten hardware and software design cycles while delivering best-in-class home/SMB wireless routers and security appliance products," says Cavium. OpenWRT's small footprint will open up more "CPU headroom for customized services, thereby reducing system costs," says the chipmaker.
The OpenWRT for Octeon distribution includes the following features:
Optimized networking stack leveraging Cavium networking acceleration engine
OpenVPN and OpenSSL packages accelerated by Cavium security acceleration engines
Optional SNORT and Suricata IPS security packages
Integrated 802.11a/b/g/n and 802.11ac WiFi drivers
Support for 4G LTE USB modems
Easy and flexible configurations through web GUI interface
Support for Barrier Breaker and Chaos Calmer OpenWRT releases

Itus Networks Shield appliance
Last August, Itus Networks won Kickstarter funding for a $149 iGuardian network security appliance based on the 1GHz, dual-core, Octeon III CN7020. The device appeared to be the first Octeon-based device to run OpenWRT. According to a testimonial quote from Itus Networks, the company will be using Cavium's OpenWRT for Octeon distribution in its latest Shield device, which is the new name for the iGuardian, and the final shipping version. It's now available for pre-order at $220, moving to $250 after ship-date.


Itus Networks Shield
(click images to enlarge)

The new Shield looks different than the iGuardian prototype, which was based on a lower-end, ARM11-based Cavium Econa processor. However, functionally it appears to be identical except for replacing the 64MB of NAND flash with 4GB of eMMC flash. The Shield runs the same dual-core, 1GHz CN7020, and is similarly equipped with an SD card slot, three gigabit Ethernet ports, and a serial console port.
Side views of the Shield
The Shield runs the open source Snort security stack in addition to OpenWRT, and sits between your Internet source and your WiFi router, acting as a security firewall. It offers both a network intrusion prevention system (NIPS) and a network intrusion detection system (NIDS), and blocks cyber-attacks while also filtering out malware.

Octeon III CN70XX/CN71XX background
The Cavium Octeon III includes models equipped with up to 48 MIPS64 cores, with up to 500 application acceleration engines. The CN70XX/CN71XX processors are more modest, however, maxing out at four cores, and offering fewer acceleration engines. The SoCs are aimed at lower-end data plane processing applications, including wireless gateways, network security appliances, and NAS (network attached storage).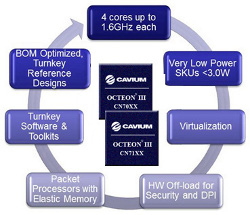 Octeon III CN7xxx overview (left) and CN70xx/CN71xx specifics
(click images to enlarge)
As shown in the diagram below, the single-core CN7010 and dual-core CN7020 are clocked at up to 1.2GHz, while the dual-core CN7120, triple-core CN7125, and quad-core CN7130 are clocked to up to 1.6GHz, and feature greater Ethernet support. The CN70XX/CN71XX cores are accompanied by 78KB of I-cache and 32KB of D-cache, as well as a 3K write buffer and a full floating point unit.

CN70XX/CN71XX models
(click image to enlarge)

Accelerators are provided for hardware virtualization, DPI (at up to 5Gbps), and cryptography engines that support protocols including RSA, SSL, IPSec, SHA-3, and ZUCC. The SoCs are said to be capable of running 3×3, dual-band 802.11ac and 802.11n WiFi at full line rate even while supporting more than 32 streams or clients.
Peripheral support includes SATA 3.0, USB 3.0, and PCI Express. The processors are said to run on as little as 3 Watts or less. The CN71xx models includes up to nine gigabit Ethernet controllers, as well as 10GbE XAUI networking.
"We are excited to bring together the powerful network processing capabilities of our quad core OCTEON SoCs, and the flexibility of the feature rich open source OpenWRT software," stated Venkat Sundaresan, Director, Cavium Infrastructure Processor Group. "Our optimized implementation of OpenWRT, leveraging OCTEON's unique hardware accelerators for packet processing, QOS, DPI and security, turbocharges the performance. This enables our customers to rapidly deliver formidable enterprise class secure router to the SMB market."

Further information
The open source OpenWRT software for the Octeon III CN70XX/CN71XX "will be" provided free of charge to Cavium's customers, and ships with the CN71XX router/gateway reference board, says Cavium. The company will demonstrate OpenWRT on the reference design at Interop this week (April 28-30) in Las Vegas, at booth 2027. More information on the CN70XX/CN71XX may be found at Cavium's CN70XX/CN71XX product page.
More information on the the Itus Networks Shield networking appliance, including a pre-sale order form ($220 now, $250 after ship-date), may be found on the Shield product page .