Feb 27, 2017 — by Eric Brown 1,448 views
Axiomtek's PICO300 is a Pico-ITX SBC with Intel Braswell, SATA-600, extended temperature support, and both a mini-PCIe and homegrown expansion connector.

Axiomtek has launched a variation on its recently announced Intel Apollo Lake based PICO312 SBC that switches to the older Intel Braswell generation and offers a slightly reduced feature set. The board layout has also changed somewhat, with LVDS, SATA, and USB ports all changing location.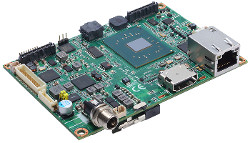 Axiomtek's Braswell based PICO300 (left) and Apollo Lake driven PICO312
(click images to enlarge)

The PICO300 joins several other several other Braswell based, 100 x 72mm Pico-ITX boards, such as DFI's recent, Ubuntu-ready
BW051
. No doubt, the PICO300 could run Ubuntu and other Linux distributions, but as with the PICO312, no OS support is listed. The product page does list support for Axiomtek's AXView 2.0 Intelligent remote management software.
The PICO300 can be purchased with Intel's quad-core Pentium N3710 or the dual-core, Celeron N3060, both with 1.6GHz base clock rates and 6W TDPs. Aside from the processor and layout changes, the main difference between the PICO300 and PICO312 is that the PICO300 has only one homegrown expansion connector instead of two.


PICO300 detail views
(click images to enlarge)

Axiomtek's Braswell-based Pico-ITX board offers up to up to 8GB DDR3L, as well as a SATA-600 interface and mSATA via a mini-PCIe socket. You get LVDS, as well as a choice of HDMI or VGA ports, but there's no mention of dual display support, as there is with the PICO312.
Other features common to both boards include a USB 2.0 port, audio/I/O, a watchdog, and hardware monitoring. The single expansion connector offers PCIe x1, DDI, HD audio, 2x UART, and 4x USB 3.0 connections. The 12V board similarly supports -20 to 60°C temperatures.

Further information
The PICO300 SBC is available at an unspecified price. Additional information is available at the company's PICO300 product page.