Feb 3, 2017 — by Eric Brown 3,233 views

Element14 and Adafruit have launched a 4.3-inch, 480 x 272 capacitive touchscreen for the BeagleBone Black at an unprecedented price of only $50.

Adafruit has launched an Element14 made, 4.3-inch capacitive touchscreen for only $50, making it the only cap touchscreen for the SBC we've seen that sells for under $100. The Element 14 LCD Display Cape, also referred to by Adafruit as the 4.3" LCD Capacitive Touchscreen Display Cape for BeagleBone, is a full-color, backlit TFT touchscreen with 480 x 272-pixel resolution. The "high luminance," 105.5 x 67.25 x 4.75mm display comes with a 69 x 67.5 x 17mm Cape interface board.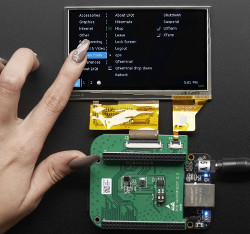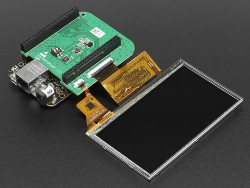 Element 14 LCD Display Cape with BeagleBone Black from two angles
(click images to enlarge)

The Element 14 LCD Display Cape joins a variety of touchscreen Capes for the community-backed
BeagleBone Black
SBC. Most, however, use resistive touch technology, with lesser responsiveness and speed than capacitive when using a finger rather than a stylus. While the relatively few capacitive displays for the BB Black cost well over $100, the Adafruit models comes in at about the same price as the SBC itself.
The Element 14 LCD Display Cape ships with an ID EEPROM for plug-and-play functionality with the default Debian OS, without requiring driver installation. It works on Black, Black Wireless, and White versions of the BeagleBone.
Other major BeagleBone touchscreen Capes and add-ons, with product names linking to product or shopping pages, include:
2.8″ TFT LCD with Touchscreen Breakout Board w/MicroSD Socket — Adafruit, $30 — 2.8-inch 320 x 240 resistive touchscreen with breakout board and a microSD slot.
BeagleBone 7″ LCD Cape with Touch Screen — Element14, $30 — Currently discounted from an original price of $107, this 7-inch resistive touchscreen Cape offers 800 x 480 resolution, 24-bit display mode, 5x user switches, 2x LEDs, and GPIO expansion.
BBEXPDTR43 — SVTronics/Digi-Key, $55 — 4.3-inch, 480 x 272 resistive touchscreen with expansion board, 5x user buttons, and 400nit sunlight readability.
7″ LCD-TFT CAPE Display for BeagleBoard (4DCAPE-70T) — 4D Systems/RobotShop, $89 — 7-inch 800 x 480 resistive touchscreen Cape with 7x buttons, and the ability to connect other Capes simultaneously. Also available at Mouser and Karlsson Robotics.
BeagleBone Display Expansion Board (Capactive touch) — SVTronics, $135 — This 7-inch, 1024 x 600 5-point cap touch board features an accelerometer, 5x user keys, dual serial ports, and CAN and audio I/O.
7″ Touchscreen and Expansion I/O for BeagleBone Black — Chipsee/Logic Supply, $239 — This 7-inch, 5-point capacitive touchscreen offers 1024 x 600 pixels, 5x user keys, and LEDs. Other features include an accelerometer, buzzer, four serial ports, plus CAN and audio I/O. Chipsee also sold a 5-inch cap touchscreen for the BB Black, but it's been discontinued.
Finally, DIYers looking for a cap-touch solution for the BB Black can turn to this open source project that integrates a variety of off-the-shelf components. The 800 x 480 touchscreen appears to be a work in progress.
Demo of Element 14 LCD Display Cape

Further information
The Element 14 LCD Display Cape is available now at Adafruit. More information and sales of the 4.3-inch touchscreen may be found at this Adafruit shopping page.