Aug 27, 2015 — by Eric Brown 768 views
Advantech's COM-like "MIO-3260" Pico-ITX SBC runs Linux on a Bay Trail SoC and offers a PCIe/mSATA slot, MIOe expansion, and optional -40 to 85°C operation.

Like Advantech's MIO-2263, which was announced in May, the MIO-3260 is a 100 x 72mm Pico-ITX board that supports a quad-core Intel Celeron or dual-core Intel Atom from the 22nm Bay Trail generation. Like the earlier, Atom Cedarview generation MIO-2262, the MIO-3260 lacks real-world ports, thereby acting as much like a computer-on-module as a single board computer.
The port-free design lets you use it without the optional MIOE-DB2100 baseboard (see farther below) and directly slot it into embedded devices like a COM. The product is aimed at "super slim, cableless, or rugged" designs including panel PC and outdoor applications, industrial control, medical portable devices, point of sale, and home automation," says Advantech.


MIO-3260, front and back
(click images to enlarge)

Interfaces are expressed via a pair of 64-pin connectors as well as the company's modular MIOe expansion connector. The MIOe interface offers additional I/O including PCIe, USB 3.0, and DisplayPort/HDMI, which is supported in dual display configurations along with the onboard VGA and LVDS interfaces.
There's also a mini-PCIe slot that's equipped with PCIe, USB, and SATA signals, enabling its use with either mini-PCIe or mSATA modules. In yet another wrinkle in this complex product, two of the six available models, half of which support an industrial -40 to 85°C temperature range, replace one of the two 64-pin connectors with box wafer interfaces, as indicated below.
Here's the MIO-3260 lineup in a nutshell:
MIO-3260L-S3A1E – Atom E3825, 2x 64-pin I/O, 0 to 60°C
MIO-3260L-S8A1E – Celeron N2930, 2x 64-pin I/O, 0 to 60°C
MIO-3260C-S8A1E — Celeron N2930, 1x 64-pin I/O with 1x box wafer I/O, 0 to 60°C
MIO-3260LZ22GS3A1E — Atom E3825, 2x 64-pin I/O, -40 to 85°C
MIO-3260LZ22GS8A1E — Celeron N2930, 2x 64-pin I/O, -40 to 85°C
MIO-3260CZ22GS8A1E — Celeron N2930, 1x 64-pin I/O with 1x box wafer I/O, -40 to 85°C

Rear view of MIO-3260L-S3A1E and MIO-3260L-S8A1E (left) and MIO-3260C-S8A1E on right with box wafer interface replacing the 64-pin A connector
(click image to enlarge)

The MIO-3260 offers a choice of a 1.33GHz, dual-core Atom E3825 with a 6W TDP, as well as a quad-core, 1.83GHz Celeron N2930, which has a lower 7.5W TDP than the Celeron J1900 found on the MIO-2263. Up to 8GB of RAM is available on all the models, according to the spec sheet, although the industrial temperature models are also said to ship with "2GB bundled" so those boards ship with the SODIMM pre-installed. Even without shelling out for any MIOe expansion cards, you get I/O including GbE, SATA, four USB 2.0, dual RS-232/422/485, HD audio, and GPIO.
The MIO-3260 has a 12V DC power hot plug protection design, and an optional MIO/e module provides a 5Vsb/12Vsb power supply "for power-exchange processing which offers a higher throughput yet consumes less power, and can integrate existing data without sacrificing software compatibility," says Advantech. The total height with heatsink is 25.8mm, which is said to meet the requirements for slim chassis applications. Long life cycle support is offered until 2020.


MIO-3260 (left) and block diagram
(click images to enlarge)

The MIO-3260 supports Ubuntu Linux, as well as various Windows flavors. The board also can work with Advantech's SUSIAccess remote management software.
Specifications listed for the MIO-3260 include:
Processor — Intel Atom E3825 (2x Bay Trail cores @ 1.33GHz, 1MB cache, 6W TDP) or Intel Celeron N2930 (4x Bay Trail cores @ 1.83GHz, or 2.16GHz Turbo, 2MB cache, 7.5W TDP); Intel Gen 7 Graphics with DirectX 11.1, OGL 3.0, and OpenCL 1.1
Memory — up to 8GB DDR3L 1333MHz (Celeron) or 1066MHz (Atom) RAM via 204-pin SODIMM (a 2GB module is pre-installed on ext. temp. models)
Storage — SATA (3Gbps); mSATA (BIOS configurable to mini-PCIe or USB)
Display:

Single-channel 24-bit LVDS at up to 1440 x 900 pixels
VGA at up to 2560 x 1600
Optional DisplayPort/HDMI on request (via MIOe)
Dual display support

Networking — Gigabit Ethernet (via 64-pin A connector or on MIO-3260C-S8A1E or MIO-3260CZ22GS8A1E, via box wafer I/O)
Other I/O (via 64-pin B connector and either 64-pin A connector or on MIO-3260C-S8A1E or MIO-3260CZ22GS8A1E, via box wafer I/O):

4x USB 2.0
2x RS-232/422/485
HD audio line-out, line-in
8-bit GPIO
I2C
SMBus

Expansion:

Mini-PCIe slot (full size); usable with either PCIe or mSATA modules
MIOe expansion — USB 3.0, 2x PCIe x1, DisplayPort/HDMI, line-out, LPC, SMBus, +5/+12 power, reset

Other features — watchdog; hardware monitoring; SUSIAccess monitoring; long-term availability
Power:

+12V DC-in +/-10% with hot plug protection
ACPI management
3V/210mAh battery
[email protected] peripheral power output; [email protected] for MIOe module
Optional +5/+12 via MIOe module
Power consumption (typical/maximum):

MIO-3260L-S3A1E(E3825) — 4.47W/7.13W
MIO-3260L-S8A1E(N2930) — 5.08W/9.73W
MIO-3260C-S8A1E(N2930) — 4.22W/8.71W

Operating temperature — 0 to 60°C or -40 to 85°C (MIO-3260LZ22GS3A1E, MIO-3260LZ22GS8A1E, and MIO-3260CZ22GS8A1E); optional heatsink
Dimensions — 100 x 72mm; Pico-ITX
Operating system — Linux (Ubuntu 13.10 ); WES 7/8, WEC7; VxWorks 6.9 on request

MIOE-DB2100 carrier board
Advantech provides an optional 165 x 115mm EPIC form-factor "MIOE-DB2100" carrier board for the MIO-3260 that has a cut-out for the SBC, presumably in order to avoid adding height in a sandwich-style configuration.


Installing the MIO-3260 on the MIOE-DB2100 carrier board
(click image to enlarge)

Coastline ports include Ethernet, USB 3.0, and four USB 2.0 ports, as well as dual RS-232 ports, audio I/O, a VGA port, and the optional DP/HDMI port. Other I/O is expressed as described in the diagram below.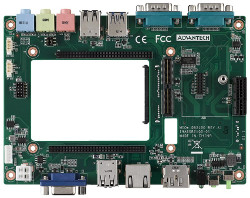 MIOE-DB2100 carrier board
(click images to enlarge)

Further information
The MIO-3260 is available now. Prices start at $258 for the MIO-3260L-S3A1E, $283 for the MIO-3260L-S8A1E, and $294 for the MIO-3260C-S8A1E. Quotes are available for the other models. More information may be found at the MIO-3260 product page, as well as the product page for the MIOE-DB2100 evaluation board.