Jan 25, 2018 — by Eric Brown 746 views
Adlink's Linux-ready "IMB-M43H" ATX board supports Skylake or Kaby Lake Intel Core CPUs with up to 32GB DDR4, 4x SATA III, 8x USB, PCIe and PCI, EN 55032 EMI protection, and USB power stabilization.

Adlink's industrial ATX form-factor (305 x 244mm) IMB-M43H is designed as a Skylake or Kaby Lake upgrade for legacy installations. It provides support for older technologies like PCI, VGA, LPT, and 32-bit Windows 7. The board also supports 64-bit Windows 7, 8.1 and 10, as well as three 64-bit Linux distributions: Fedora 25, OpenSUSE Leap 42.1, and Ubuntu 16.04 LTS.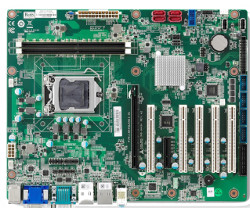 IMB-M43H
(click images to enlarge)

Unlike Aaeon's similarly Intel 6th and 7th Gen capable, LGA1151 socket
IMBA-Q170A
ATX board, which supports dual-core S-series parts with 15W TDPs, the IMB-M43H supports a wide variety of higher end S- and U-series Core i7/i5/i3 models from both the Skylake and Kaby Lake families, up to a 7th Gen, 3.6GHz Core i7-7700 with 65W TDP. The processors work with an Intel H110 Express chipset.
The IMB-M43H is a full-height board, and offers a relatively modest 0 to 60°C range, but it's called an industrial board due to its emphasis on more industrial-minded interfaces such as RS-232/422/485 and PCI. The board is touted for its IEC 61000-4-2~6 (Performance Criterion A) immunity performance compliance and EN 55032 Class B-certified EMI emission performance, which "enables 10dB less radiation compared with most competitors," says Adlink. The company also claims to offer more stable power support for each USB port at 5V +/-5%, "with all USB ports able to achieve full loading, even from a 300W power supply."
The IMB-M43H supports up to 32GB of dual-channel DDR4 (2133/2400MHz), and provides 4x SATA III ports. Dual GbE ports enable Wake-on-LAN. There's an HDMI 1.4 port that supports up to 4096 x 2160 @ 24Hz and a VGA port with 1920 x 1200 @ 60Hz.


IMB-M43H detail views
(click images to enlarge)

Ten USB connections are available overall, with 4x USB 3.0 and 2x USB 2.0 ports on the rear panel, 2x USB 2.0 ports on vertical ports away from the coastline, and 2x USB 2.0 headers. You also get dual 2x RS-232/422/485 ports and 4x RS-232 headers. For expansion, the IMB-M43H provides 5x PCI 2.2 slots, as well as single PCIe x16 Gen 3 and PCIe x4 Gen 2 slots.
A PS/2 port and three audio jacks (Realtek ALC892-CG) are on the rear panel, and onboard headers include an LPT Parallel Port and two banks of 20-pin DIO headers. A watchdog and hardware monitoring are available, and a CPU cooler and cables are optional.

Further information
The IMB-M43H is available now at an undisclosed price. More information may be found at Adlink's IMB-M43H product page.