Oct 30, 2014 — by Eric Brown 14,046 views
Specs have been leaked for a 10.1-inch Ubuntu Touch tablet called "UT One" that runs on an Intel Atom Z3735D SoC, with shipments expected in December.

The UT One tablet was revealed by Phoronix, which said the leak came from Andrew Bernstein, a Linux developer who had previously launched a failed Arch Linux spinoff called "Operating System U" that included the MATE desktop environment and Wayland windows manager.
Bernstein is now working for investment consulting firm Demski Group, one of two companies listed on the leaked spec list for the UT One, along with Mastermind Hardware and Logistics. Mastermind's site appears to be under construction. Phoronix speculates that the partners are working with an unnamed Chinese OEM. The UT One will be open for pre-orders in late November, with shipments due in December, says Phoronix.


Ubuntu 14.04 running on a 7-inch tablet, phone, laptop, and desktop
(click image to enlarge; source: Canonical)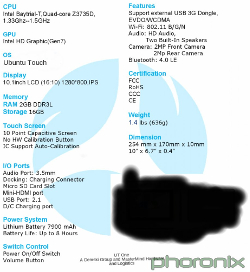 UT One specs
(source: Phoronix)
The UT One runs Ubuntu Touch on a quad-core, Intel Atom Z3735D system-on-chip of the tablet-focused, 22nm Bay Trail-T generation, according to the Phoronix-reproduced UT One spec sheet. The tablet's SoC is said to run at 1.33GHz to 1.5GHz, and it's accompanied by 2GB of DDR3L RAM, 16GB of storage, and a microSD slot.
The UT One's 10.1-inch, IPS touchscreen is said to feature 1280 x 800-pixel resolution and a 16:10 aspect ratio. The screen has 10-point capacitive touch with automatic calibration.
The 254 x 170 x 10mm, 636-gram tablet is further equipped with front- and rear-mounted 2-megapixel cameras, 802.11n WiFi, Bluetooth 4.0 LE, and support for EVDO/WCDMA 3G cellular via a USB dongle, says Phoronix. The tablet also offers a mini-HDMI port, a "USB 2.1" port, a pair of speakers, and an audio jack. The 7900mAh battery is said to last up to eight hours and can be recharged via a DC port.
The Ubuntu Touch build for tablets, announced originally as Ubuntu for Tablets, has slightly trailed the development pace for the related Ubuntu for Phones Ubuntu Touch stack, although this April's Ubuntu 14.04 filled in a number of tablet-focused features. For example, with 14.04 one could run an unmodified Ubuntu for Phones application side by side with a tablet app using a "side stage" multitasking feature.
Trimble's Yuma 2
The UT One is not the first Ubuntu based tablet, however. Ubuntu has been offered on a few tablets from smaller companies over the years, such as the Ekoore ET10TA10 and the NorhTec Gecko Info Pad. Earlier this year, Trimble announced an Ubuntu 14.04-based Yuma 2 tablet, presumably with some Ubuntu Touch features. Like the UT One, the Yuma 2 runs on an Intel Atom — in this case, the older Atom N2600 — and it's a smaller, ruggedized model aimed at field service. It also offers an optional dual boot configuration with Windows.
When Ubuntu for Tablets was originally announced a year and a half ago, it was slated for arrival in low- and high-end reference designs. The high-end profile was said to support both Intel Atom and quad-core ARM Cortex-A15 processors. The low-end profile called only for Cortex-A15 SoCs.
The higher end profile was the only one said to support Canonical's promised convergence. However, judging from the recent Ubuntu 14.10 release, convergence functionality, in which a single app can run seamlessly on phone, tablet, and desktop Ubuntu builds, appears to await a 2015 release.
Meizu MX4 Pro
Meanwhile, Meizu is planning to release the first Ubuntu Touch phone — a version of its new Meizu MX4 Pro, which runs Meizu's Android-based Flyme OS — by the end of the year. BQ is also expected to field an Ubuntu phone in Europe.

IDC: tablet sales rebound in U.S.
The UT One tablet is arriving at the end of a year in which tablet sales have begun to slow down. However, an IDC report posted today said there's been a rebound in the third quarter, thanks to U.S. sales. According to IDC, the global tablet market grew 11.5 percent year over year in the third quarter, showing a growth rate of 11.2 percent compared to 2Q 2014.

The rebound appears to be represented mostly by Android, which collectively continues to dominate over iOS, and much further behind, Windows. Despite the iPad's continuing decline, Apple maintained its lead in the global tablet market, shipping 12.3 million units in the third quarter, says IDC.
Samsung held onto its second place position with 9.9 million units and a 18.3 percent market share, while Asus regained its number three position with 3.5 million units and 6.5 percent. Lenovo fell back to number four with 3 million units. A "surprise entry," according to IDC is the appearance in the number five slot of RCA, which sells its low-cost tablets at Walmart.