May 24, 2018 — by Eric Brown 4,356 views
The open source, Linux based "AsteroidOS" alternative to Wear OS arrives in a stable 1.0 release, and Block spins off some of its Android smartwatch stack as an open source OpenWatch Project.

The AsteroidOS project has released version 1.0 of its open source, Linux-based smartwatch distribution. Designed for after-market installation on "Wear OS by Google" (formerly Android Wear) watches, AsteroidOS can now be dual booted on seven different models. The release follows the late March announcement of an OpenWatch Project for building Android based open source custom ROMs on Wear OS watches.

AsteroidOS 1.0 watchfaces
Despite the widespread view that wearables have been a disappointment, both smartwatches and other wearables are growing in popularity, with better days projected ahead (see farther below).
In truth, it's not so much wearables that have been a disappointment as it is Wear OS. According to a recent Strategy Analytics report, Wear OS devices have cumulatively slipped from second to third place this year, slightly behind Samsung's Tizen Linux based Gear watches. They both trail the AppleWatch, which owns about half the smartwatch market.

Four WearOS "Style" watches
One problem is that unlike Android in general, Wear OS is, like
Android Things
, primarily a proprietary platform. Tizen is more open source, but unlike Google, Samsung has yet to encourage third party hardware vendors, and some software developers chafe at a platform controlled by one giant corporation.
Open source may not be a cure-all for technology market success, but wearables could benefit greatly from more developer participation. AsteroidOS and OpenWatch may offer a way forward.

Connect Watch

AsteroidOS 1.0
AsteroidOS was developed by Florent Revest as an open source, privacy-oriented smartwatch platform. The distribution appeared last summer on the Connect Watch, but the product failed to reach its crowdfunding goal and quickly disappeared. An AsteroidOS blog post at the end of the year suggested that the company — essentially one individual — turned out to be unreliable and uncommunicative. (For example, as we noted in our story, Connect Watch never revealed that the prototype was actually an Android Wear watch from KingWear.)
The campaign was good for AsteroidOS, however. Revest says that the project has drawn on contributions from about 100 developers. The new stable release is ready to replace or dual-boot with Wear OS stacks on the Sony Smartwatch 3, the LG G Watch, G Watch Urbane, and G Watch R, as well as the Asus Zenwatch 1, 2, and 3.
Under the hood, AsteroidOS is built on open source Linux components such as OpenEmbedded, opkg, Wayland, Qt5, systemd, BlueZ, and PulseAudio. The platform uses libhybris for porting to Android Wear.


AsteroidOS 1.0 UI elements
(click image to enlarge)

Version 1.0 provides phone notifications, agenda, alarm clock, calculator, music remote control, settings customizations, stopwatch, timer, and a weather forecast app. There is support for 20 languages and numerous watchface designs, and an open source SDK enables developers to add more of each.
Future plans may include an always-on display, grouped notification, calendar synchronization, and sync apps for more platforms. Farther out, there's the potential for a personal assistant.

OpenWatch Project
The OpenWatch Project emerged from the Phonebloks inspired Blocks project, which in 2014 announced a modular Blocks watch that was to run Tizen on an Intel Edison module. The company quickly switched to Android Wear, but found that just as limiting and finally settled on its own platform based on Android 5.0.
The following year, Blocks ran a successful, $1.6 million Kickstarter campaign for a new Blocks watch that ran Android 5.0. Like the original, the design is unusual in that it houses modular components in the watchband links. Yet unlike the original, it's proprietary rather than open source.


Current Blocks watch (left) and available watch-link add-on modules
(click images to enlarge)

After significant delays, the Blocks watch was improved to keep up with the times. It switched to a higher resolution, 400 x 400 screen and swapped out the dual-core Snapdragon 400 for a quad-core MediaTek MTK6580M. Earlier this year, Blocks said it had was finally shipping to backers, and it opened new
pre-orders
starting at $259. Yet, recent angry comments on the
Kickstarter page
suggest that many are still waiting.
In March, Blocks launched Project OpenWatch. The project is not open sourcing the full Blocks stack, but only key components including a Linux kernel and an Android Oreo based BSP. The idea is that others can build their own custom ROMs.
Early partners include LineageOS — the main fork of the discontinued CyanogenMod — as well as CarbonROM, a newer project that similarly produces smartphone aftermarket firmware based on Android Open Source Project (AOSP). Both projects are building their own custom ROMs based on OpenWatch.
Initially, OpenWatch will run only on watches built on the MediaTek MTK6580M SoC. These include low-end Android Wear devices like the Zeblaze Thor, Lemfo LES1, and KingWear KW88, KW98, and KW99.

Future smartwatch
Despite the slow growth of wearables, the category appears to be gaining speed. The market grew 15.1 percent in 2018, totaling 132.9 million units, according to an IDC report released in March. The research firm projects that the segment will see compound growth of 13.4 percent through 2022, when it projects 219.4 million unit shipments. Explanations for the growth include lower prices and a larger choice of sensors.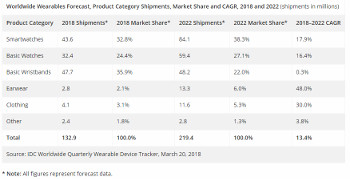 Market projection chart from IDC Worldwide Quarterly Wearable Device Tracker
Source: IDC
(click image to enlarge)

IDC's wearables definition includes fitness bands, smart earbuds, and smart clothing in addition to smartwatches, which IDC projects will represent "almost two out of every five wearable devices shipped in 2022." Low-end health tracking wristbands, which led the way in the early years, will drop from a 36 percent share in 2018 to 22 percent in 2022. The fastest growing categories will be earbuds with voice assistant technology and sensor-laden clothing aimed at athletes, says IDC.
The Apple Watch represented over half of all smartwatches that shipped in 2017, says IDC. A Forrester report from last November pegged it as slightly less than half, with Samsung and Garmin coming in second and third.
Like Garmin, FitBit has introduced a proprietary stack for its first full-fledged smartwatch, the fitness oriented FitBit Ionic. FitBit acquired Pebble, and now aims to build up its app library with the help of Pebble developers.
Samsung Gear S3
A lack of apps could be the reason why Samsung is rumored to be switching from Tizen to Wear OS for its next watch. Years ago, Samsung released the Sony Smartwatch line of Android Wear watches, but flopped with the Wear-based Gear Live, and never looked back.
If the rumors are true, Samsung could draw on a much wider selection of apps available for Wear OS. Yet, in a May 22 9to5Google post about the unconfirmed rumor, Ben Schoon suggests that Samsung might consider sticking to Tizen. He acknowledges Google's huge app advantage and says that Wear OS offers easier setup and better security. Yet, he argues that the Gear watches are superior in both hardware and software and have better battery life.
The story also notes that Google is rumored to be releasing its own Pixel-branded smartwatch in the fall based on Wear OS. Considering that Google never sufficiently opened up Wear OS to enable true innovation, perhaps it should have gone that route in the first place.
This article is copyright © 2018 Linux.com and was originally published here. It has been reproduced by this site with the permission of its owner. Please visit Linux.com for up-to-date news and articles about Linux and open source.