Jan 22, 2018 — by Eric Brown 873 views
Advantech's Linux-ready "MIO-3360" Pico-ITX SBC is equipped with a choice of Apollo Lake SoCs, dual display support, mini-PCIe and MIOe expansion connectors, and an optional carrier board.

Advantech's MIO-3360 SBC is a lower-end alternative to the similarly Apollo Lake driven and Pico-ITX form factor MIO-2360. While the previous model had several real-world ports, there are none on the MIO-3360, which expresses most of its interfaces via a pair of 64-pin GPIO connectors. The MIO-3360 is very close in features — although not in design — to Advantech's Bay Trail-based and similarly COM-like MIO-3260 Pico-ITX SBC. It can even plug into that model's carrier board (see farther below).

MIO-3360, front and back
Like the Apollo Lake based MIO-3260, you get Advantech's MIOe expansion interface for the company's MIO-branded add-on boards, as well as a full-size mini-PCIe slot with mSATA. However, the half-size mini-PCIe has been removed.
The 100 x 72mm MIO-3360 offers a more limited choice of Intel Apollo Lake options: the dual-core, 1.1GHz/2.4GHz Celeron N3350 and the quad-core, 1.1GHz/2.5GHz Pentium N4200, both with 6W TDPs and Intel Gen 7 DirectX 11.1 support. Ubuntu 13.10, Windows 10, and VxWorks 7.0 are supported, and the board is available with Advantech's SUSIAccess and Embedded Software APIs.


MIO-3360 detail views
(click images to enlarge)

Like the MIO-2360, the MIO-3360 supports up to 8GB of 1866MHz DDR3L RAM via a single SODIMM. It similarly offers dual display support, although in this case, onboard interfaces are limited to VGA at up to 1920 x 1200 @ 60Hz and single-channel, 48-bit LVDS at 1440 x 900 @ 60Hz. If you populate your MIOe slot with an optional HDMI/DisplayPort MIOe board, you can assign it as one the dual display sources, and the optional carrier board offers an optional HDMI/DP port.
The MIO-3360 includes an Intel I210 Gigabit Ethernet controller, as well as a SATA III connector. A Realtek HD codec is onboard along with line-in, line out, and mic-in interfaces.


MIO-3360 block diagram
(click image to enlarge)

The first 64-pin general expansion connector provides 12V DC input, inverter, VGA, 2x USB 2.0, and a GbE port (optionally with an LED). The second 64-bit connector offers SMBus, I2C, power/reset button, HDD/power LED, 2x USB 2.0, 8-bit GPIO, 2x RS-232/422/485, and HD audio interfaces. The MIOe options include SMBus, USB 3.0, LPC, 2x PCIe x1, line-out, +5/+12 Vsb power, power on, reset, and the aforementioned HDMI/DP module.
The 12V MIO-3360 has a 0 to 60°C range, but lacks the industrial temperature option available for the Bay Trail based MIO-3260. It ships with a Lithium battery and a heatsink, which is responsible for the 15.9mm high profile.

MIOE-DB2100 carrier board
The MIO-3360 is available with an optional MIO-3260 Evaluation Board, which was designated at the MIO-3260 launch as the MIOE-DB2100. This 165 x 115mm, EPIC form-factor board is unusual in that it has a cut-out for the SBC to avoid adding height in a sandwich-style configuration.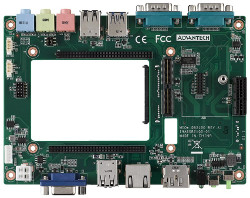 MIOE-DB2100 carrier board (left) and detail view
(click images to enlarge)

Coastline ports include Ethernet, USB 3.0, and four USB 2.0 ports, as well as dual RS-232 ports, audio I/O, a VGA port, and the optional DP/HDMI port. Other I/O is described in the image above.

Further information
No pricing or availability information was provided for the "preliminary" MIO-3360. More information may be found on Advantech's MIO-3360 product page.