Apr 14, 2014 — by Eric Brown 11,992 views
Ugoos is readying a "UT3" media player mini-PC that will run Android 4.4 on a Rockchip quad-core, Cortex-A17 RK3288 SoC, and will support 4K video output.

The Ugoos UT3 is a follow-on to the recent Ugoos UT2 Android media player box, which runs Android 4.2.2 on Rockchip's 1.6GHz, quad-core RK3188 system-on-chip. The UT3 moves up to the ARM Cortex-A17 based, quad-core Rockchip RK3288, which was announced in February. The only other Cortex-A17 SoC announced to date is Mediatek's octa-core MT6595, which combines four 2.5GHz Cortex-A17 cores with four 1.7GHz Cortex-A7 cores.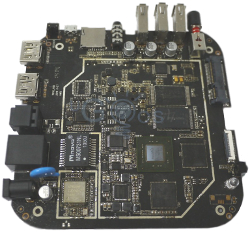 Two views of the prototype Ugoos UT3 PCB
(click images to enlarge)

ARM Cortex-A17
The Cortex-A17 is designed for processors clocked to 2GHz and above, but it's not clear what speed Rockchip and/or the Ugoos UT3 will run push it to. The Cortex-A17 is a more robust alternative to the Cortex-A12 design announced last June, and due to ship in SoCs later this year, and is some ways an update to the Cortex-A15. Unlike those two core designs, the 32-bit Cortex-A17 advances to a 28nm fabrication process.
The Cortex-A17 processor is further equipped with a low-latency L2 cache controller, accelerator interfaces, as well as a high-throughput AMBA 4 ACE Coherent Bus Interface. It provides features such as an 11+ stage out-of-order pipeline, up to 4x SMP implementations within a single processor cluster, as well as Thumb-2, NEON, TrustZone, VFPv4 floating point, and DSP and SIMD extensions.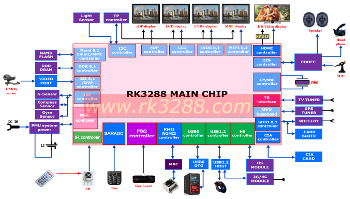 Rockchip RK3288 block diagram
(click image to enlarge)

The RK3288 is equipped with ARM's new Mali-T7 series GPUs, specifically the high-end Mali-T760. This powerhouse, 16-core GPU supports up to 4Kx2K and Full
[email protected]
display resolution, yet is said to draw one-fourth the power of the earlier Mali-T604.

Ugoos UT3
The Ugoos UT3 media player is equipped with 2GB of DDR3 SDRAM, expandable to 4GB, and offers 8GB of NAND flash, expandable to 32GB or 64GB. A microSD slot lets you add up to 32GB to that total.
The UT3 supplies both a Fast Ethernet port, and the new dual-band 802.11ac brand of WiFi. A Bluetooth 4.0 radio is also available for connection to a presumably extra-cost 2.4GHz wireless air mouse remote, as well as a smartphone via an available remote control app. However, the default remote control uses IR.


UT3 prototype PCB, front and back
(click images to enlarge)
Ugoos provides both HDMI v1.4A input and output ports, as well as a 3.5mm A/V output jack. Other multimedia ports include S/PDIF out and a microphone input. You also get three USB 3.0 ports and a micro-USB OTG port.
The UT3 runs on 5V DC power, ships with Android 4.4 with Google Play support, and offers support for DLNA and Miracast, says Ugoos.
Preliminary specifications listed by Ugoos for the UT3 media player currently include:
Processor — Rockchip 28nm RK3288:

CPU — quad-core Cortex-A17 @ (tbd) GHz
GPU — Embedded Mali-T764 3D GPU (supports OpenGL ES 1.1/2.0 /3.0, OpenCL 1.1; 8Kx8K video input and 4Kx4K video output)

RAM — 2GB DDR3 SDRAM (optional 4GB)
Flash:

Internal — 8GB NAND flash (optional 16, 32, or 64 GB)
Expansion — microSD slot (supports up to 32GB)

Network:

WiFi — 2.4/5GHz dual-band 802.11 b/g/n and 802.11 a/c; external antenna (supplied)
LAN — 10/100 Ethernet Base-T (RJ-45)

Other wireless — Bluetooth 4.0; IR
USB — 3x USB Host; 1x OTG micro-USB
A/V ports:

HDMI v1.4A output @ 4Kx2K, Full HD, [email protected] (type C female)
HDMI v1.4A input Full HD / 1920x1080p (type C female)
A/V output — 3.5mm jack
S/PDIF out
Mic input jack

Multimedia compatibility:

Video decoding — H.265 (hardware decoding), MPEG-1, MPEG-2, MPEG-4, H.263, H.264, H.265, AVS, VC-1, RV, VP6/VP8, Sorenson Spark, MVC 1920x1080p, [email protected]
Video encoding — H.264, H.265, VP8, MVC (1080p)
Audio containers — MP1, MP2, MP3, WMA, WAV, OGG, OGA, APE, FLAC, AAC, M4A, 3GPP, etc.
Images — JPG, JPEG, BMP, GIF, PNG, JFIF, etc.; up to 8192×8192 resolution

Streaming protocols — DLNA, Miracast; supports DRM requirements
Remote control — smartphone app; IR remote (included); optional 2.4GHz wireless air mouse/remote
Power:

5V DC @ (tbd) Amp wall plug-in power supply (included)
Consumption — (tbd)

Dimensions — (tbd)
Operating system — Android 4.4 with Google Play; supports apk installation

Further information
The Ugoos UT3 is expected to reach production in May, according to Ugoos. Pricing has yet to be decided. More information will eventually be listed at the Ugoos website.