Aug 6, 2014 — by Eric Brown — 3686 views

Navdy's Android 4.4 based automotive head-up display (HUD) combines a projected display with voice and gesture controls to interact with smartphone apps.

Transparent head-up displays (HUDs) are becoming increasingly available as pricey options for luxury cars, promising to improve driver safety by keeping eyes on the road. Now, San Francisco-based startup Navdy is introducing a one-size-fits-all aftermarket solution for the 99 percent. The Navdy HUD is available at a steep discount of $299 throughout August before moving to $499, and will ship in early 2015.


Navdy HUD
(click image to enlarge)

The Android 4.4-based Navdy device attaches to your dashboard and projects a 5.1-inch transparent display on the lower part of the windshield. The image, which "appears to float six feet in front of your windshield," channels apps running on Android 4.3 or iOS 7 or higher, letting you interact with phone, messaging, music, navigation, and social networking apps via voice and gesture. It also interacts with your car's telematics system to display speed, miles to empty, and battery voltage data.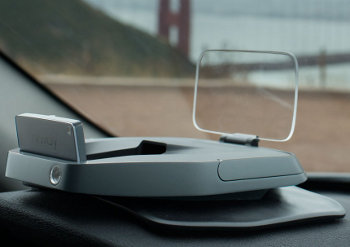 A closeup view of the Navdy HUD
(click image to enlarge)

The device fits "practically any car dashboard," and is powered via an OBD II port to the onboard computer, says Navdy. OBD II is said to be available in all cars produced since 1996, but just in case, there's an optional 12V power adapter. The HUD display is augmented with advanced dimming and stabilization controls that adapts to different lighting conditions, with the help of a built-in accelerometer and ambient light sensor.
The device runs a heavily skinned version of Android 4.4 on an unnamed dual-core processor, and is equipped with WiFi, Bluetooth 4.0, and Bluetooth Low Energy (BLE). Gestures are interpreted with a wide-angle IR camera. The Navdy integrates a speaker and microphone assisted by a noise-cancelling DSP, and is further equipped with a 3.5mm audio jack and mini-USB port.


Navdy single-screen (left) and split-screen displays
(click images to enlarge)

The Navdy device translates apps from a Bluetooth connected smartphone to a more streamlined interface that displays "only what you need, when you need it," says Navdy. Size and placement of images and text are automatically made consistent across apps. Additionally, if someone calls you when your Google Maps navigation display is up, or if you want to read notifications for other messaging services, the screen splits into two.

Exploded view of Navdy HUD
(click image to enlarge)

Gesture support includes swiping left to answer a call or right to dismiss a notification. For more complex interaction, you use voice recognition via Google Voice or Apple's Siri. Supported apps include Google Maps with Navigation, Google Music, Pandora, Spotify, Facebook, and Twitter, with more under development.

Summary of Navdy HUD preliminary specs
Partial, preliminary specifications for the Navdy HUD include:
— ADVERTISEMENT —
Processor — Dual-core
Display — 5.1-inch transparent projected HUD
Wireless:

802.11b/g/n
Bluetooth 4.0
Bluetooth Low Energy

Sensors:

IR camera for gesture control
Accelerometer
E-compass
Ambient light sensor

Other I/O:

Mini-USB port
3.5mm audio jack
OBD-II power and data link

Other features:

Speaker
Mic
Friction mount with magnetic connection (portable, bendable, non-marking)
Parental controls

Power — via OBD-II; optional 12V adapter
Dimensions — 140 x 130 x 95mm (excluding mount, including display)
Operating system — Android 4.4
"Smartphones were never designed to be used while driving," states Navdy co-founder and CEO Doug Simpson. "Touch-based apps clearly force you to take your eyes off the road. So we started by completely rethinking what the experience of using apps behind the wheel should feel like."
Navdy HUD in action

Further information
The Navdy HUD is available for pre-order for the month of August at the introductory price of $299, moving afterward to $499. Early adopters will receive a 10 percent refund of $30 for each friend they refer to buy the product. The Navdy HUD is expected to ship in early 2015. More information may be found at the Navdy website and Navdy HUD blog announcement.