Apr 16, 2015 — by Eric Brown 2,085 views
Recon has shipped its Android-based "Jet" eyewear for $699. The sports-focused Jet integrates a WQVGA display, 720p camera, Bluetooth, WiFi, ANT+, and GPS.

Snow2
Recon Instruments announced some basic specs and photos of the Recon Jet back in Nov. 2013 when it announced its $399 Snow2 heads-up display (HUD) designed to fit inside a pair of ski goggles. The much delayed sportswear computer runs essentially the same Android-based ReconOS 4 firmware as the Snow2. The Jet offers an "open platform and SDK" for app development, and uses the Snow2's Recon Engage community site for uploading photos and videos and downloading apps.
The current Jet feature set is designed for runners and cyclists. However, applications under development are tailoring the experience for recreational sailing, performance yacht racing, shooting, and private aviation, says Recon.


Recon Jet
(click image to enlarge)

People wear all sorts of goofy-looking gear when they exercise and play sports, so the public may well be more forgiving of the Recon Jet than it was with the arguably less obtrusive looking Google Glass eyewear. The Jet eyewear has been under development for seven years, an even longer gestation period than with Glass, sales of which were
halted in February
. (Google is now working on a new version with eye-tracking technology, according to
9to5Google
.)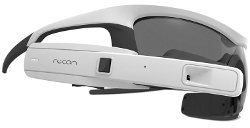 Recon Jet side views
(click images to enlarge)

The chief purpose of Recon Jet is to display performance metrics such as speed/pace, distance, duration, and ascent/descent while cycling and running. The device can connect with other fitness devices that have external ANT+ or Bluetooth Smart (Bluetooth Low Energy) sensors to report metrics like heart rate, power, or cadence. Bluetooth also connects you to your smartphone, sending you caller ID, SMS alerts, and social media notifications.
WiFi and GPS are also included. Whenever in WiFi range, you can upload your videos, images, and stats to Recon Engage, as well as data tracking services including Strava, Training Peaks, and MapMyFitness.


Recon Jet's metrics and notifications display
(click image to enlarge)

The metrics and notifications are shown in a high-contrast, 16:9 WQVGA display located under the right eye that appears like a 30-inch HD display at a distance of seven feet. An IR receiver notices when you glance down or back up, and turns off the display when you look away, thereby saving on power and minimizing distractions, says Recon.
The display is driven by a dual-core, 1GHz CPU, but it appears to be a different one than the similar SoC listed for the Snow2, as there is no mention of the ski eyewear's PowerVR GPU. The Jet offers the same 1GB of RAM as the Snow2, but you four times the flash, at 8GB.


Recon Jet from below (left) and behind
(click images to enlarge)

You control the device with an optical touchpad on the side of the glasses, as well as a rocker button underneath the right sidepiece. There's also a 720p camera, speakers, dual microphones, multiple sensors, and a micro-USB port that can charge the swappable, 4-hour Li-Ion battery.
The only major difference we can see compared to the Nov. 2013 prototype is that the weight has grown from 60 grams to about 85. The electronics are distributed across the eyewear, ensuring the device is well-balanced during long workouts, says Recon. The device is said to be resistant to both water and dust, but no IP rating was supplied.


Recon Jet user striving to look fashionable
(click image to enlarge)

Specifications listed for the Recon Jet include:
Processor — Dual-core Cortex-A9 @ 1GHz with PowerVR SGX540 GPU
Memory — 1GB DDR2 RAM; 8GB flash
Display:

Wide screen WQVGA color display under right eye (appears like 30-inch HD display at 7 feet)
Polarized, UVA and UVB protection glare resistance with high contrast and brightness
16:9 aspect ratio
High color 16-bit (5:6:5)

Wireless:

802.11a/b/g/n
Bluetooth 4.0 "Smart" (Low Energy/BLE)
ANT+
GPS

Sensors — accelerometer, gyroscope, magnetometer, pressure, IR
Other features:

Micro-USB 2.0 port
2.1-megapixel 720p camera
2x mics
Speaker
Optical touchpad with gesture controls, pressure sensitivity, and glove support
2-button rocker
Black and white color choices

Power:

Swappable Li-Ion battery with 4-hour life
Rechargeable via micro-USB or power adapter
Power-saving sleep modes via IR-enabled Glance Detection

Weight — about 85 g
Operating system — ReconOS 4 (Android)
There is currently no prescription glasses support or support for left-eye dominant customers. However, according to an Engadget hands-on by Daniel Cooper, the eyewear fits fine over prescription glasses. Cooper seemed impressed with the engineering, but less so with the styling, weight, and price. His admittedly rushed conclusion from the brief hands-on: cyclists will probably be more inclined to pay the $699 than runners, who can more easily glance at a cheaper smartwatch or phone.
The Recon Jet joins a growing collection of hands-free eyewear and headgear computers, most of which run Android or Linux. Many are devoted to industrial and field service where fashion is even more forgiving than on the track or ski slopes. A Linux-based product called Tobii Pro Glasses 2 designed for market research was this week updated with a 50Hz sampling rate and newly enabled sensors.
Recon Jet on YouTube

Further information
The Recon Jet is now available for $699 at Recon Instruments or Amazon.com. Sales are currently available only in the U.S., Canada, the EU, Norway, Switzerland, Australia, and Japan. More information may be found at the Recon Jet product page.