Jul 6, 2021 — by Eric Brown 461 views
Axiomtek unveiled a Jetson AGX Xavier based "AIE900-902-FL" computer with dual lockable HDMI ports and 6x GbE, 4x of which offer PoE. There is also a more compact, Whiskey Lake based "eBOX565" box.

Axiomtek has announced the AIE900-902-FL, its first computer based on Nvidia's high-end Jetson AGX Xavier. There is also a much smaller, Whiskey Lake based eBOX565 system that is a minor variation of an earlier eBOX (see farther below).
The AIE900-902-FL follows earlier Jetson-based products such as the smaller AIE100-903-FL-NX, which similarly runs Linux on the lower-end Jetson Xavier NX. The system is designed for edge AI applications including 3D vision guided robots, autonomous mobile robots (AMRs), intelligent video analytics, domain-focused robot assistant, and intelligent roadside units.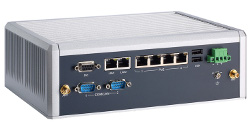 AIE900-902-FL, front and back
(click images to enlarge)

The Jetson AGX Xavier features 8x 2.26GHz ARMv8.2 cores and a high-end, 512-core, 1.37GHz Nvidia Volta GPU with 64 tensor cores that support up to 22-TOPS AI performance. The module also provides multiple coprocessors, 32GB LPDDR4 RAM, and 32GB eMMC 5.1.
Axiomtek pre-installs the Ubuntu 18.04 based Nvidia JetPack SDK with AI libraries that support the GPU. Other general-purpose AGX Xavier based systems include Neousys' NRU-120S.
The IP40-protected, 239 x 185.3 x 79.4mm system is based on an SBC87902 mainboard. The computer has a -30 to 50°C range with 10%-95%, non-condensing relative humidity tolerance. The 2.8 kg system also supplies 3 Grms vibration resistance.


AIE900-902-FL and detail views
(click images to enlarge)

The AIE900-902-FL is equipped with a microSD slot and a swappable, external 2.5-inch SATA bay with optional 128GB or higher SSD. There is also an M.2 M-key 2280 slot with PCIe x4 for an optional 128GB or above NVMe SSD.
A mini-PCIe slot (USB/PCIe) is accompanied by a SIM card slot and an optional LTE module, and there is an M.2 E-key 2230 for an optional WiFi module. There are also 4x SMA-type antenna connectors.
The most notable feature of the AIE900-902-FL is the block of 4x GbE ports with PoE support for powering cameras and Lidar equipment. There are also two more standard GbE ports with the same Intel i210-IT controller for a total of 6x GbE overall.
The AIE900-902-FL is further equipped with 2x USB 3.1 Gen2, 2x USB 3.1 Gen1, 2x USB 2.0, and 2x DB9 ports that can be jumper configured for either RS-232 or CAN. You also get a micro-USB OTG port, an external 8-channel DIO port, and 2x lockable HDMI 2.0 ports with 4K2K support.
The system has a 24VDC power supply via a terminal connector plus power protections, AT/ATX switch, recovery key, and an optional 24V/120W adapter. Other features include 8x LEDs and optional wall, DIN-rail, and VESA mount kits.

eBOX565
Axiomtek's eBOX565 has a similar name as the earlier, Apollo Lake based eBOX565-312-FL but has far more in common with the more recent and almost identical eBOX560-52R-FL. The system similarly runs Linux or Win 10 IoT on Intel's 8th Gen Whiskey Lake CPUs.


eBOX565 and detail views
(click images to enlarge)

The eBOX565 is designed for space-constrained applications used in factory or machine automation, in-cabinet equipment computers, warehouse automation systems, collaborative robots, and industrial IoT gateways. The system is slightly taller than the eBOX560-52R-FL at 141.6 x 106 x 73mm to accommodate a 9-36VDC input rather than 12V. As far as we an see, this is the only difference compared with the earlier model.
eBOX630-528-FL
The fanless system has the same port layout and ruggedization features as the eBOX630-528-FL, including -10 to 50°C, 3 Grms vibration, and 50G shock resistance. The computer provides up to 32GB DDR4 plus a 2.5-inch SATA bay, 2x USB 3.1 Gen2, 2x USB 2.0 and 2x RS-232/422/485 ports. Other features include DisplayPort++ and HDMI ports and an M.2 E-key socket.

Further information
The AIE900-902-FL is listed as "available," but is said to ship in September. The eBOX565 will be available in August. Pricing is undisclosed. More information may be found in Axiomtek's AIE900-902-FL announcement and product page and the eBOX565 announcement and product page.