Jul 6, 2017 — by Eric Brown 5,447 views
The "Orange Pi i96" is a 96Boards IoT-like SBC with a Cortex-A5 based RDA8810PL SoC, WiFi and Bluetooth, USB and micro-USB, and a 40-pin header.

Shenzhen Xunlong's 60 x 30mm Orange Pi i96 appears to be the second 96Boards IoT Edition (IE) board after the BLE Carbon from SeeedStudio, and the first to run Linux. While the Carbon runs Zephyr on an ST Cortex-M4 SoC, the Orange Pi i96 uses the same Cortex-A5 based RDA8810PL SoC from RDA Microelectronics adopted by the $10, 68 x 42mm Orange Pi 2G-IOT, but without the 2G GPRS baseband component.


Orange Pi i96, front and back
(click images to enlarge)

Although the board was previewed last September at Linaro Connect 2016 in Las Vegas (LAS2016), and Shenzhen Xunlong states: "We are cooperate with 96Boards to development this Orange Pi i96," there is no Orange Pi i96 entry on the
96Boards IoT Edition page
, and may never be. The SBC implements the 60 x 30mm "Standard Micro" IE format's 40-pin low-speed expansion connector option that's required on the "Extended" format, rather than the 30-pin subset used on the Carbon board.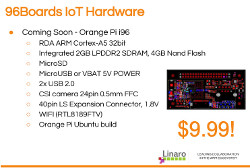 Slide from LAS2016 keynote (left) and 96Boards IoT Edition Standard form-factor spec with the 40-pin low-speed connector option
(click images to enlarge)

This appears to an open-spec board like the other community-backed
Orange Pi SBCs
, but the links to Orange Pi i96 resources at the
orangepi.org downloads page
currently point to nonexistent pages. There's a shopping page that sells the AliExpress for $8.80, but at publication time there was also a note stating the item is no longer available.

Orange Pi i96
(click image to enlarge)

The Orange Pi i96's RDA8810PL SoC, which is billed by RDA as supporting up to 1GHz speed, is once again paired with a Vivante GC860 GPU. The board is said to be available with Android, Ubuntu, and Debian images, and it likely runs the same images available with the Orange Pi 2G-IOT.
Orange Pi
2G-IOT
Like the Orange Pi 2G-IOT, there's an onboard RDA5991 WiFi/Bluetooth module with external antenna, as well as 256MB LPDDR2 RAM, 500MB NAND flash, and a microSD slot. Following the IE spec, there is both a USB host port and a micro-USB OTG port.
The Orange Pi i96 offers a CSI interface supporting an up to 5-megapixel camera, but there are no discrete LCD or audio interfaces listed. No pinout appears to be available for the 40-pin connector. There's also a 3-pin GPIO connector, and the 5V board has optional battery support.
Specifications listed for the Orange Pi i96 include:
Processor — RDA Microelectronics RDA8810PL (1x Cortex-A5 at up to 1GHz); Vivante GC860 GPU
Memory (via RDA8810PL) – 256MB LPDDR2 RAM; 500MB NAND flash
Storage expansion — microSD slot
Wireless:

WiFi (2.4GHz 802.11b/g/n), Bluetooth 2.1 + EDR, and FM via RDA5991 module
Antenna

Other I/O:

USB 2.0 host port
Micro-USB OTG port
MIPI-CSI interface
GPIO (1×3) header
40-pin expansion connector

Other features — Boot selector; LED
Power — 5V via micro-USB; optional battery input; power button
Dimensions — 60 x 30mm
Operating system — Android, Ubuntu, Debian,

Further information
The Orange Pi i96 may be available for $8.80 at this AliExpress Orange Pi i96 shopping page, which currently lists it as out of stock. As usual, shipping to the U.S. starts at a low $3.80. More information should soon appear on the Orange Pi website.