Feb 13, 2014 — by Eric Brown 8,680 views
Ideum is prepping an Android 4.1 version of its 46-inch, Intel Core i7-based Platform 46 Coffee Table, featuring 3M's 60-touch, capacitive HD touchscreen.

Ideum is currently shipping the 3M-enabled Platform 46 Coffee Table with Windows 8 support, starting at $6,950, and is now preparing an Android 4.1 version due "later this year. The Android multi-touch "rugged turnkey touch table" is aimed at gaming and entertainment, retail, trade shows, museum exhibits, and corporate environments, says the company.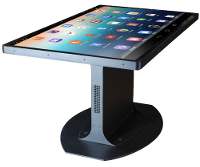 Ideum Platform 46 Table running Android 4.1
(click images to enlarge)
Corrales, New Mexico based Ideum says it plans to ship other Android- and dual-boot Android/Windows 8 touchscreen displays this year. The company has also collaborated with 3M on other large-format, multi-user touchscreen devices including kiosks and wall displays.
The Ideum Platform 46 Table integrates 3M's 46-inch 3M Multi-Touch Display C4667PW display, which is touted as offering "ultra-fast touch response time for fluid multi-touch interaction." It features a bezel-free, 1080p LCD with a capacitive multi-user touchscreen that is claimed to support up to 60 simultaneous touch interactions. The screen supports "virtually any lighting environment," and is protected by a "chemically-strengthened" glass surface and IP54 waterproof rating, says Ideum.
The specs for the Android 4.1 ("Jelly Bean") Ideum Platform 46 Table appear to be the same as the current, Windows-based version. Ideum also sells a similar 32-inch model, but did not mention Android support.
The base of the table incorporates a PC built around an Intel Core i7-3540M from the 3rd Generation "Ivy Bridge" family. The dual-core processor is clocked at 3.0GHz, but Ideum runs it in turbo mode at 3.7GHz.

Platform 46 ports
The Platform 46 Table is equipped with 16GB of RAM and a 500GB hard disk drive, as well as a Blu-ray drive. For communications, Ideum supplies an "Ethernet" port, as well as WiFi and Bluetooth, with the latter supporting a bundled keyboard with trackpad.
The table ships with an unstated number of USB ports, although the image at right shows there are at least two. Other I/O includes HDMI in and out ports, as well as mic and headphone jacks.
An optional WiDi receiver lets you beam the display to any HDMI compatible display for presentation purposes. Conceivably you could also lay the 126-pound table flat on a sturdy surface to use it in vertical mode.
The 22.4-inch high tabletop measures 43 x 25.1 x 1.3 inches, and is constructed of rugged, high-grade aluminum, according to Ideum. The system runs on a 110-240 V power supply, and features keylock security.
The Windows version ships with a lifetime license for a GestureWorks Core multitouch authoring package and a GestureWorks Flash SDK. However, since these are currently Windows-only, it's unclear what developer tools will be provided with the Android version. The company claims the device will support "the same Android apps available for tablets and smartphones," but elsewhere suggests it will provide tools that let Android developers "create large-format, multi-user Android applications."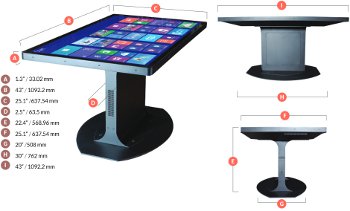 Dimensions of Windows version of Platform 46
(click image to enlarge)

Specifications listed for the current Platform 46 Coffee Table include:
Processor — Intel Core i7-3540M (2x "Ivy Bridge" cores @ 3.0GHz, 3.7GHz turbo); 4x hyperthreaded cores; 4MB cache; Intel HD Graphics 4000 (650MHz/1.3GHz)
Memory — 16GB DDR3 (1333MHz) RAM
Storage:

500GB SATA II HDD
Optional 512GB SSD
Blu-ray combo drive

Display:

3M Multi-Touch Display C4667PW
46-inch, 1920 x 1080-pixel LCD, 60Hz refresh
60-point projected capacitive touch
12ms response
Palm rejection
3mm strengthened glass with IP65 ingress protection

Wireless:

802.11a/b/g/n
Bluetooth
Optional WiDi receiver for image duplication on second display

Networking — "Ethernet"
Other I/O:

HDMI input and output
2x USB ports
Mic and headphone output (1/8-inch jack)

Other features — Bluetooth keyboard with trackpad; keylock security; optional secure travel case; optionally sold with touchscreen but no PC
Power — universal 110-240 V; single push-button power on
Weight — 57 k (126 lbs)
Dimensions — 1092.2 x 637.54 x 33.02mm (43 x 25.1 x 1.3-inch) tabletop; 568.96mm (22.4-inch) table height
Platform 46 Coffee Table running Android
Android touchscreens are getting larger, including up to 65-inches for a display from Artis Technology. Most, however, still top out in the 20-27 inch range. Last month at CES, HP and Lenovo each announced all-in-one PCs with 21.5- and 19.5-inch touchscreens, respectively. Also at CES, Acer showed off a 27-inch, 2560 x 1440-pixel AiO.
"Native Android OS support expands the possibilities for our multi-touch tables giving developers new options and providing end customers new and dynamic software solutions," stated Jim Spadaccini, CEO, Ideum.
"High-performance multi-touch Android applications are key in expanding the reach of 3M multi-touch systems and displays," stated Diego Romeu, Global Business Unit Manager, 3M Electronic Solutions Division.

Further information
The Android version of the Ideum Platform 46 Coffee Table will be available later this year, presumably at a price close to the $6,950 starting price of the current Windows version. More information may be found at the announcement page, the Platform 46 Coffee Table product page, and the 3M 46-inch touchscreen product page. Ideum will preview a multi-touch Android applications in the 3M booth (#1600) at the Digital Signage Expo (DSE) 2014 today (Feb. 13) in Las Vegas.